If you are in video production, you are aware of the challenge to find an all-in-one tool for sharing video files online. A good video sharing system can streamline production processes between teams and clients greatly.
What video-sharing tools do you know? You're most likely to use Google Drive and wait for your files to upload for hours. But there must be a better way, right?
Today, we'll check out the most popular tools for video sharing, their pros, and cons, and help you to finish the struggle once and for all.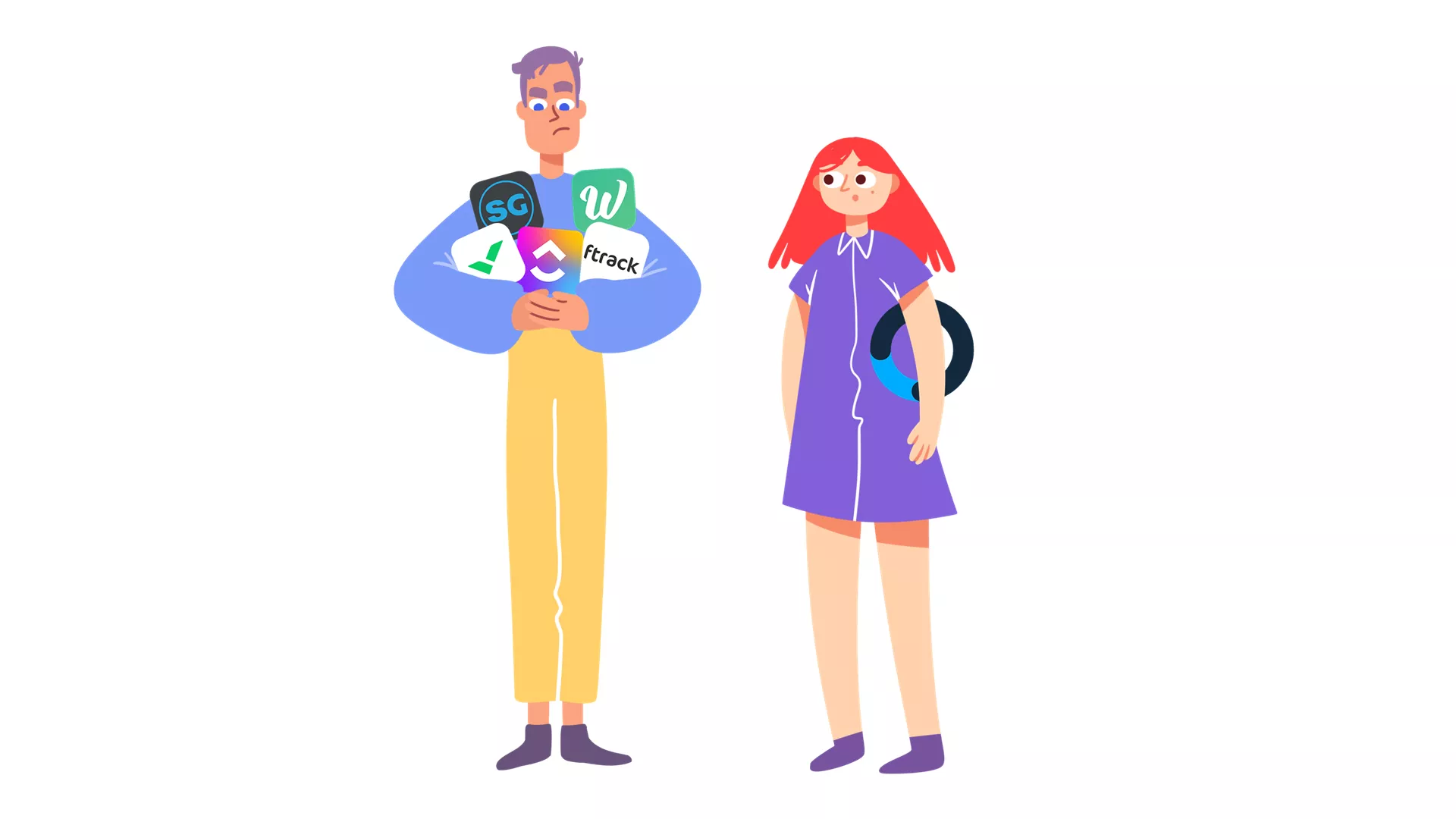 Of course, if you simply share videos with your family and friends, you'll have completely different requirements for the tools than a creative agency, or an animation studio. But if you collaborate with your teammates or clients by making revisions for videos or other visual materials, you'll need quite a sophisticated solution.
So we've decided to help you out with the hassle of finding the best apps that help you capture feedback on video files online. We'll take a look at each tool's functionality and pricing, so you'll have a thorough comparison and make the most informative decision possible.
Check out the 19 apps to share videos without hours of waiting, glitches, and re-uploading.
First, let's go over the platforms that offer not only easy video sharing but also enable gathering video feedback.
Video & Feedback Sharing tools
1. Krock.io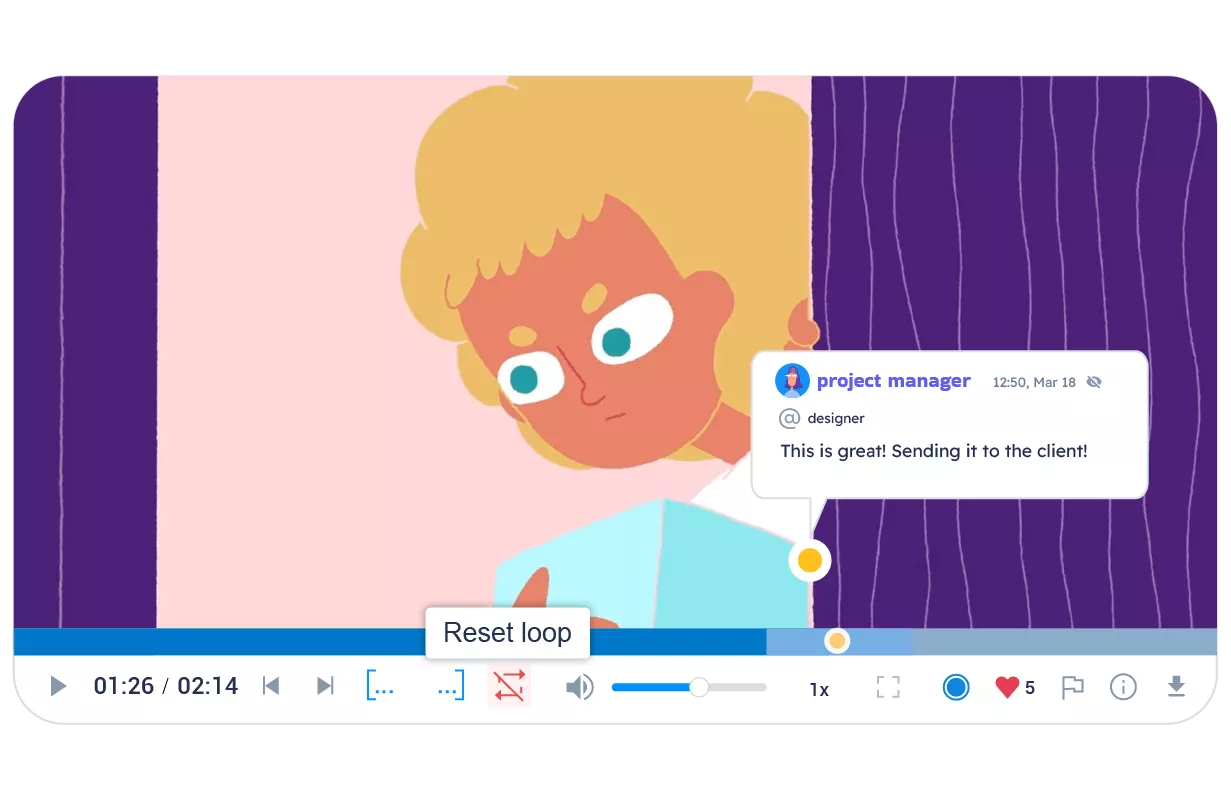 Krock.io is a creative project management & online proofing tool that allows you to share images & videos and give feedback.
If you work in the creative industry, Krock.io is there to make your life easier. With the possibility to gather feedback and approvals on video files, your videos will be delivered faster than ever.
Anyone who receives a link to your video file can ask for access to leave visual comments on the video.
Besides, video review, Krock.io offers online proofing for any type of file – from images to documents, as well a customized functionality for project management:
task management
fully customized video production pipeline
various project templates
interactive Gantt Chart and calendar
online storyboard creator
multiple integrations
Check out why Krock.io would be the best creative project management app for your team.

Key Features
Project management system
Built-in video review tool to leave comments on any type of file
File sharing (MOV, MP4, GIF, PNG, JPG, AI, PSD, and PDF files)
An automatic time-stamp that marks the exact moment you want to highlight
500 GB storage (custom)
Different speed playback
4K Playback, saving quality while downloading
Full-screen preview
Great for managing remote video production teams
Free 2-week trial
Pricing
Krock.io's free two-week trial allows up to ten people to use the platform. As a result, you can try out the app before subscribing. You can also book a quick demo call to check out all the features.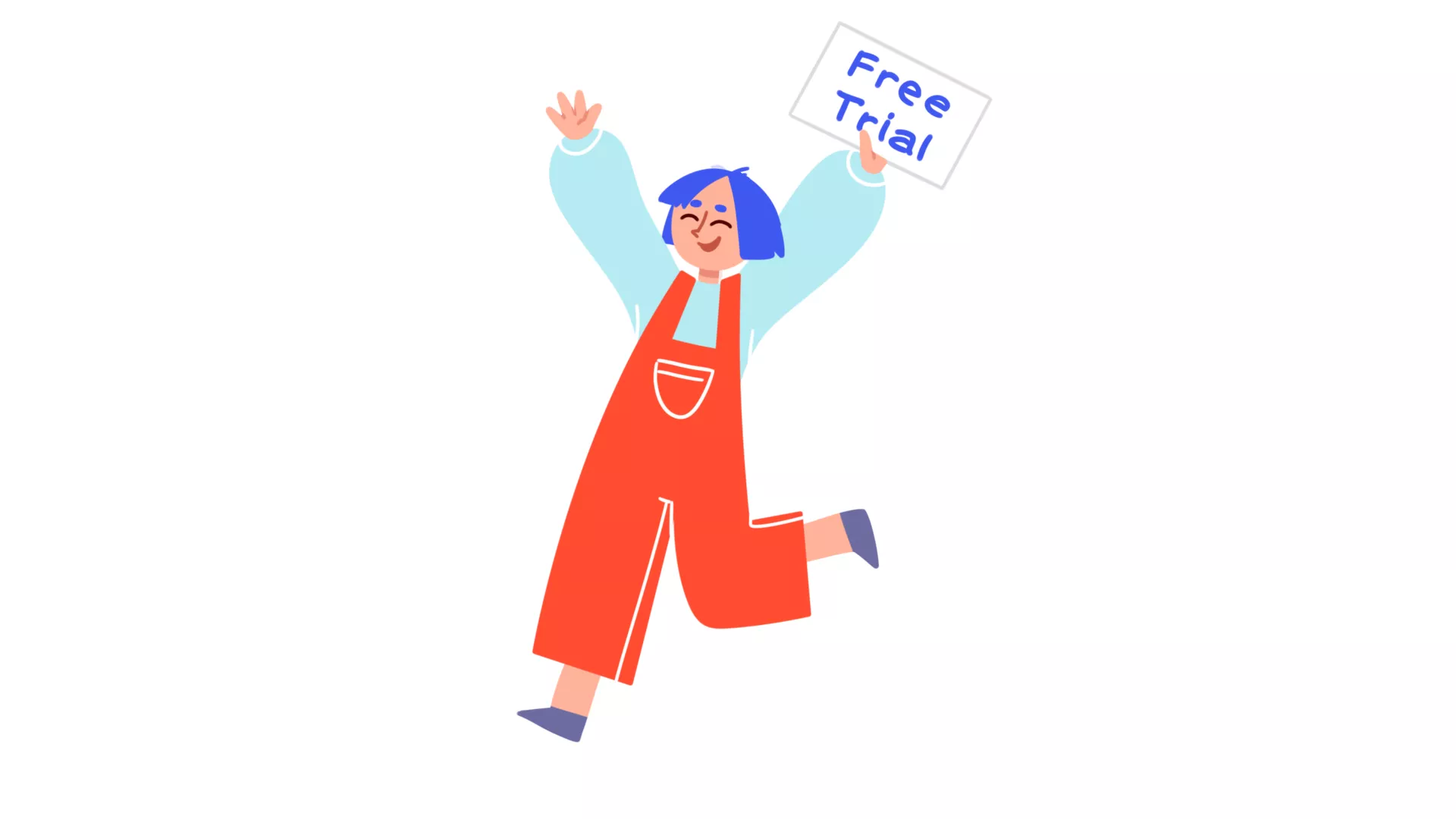 Following that, Krock.io offers a Solo creator option for $7.99 per month for an annual contract and $9.99 per month for a monthly contract. This plan only allows for one user.
Also, Krock.io provides a Plus option for $52.2 per month for an annual subscription and $69 per month for a monthly contract. It can accommodate up to ten users.
Next, Krock.io offers a Pro creator option for $79.2 per month for an annual subscription and $99 per month for a monthly contract. This package includes unlimited users as well as other features such as priority support.
Check the detailed information on the pricing here.
2. Ftrack
Ftrack is a good video approval software that can help you a lot if you make a film or animation. Therefore, you can also share videos on the platform. Teams can use Ftrack to sync videos so that everyone can watch the process of creation at the same time. Check how Ftrack compares to other media review tools.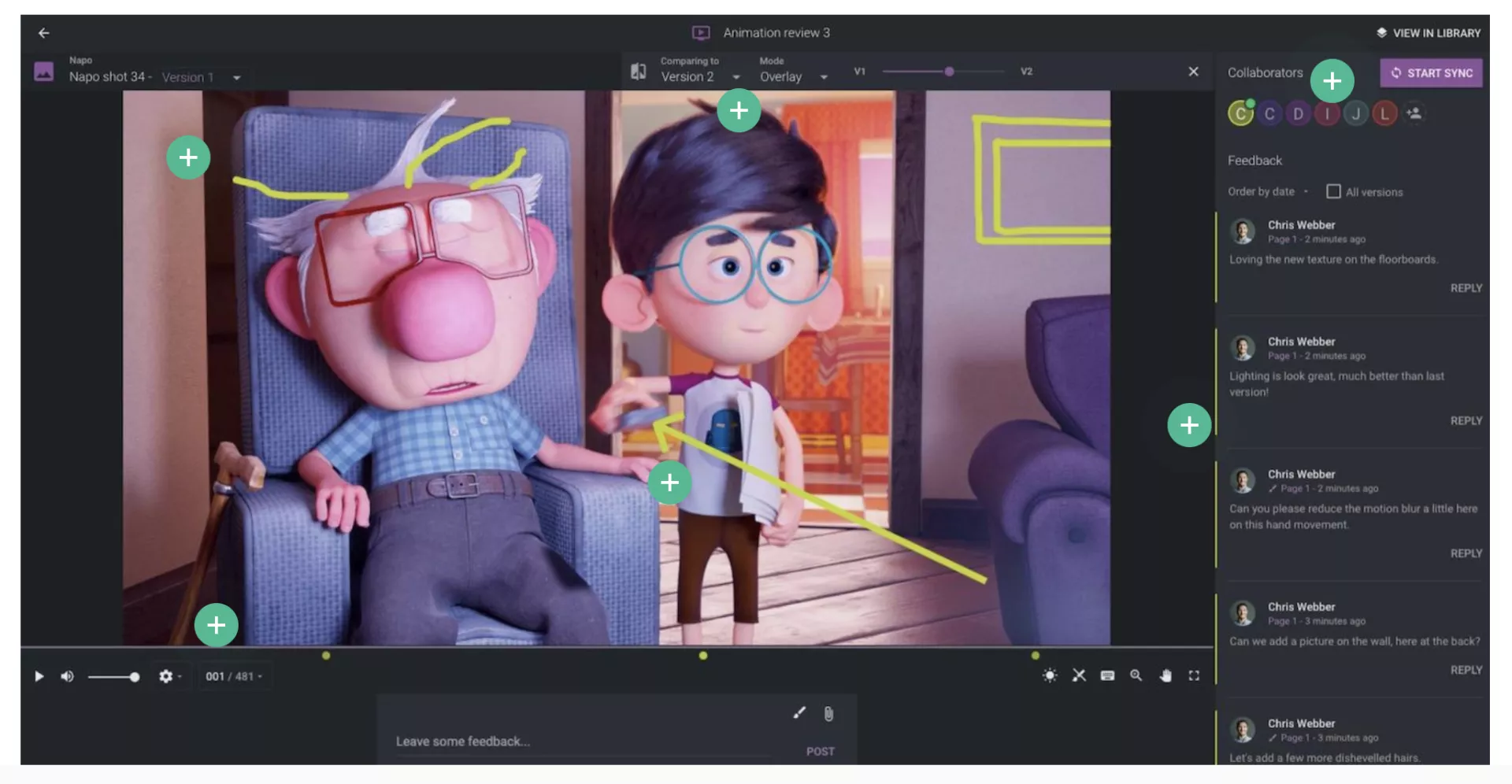 Key Features
4K Playback
250 GB storage
Visual comments and cues
Password-protected content
Various reviewers
Pricing
The most basic plan costs $15 per user per month. The following plan begins at $30 per user per month.
3. Wipster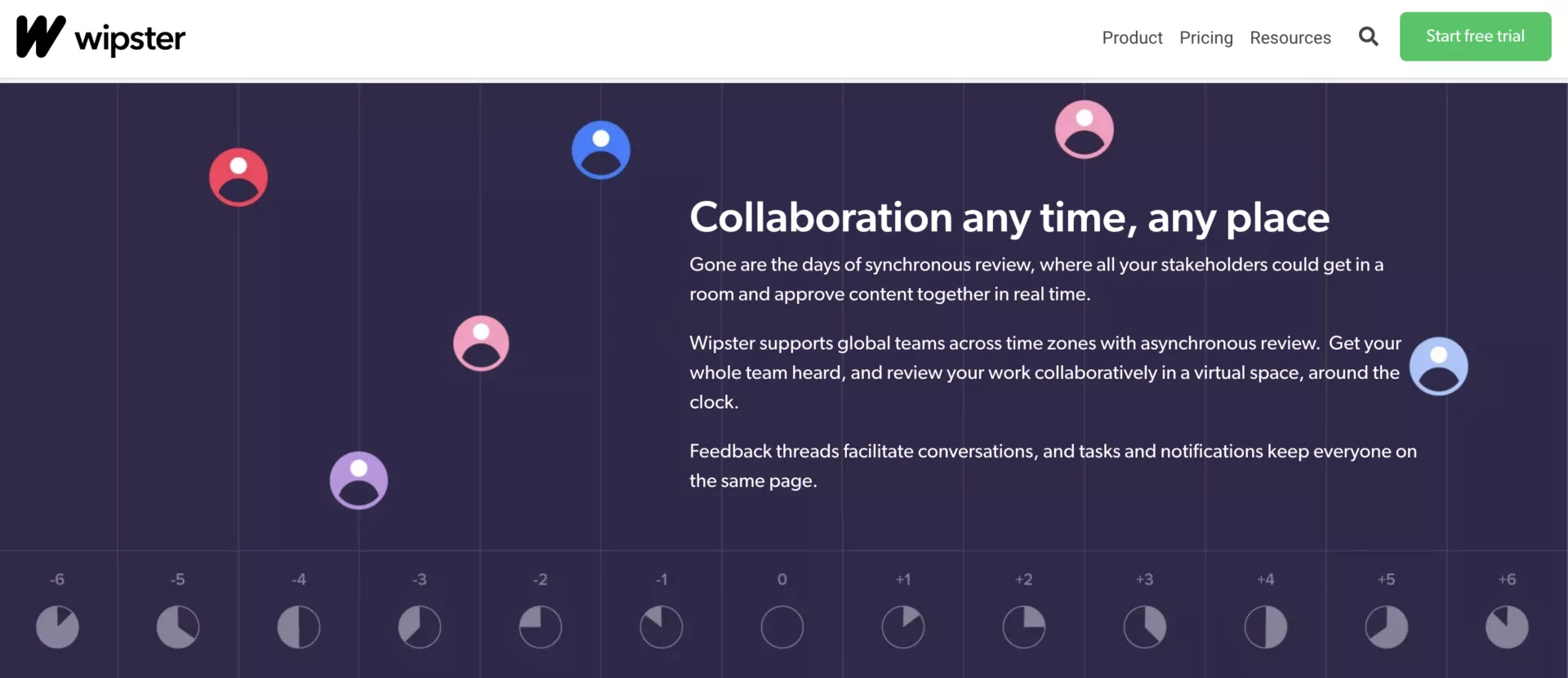 Wipster is yet another online proofing platform with the possibility to share videos online. Unfortunately, Wipster only offers HD playback. But on the other hand, it does offer a free version, yet with quite limited functionalities. Just like in Krock.io, you can also leave comments on any video frame and check out the replies in real-time. Read this article for a full comparison of these two apps
Key Features
5 GB free storage, then 250 GB only in paid plans
540p playback, then HD playback only in paid plans
Video comments
Variable playback speed
Password-protected content
Pricing
Wipster pricing plans are billed monthly or annually.
There is a free plan – their only option for individuals, but only with 540p playback.
Wipster's team plan costs $22.50 per user per month annually or $25 per user per month monthly.
4. Shotgrid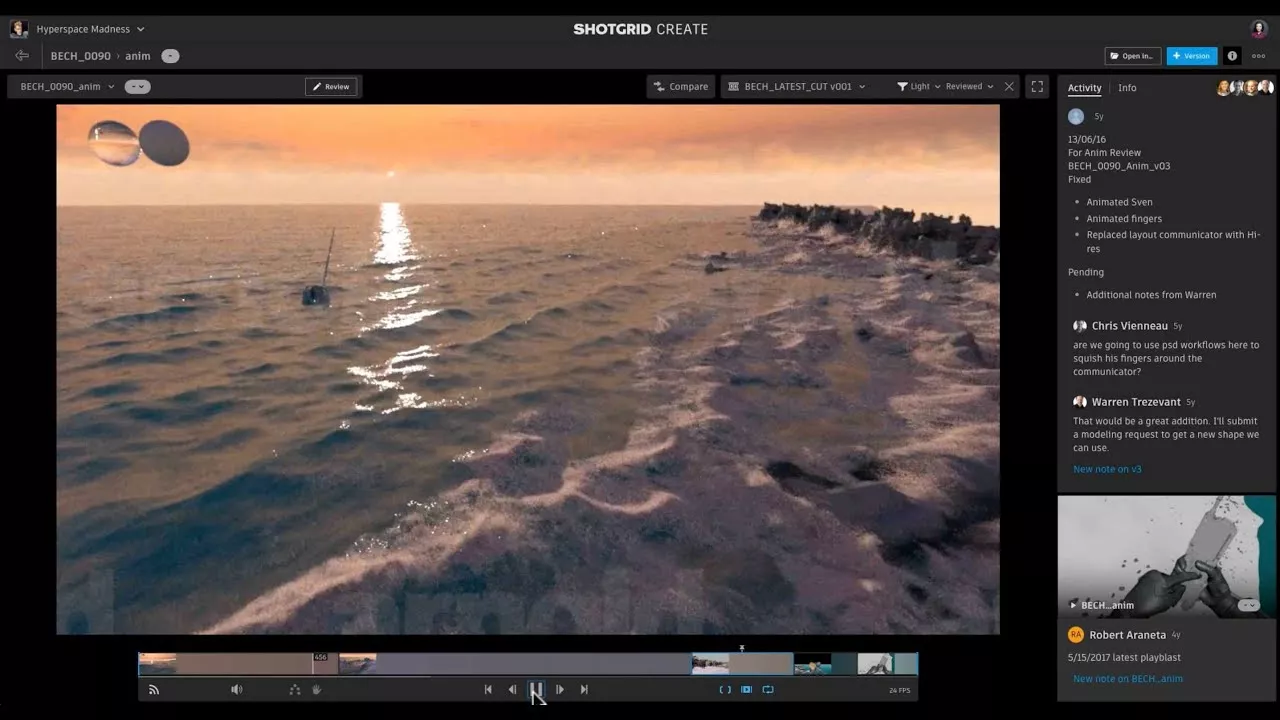 Shotgrid allows you to review numerous types of media. However, it is most useful for video assessment.
However, the app offers quite a complicated interface and definitely needs time and additional effort to learn to navigate. Thus, it is mostly used by large film production companies.
Key Features
Full resolution playback
Visual cues for feedback
Comment Mentions
File-tracking
Pricing
Shotgrid has three subscription options. All plans are per-user fee-based. The monthly rate is $40 per month per user, the annual fee is $330 per user, and, finally, $890 every 3 years, also per user.
5. Frame.io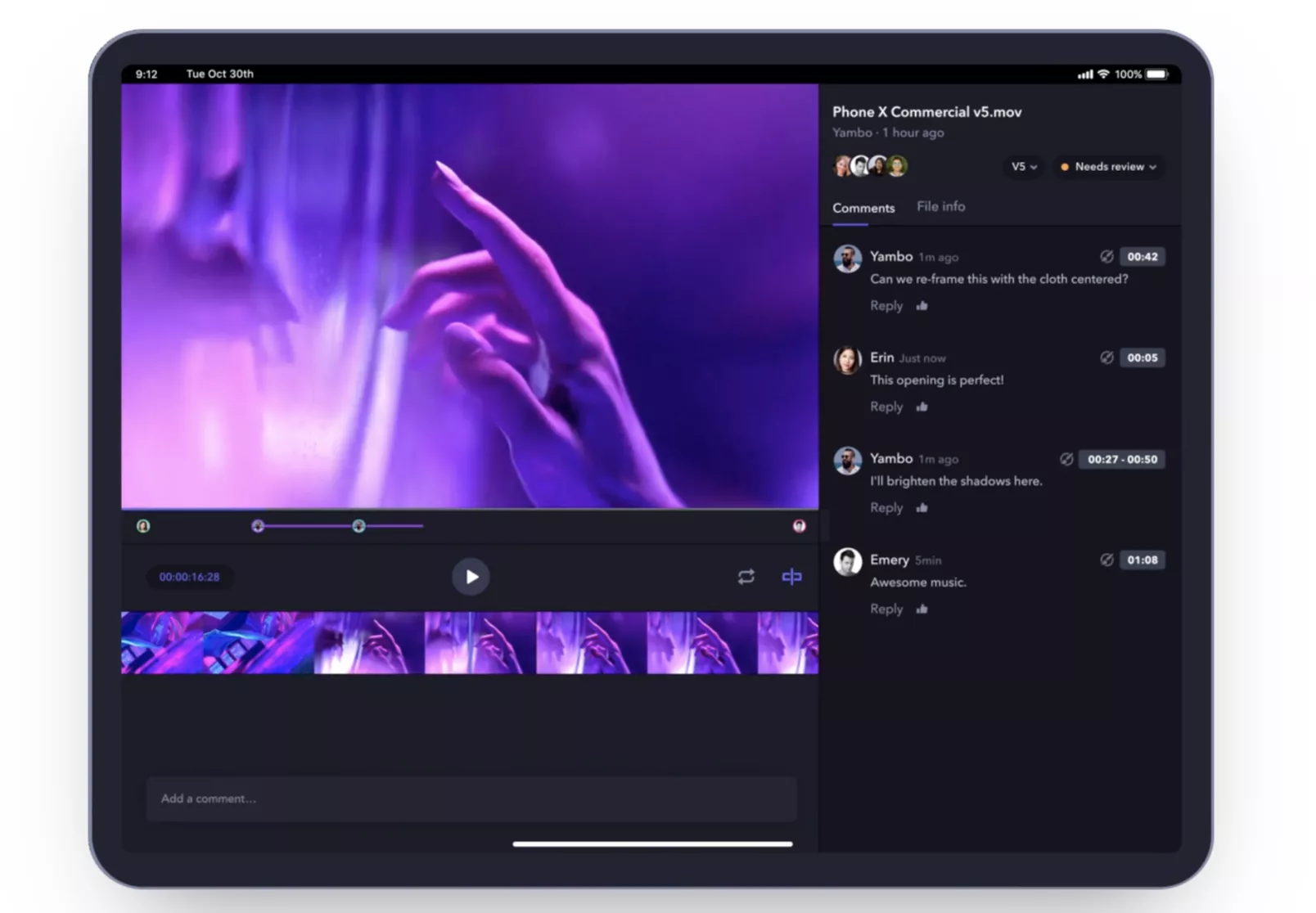 Frame.io used to be a popular tool among video production crews.
But, after its recent acquisition by Adobe, which has left current users unsure whether the site will maintain the same level of use, they started to switch to better alternatives
Key Features
Depending on a plan:
Possibility to leave private comments
1080p to 4K playback
2 to 500 GB storage
Download sources
Pricing
Frame.io has a free plan that allows for up to 2 GB of storage and supports only 1080p. The next subscription plan starts at $15 per user per month (with up to 10 users) and already supports 4K playback.
You can share videos with either package.
However, if you want to write private notes and comments that only your team may see, you must upgrade and pay $25 per month per user, with a maximum of 15 users.
When feedback sharing is not a priority, the simpler solutions with just video sharing might be just right for you. Let's have a look at the websites where you can upload and share your videos online.
Video Sharing tools
6. Video Sprout

If you want to keep your video private and share it with a close circle of friends and family, Video Sprout is the site for you. This platform is great for sending smaller video files securely.
There is a free account that includes 100 MB of storage and up to 500 MB monthly views.
7. Google Drive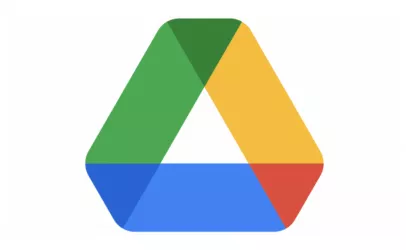 Google Drive is as easy as sending a video via email. However, the platform exceeds email in its organization and storage. A Gmail account is essential in today's technological world.
In case you need more storage, you can purchase 100 GB for $1.99.
There are also various premium Google Drive versions available. For example, Google Workspace is more typically utilized by businesses with pricing plans that begin at $6 per user each month. Each user will have up to 30 GB of cloud storage.
For the enterprises, there is a $299.99 per month subscription with 30TB.
8. Vimeo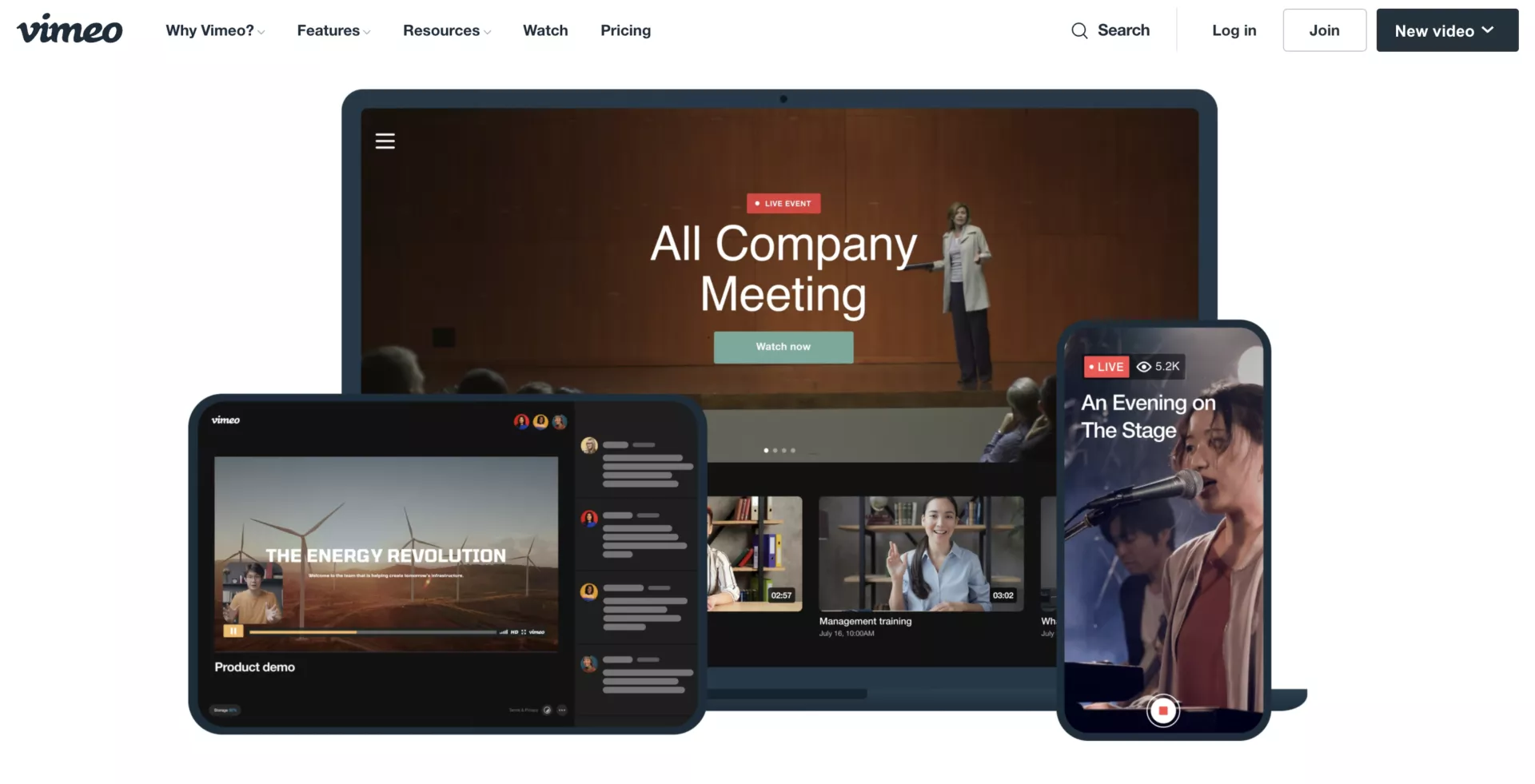 Vimeo is an especially useful site for editors and video creators to establish a portfolio. There is a fee to post your videos, but this comes with the added benefit of no ads on the site.
There is a basic free account with up to 5 GB of storage per month
The premium plan differs depending on your needs. However, they start at $7 per month and can go as high as $75 per month.
9. YouTube

If you want to get a video out to the world, along with your family and friends, YouTube is the site for you. Simply upload your video to the site, make your profile public or private and get to sharing.
There is no limit to files, you can set your videos public or private and share them with the link.
And there is also a streaming feature.
10. WeTransfer

WeTransfer markets its site as a free way to share big files. Send up to 2 GB files for free to anyone online. No need to break up files into separate clips to send to people. WeTransfer is an easy way to share big files.
There is a free plan you can use to share the videos. And the paid plan starts from $12 per month or $120 if you opt for the annual subscription.
The advantage of a paid plan is that all the files you send are encrypted and protected.
11. Dropbox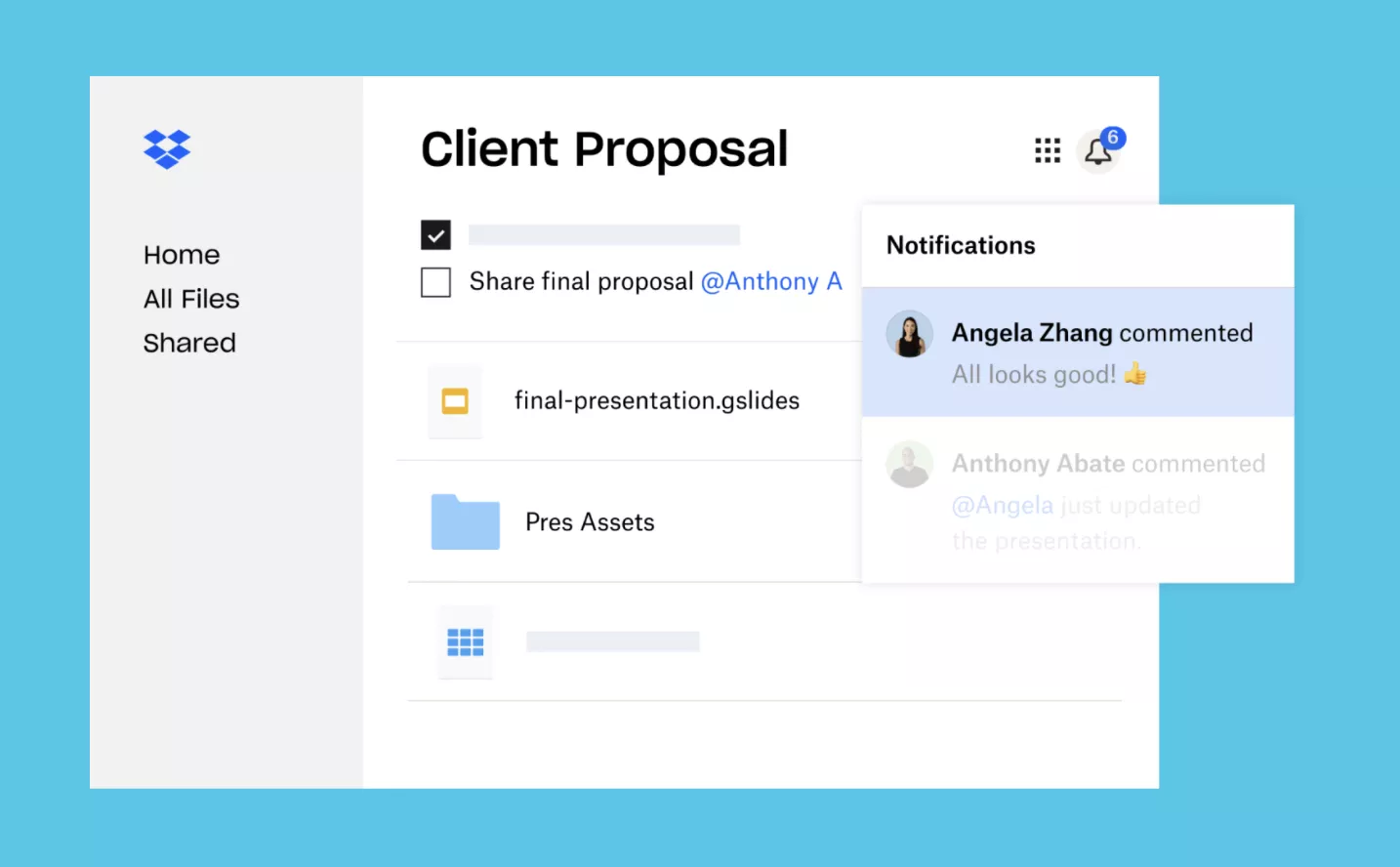 Dropbox is comparable to Google Drive in that you can store video files of any size. The more you share the site with others, the more free storage you get. The site rewards you for using it.
The software is free to use for all. However, the free storage is only up to 2 GB or can be increased if you invite other people to join.
The paid tier is also available for all customers using Dropbox for video file sharing. Dropbox offers different storage and pricing structures for family use, freelancer use, and professional and enterprise use.
The professional package starts at $11.99 per month.
12. OneDrive

Not a fan of Gmail? OneDrive is the Microsoft equivalent for those with an outlook email account. This site works well with all Microsoft office products.
13. Jumpshare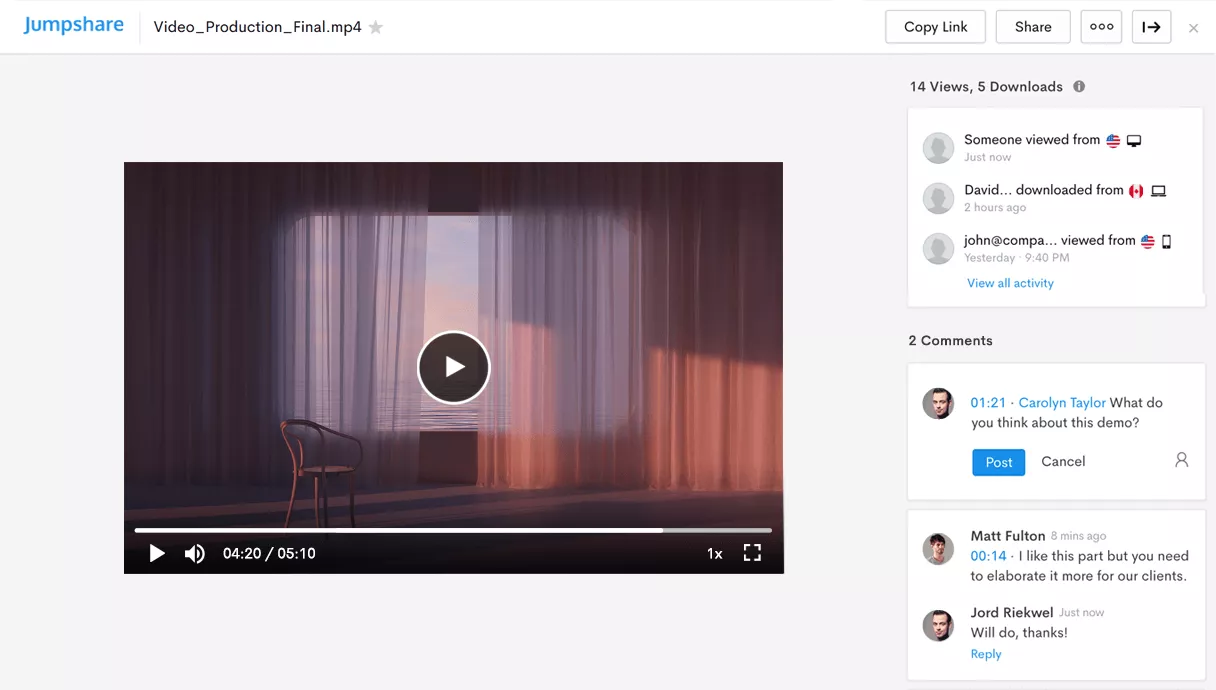 Jumpshare allows you to upload the video files you want to the site and receive a link to share the videos with whoever you choose. This has a similar format to YouTube but allows you to share links privately.
14. Transfer Now

The ease of this site is in the name. Transfer Now allows users to send video files of up to 20 GB. The site has an easy drag-and-drop feature to effortlessly share video files online.
15. Box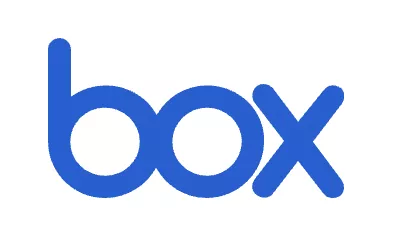 Box is a great site to share video files with colleagues on one platform. You can upload your videos from any device and securely share data. You can send bulk invites to entire groups and contacts.
16. MEGA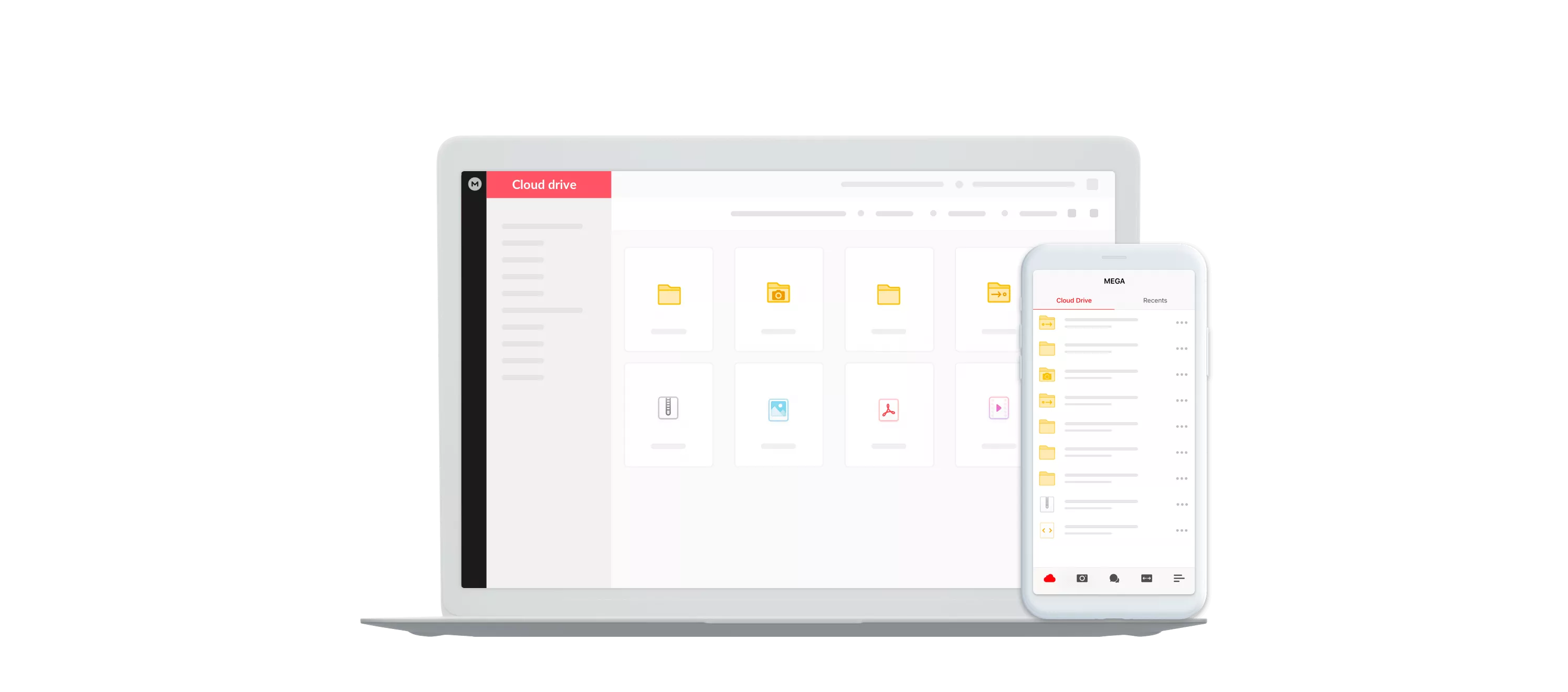 Mega is a new cloud storage site that has various plans depending on the need. Whether you're a freelancer or a part of a big enterprise, there's a plan and price to fit your needs.
17. iCloud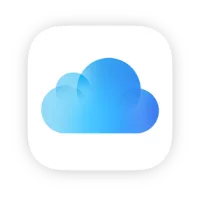 If you're a ride-or-die Apple products fan, iCloud can be the perfect video-sharing solution. This service allows users to easily sync files between Apple devices and Windows PCs.
18. SugarSync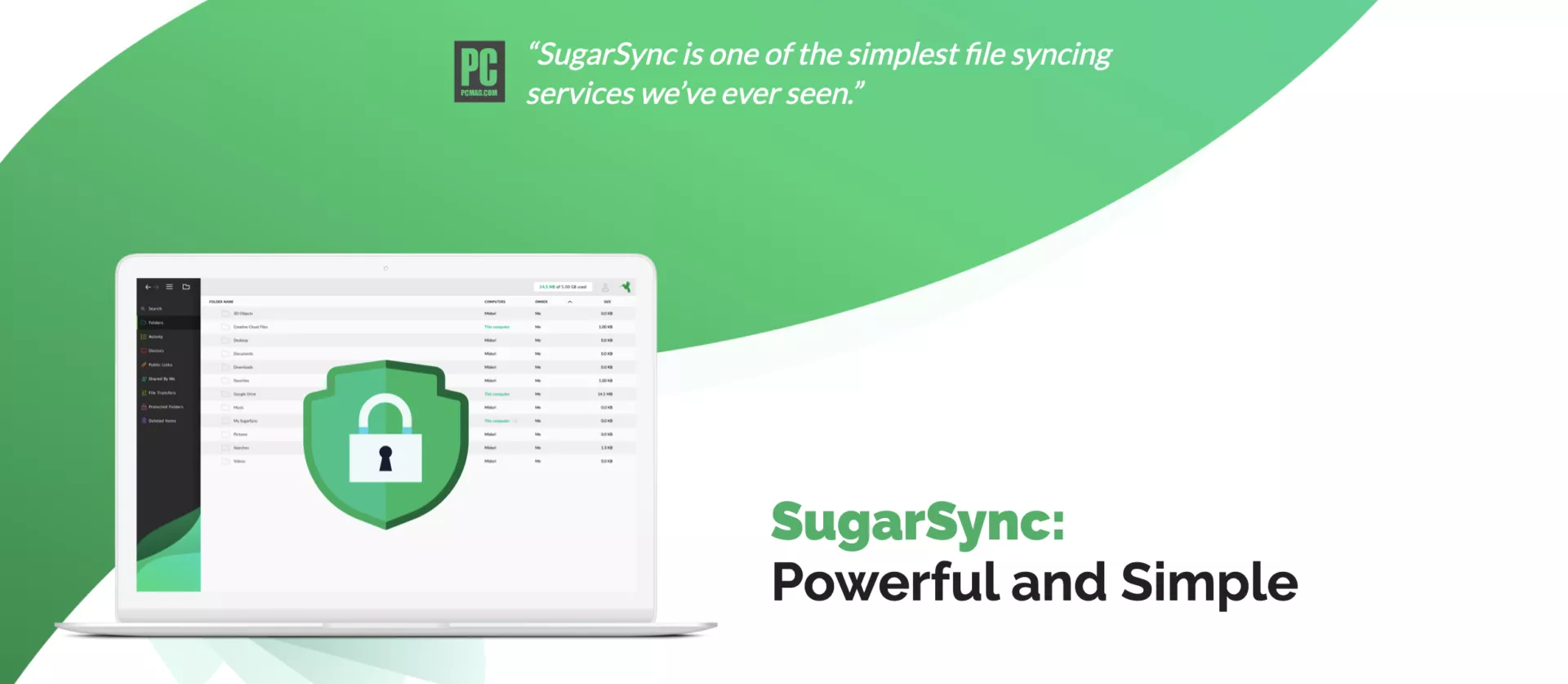 SugarSync is the perfect external site to connect with the files on your computer. The site syncs up with your computer and allows you to easily and automatically get access to all of your photos and videos from any folder.
19. MediaFire

Another cloud storage site that's great for sharing big files is MediaFire. Only a few clicks will allow you to upload and share full video clips. With 10 GB of free storage, you can't go wrong.
Sharing is Caring
Finding a platform that you can trust to share videos online for free can be challenging. Each of these platforms can help you send videos to someone in a matter of minutes.
Select the best video-sharing platform that fits your needs and share your videos in one click.