Sending project assets, training videos, and other large files via email should be a piece of cake. However, if you work in media production or in any other creative industry, email attachments won't really do it for you.
Most mailboxes have attachment size limits that prevent users from uploading files larger than 25 MB and some services limit the maximum attachment size to 10 MB only. Naturally, sending large files calls for some sort of workaround.
Finding a comfortable solution that allows you to send large files and meets your team's needs at the same time could be crucial for your workflow optimization.
But no worries! As this is such an across-the-board issue, there are a plethora of tools available to satisfy different demands.
The tools we are going to talk about in this article will save you a great deal of time and prevent you from stressing out.
So take a look at the tools we've tested for you and choose which one best meets your requirements.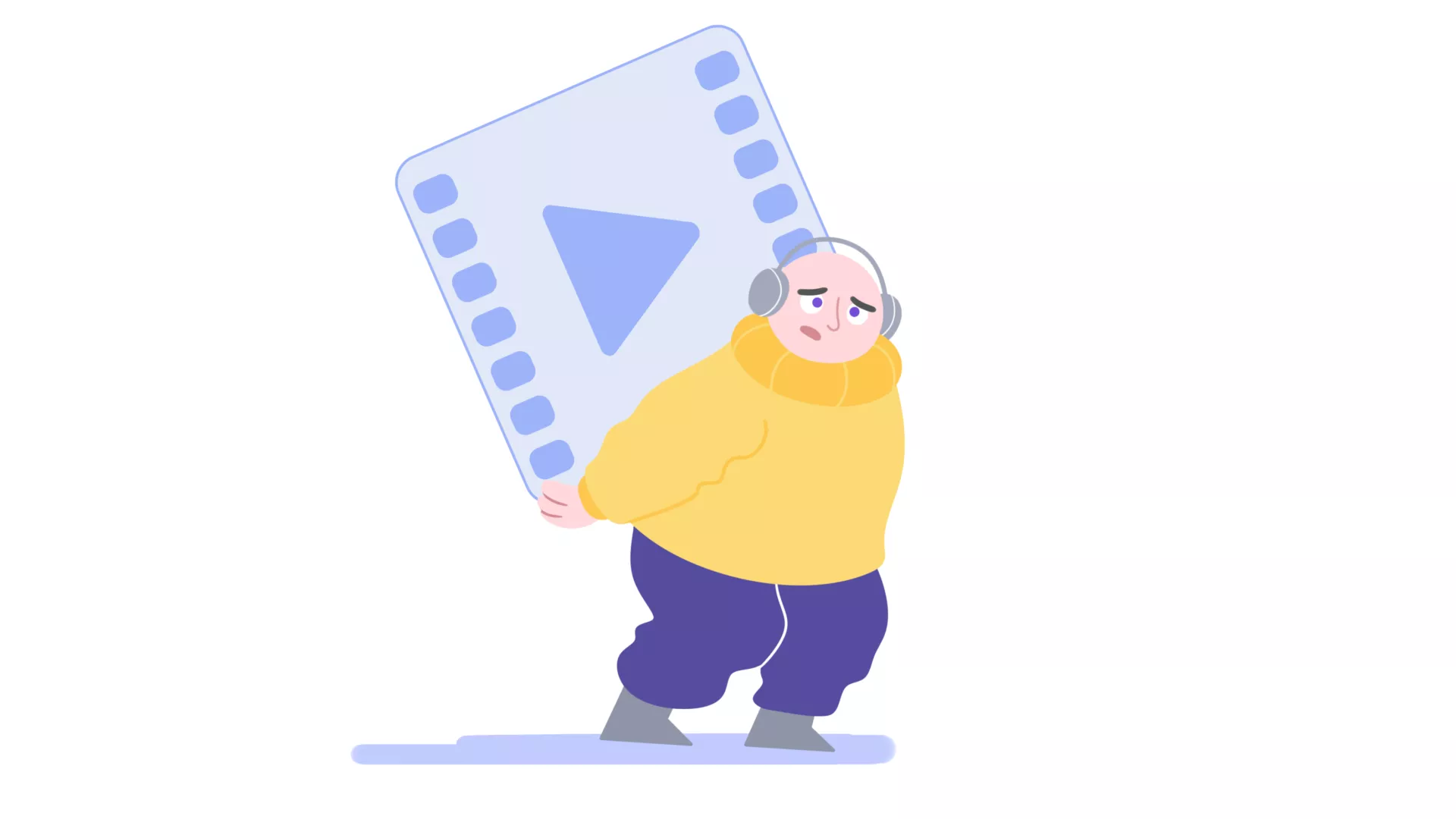 To send large files over email, use your email server's built-in cloud storage
If you use Gmail, Outlook, or iCloud for email, the cloud storage facilities that these platforms contain are quite handy to send large files. Services such as Google Drive, OneDrive, and iCloud are meant to work in tandem with their associated email services, so you won't have any trouble getting an unconnected cloud storage service to work with a different email client.
And if you are a macOS user, you may not be aware that there is a free option to transfer huge files incorporated within the Mail software. It's called Mail Drop, and it works by uploading the content to the web and generating a link that the recipient may use to download and access the file, even if the receiver does not use Mail or own a Mac.
If the receiver does utilize Mail, the file will be immediately downloaded to the email, and they will not notice any difference from a regular attachment.
Sending large files by email, using the link for download is another fast option.
Let's have a look at some of the out-of-box tools that would be perfect for the task.
1. Krock.io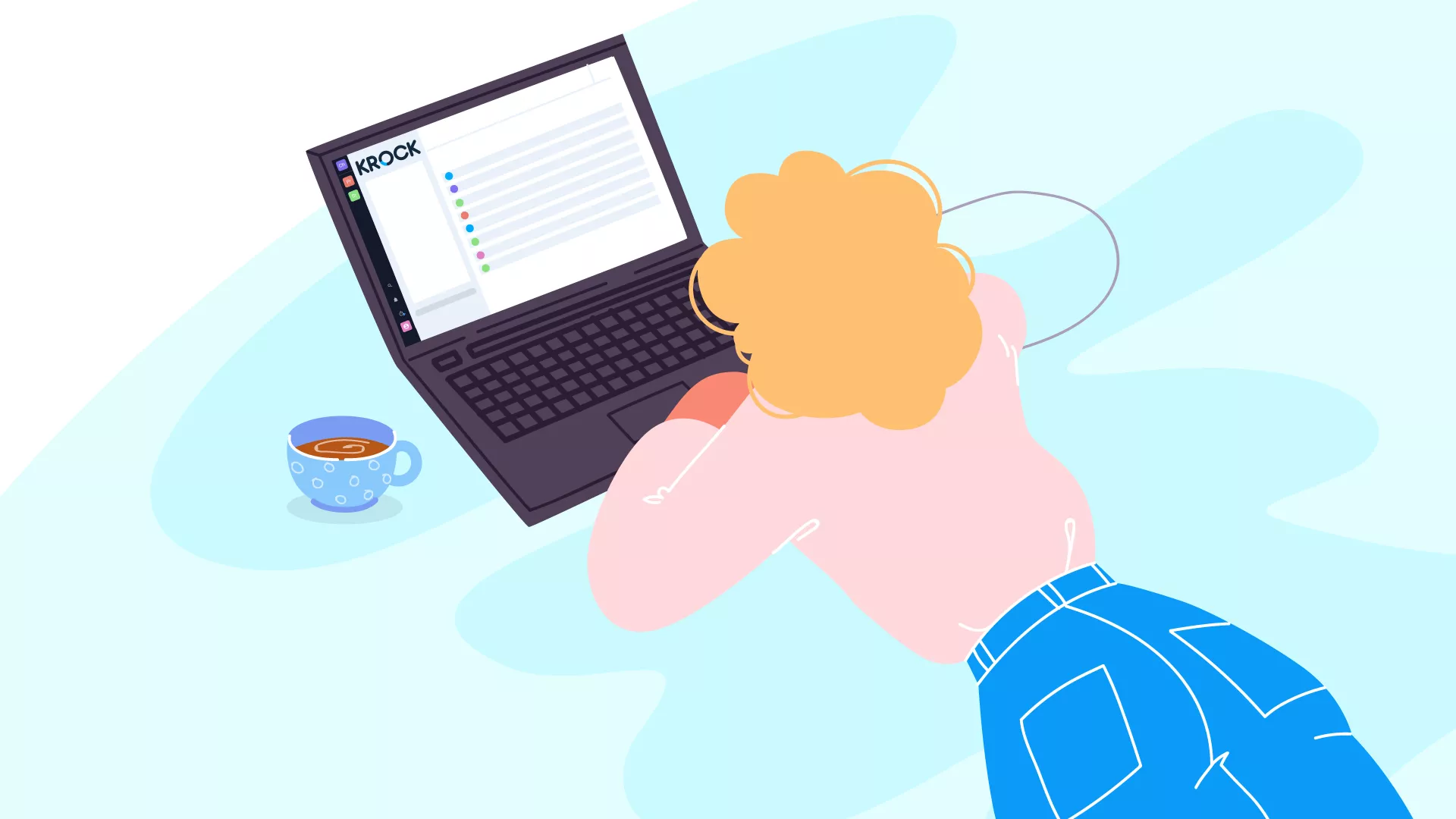 Krock.io is a project management and online proofing platform. It's also a fantastic tool for sending large files without losing media quality, which will be especially useful for those who need to share large videos daily in formats such as 4K.
On top of that, Krock has an incredibly intuitive, user-friendly interface that does not require onboarding time – whether for you, your team, or even your clients.
With the technology to compress but preserve 4K quality video (or any other media asset resolution), Krock makes a great leap forward for all the video production agencies, as it also allows them to have:
fully customized video production pipeline
task assignment tool
real-time feedback management system
online storyboard creator
numerous integrations
And all in one single space, where all the team and clients can easily access and share large files via emailed links. Besides sending the link via email, you can invite anyone to download or collaborate on the specific file directly from the Krock dashboard.
Anyone who receives a link to your file can ask to share comments on it, using a visual mark-up feature Krock offers.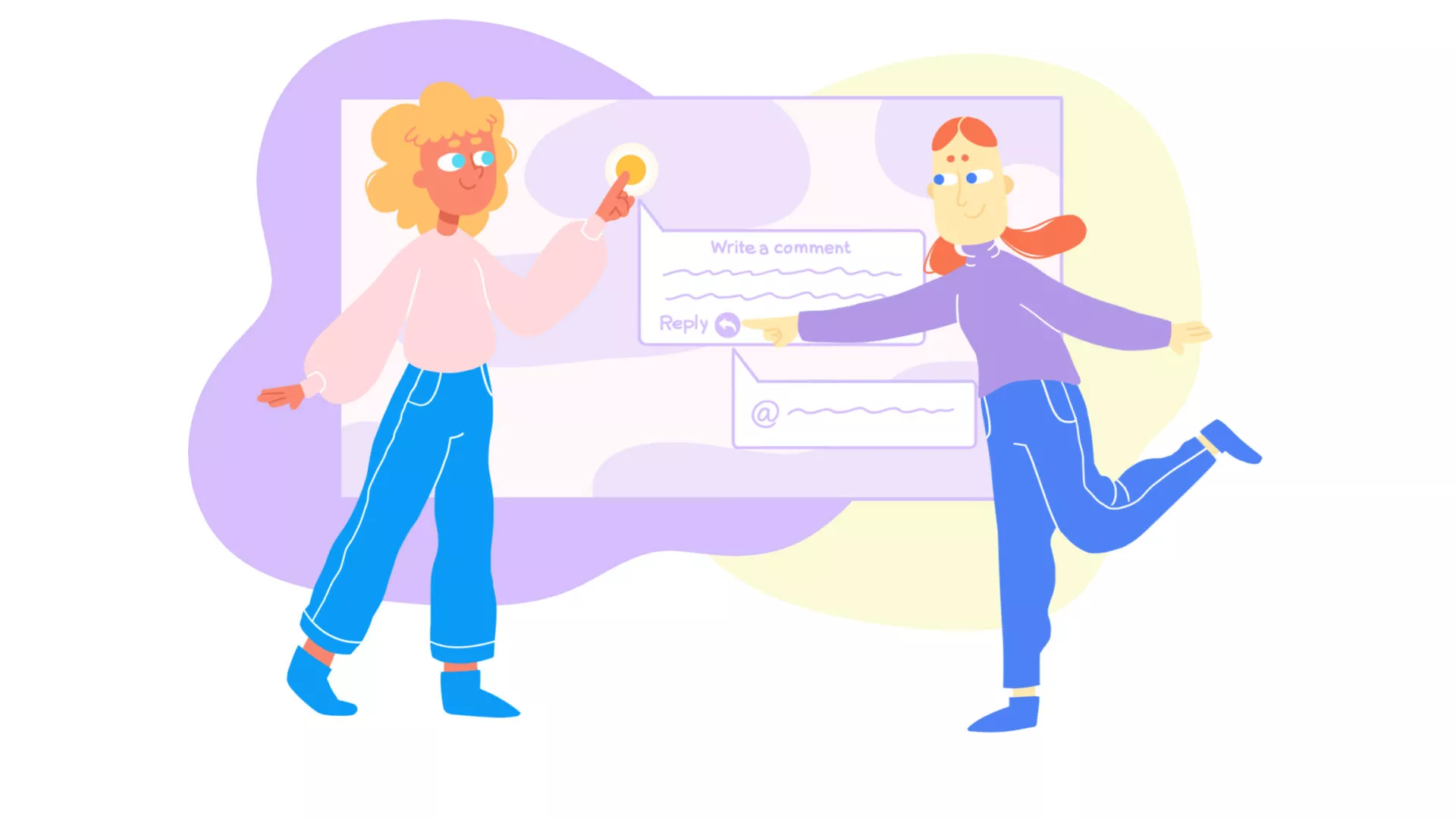 And what about the pricing and storage?
The platform can be used by up to ten users during the free two-week trial period. As a result, before subscribing, you can use the app for free. You can also arrange for a quick demo call to go over all of the features.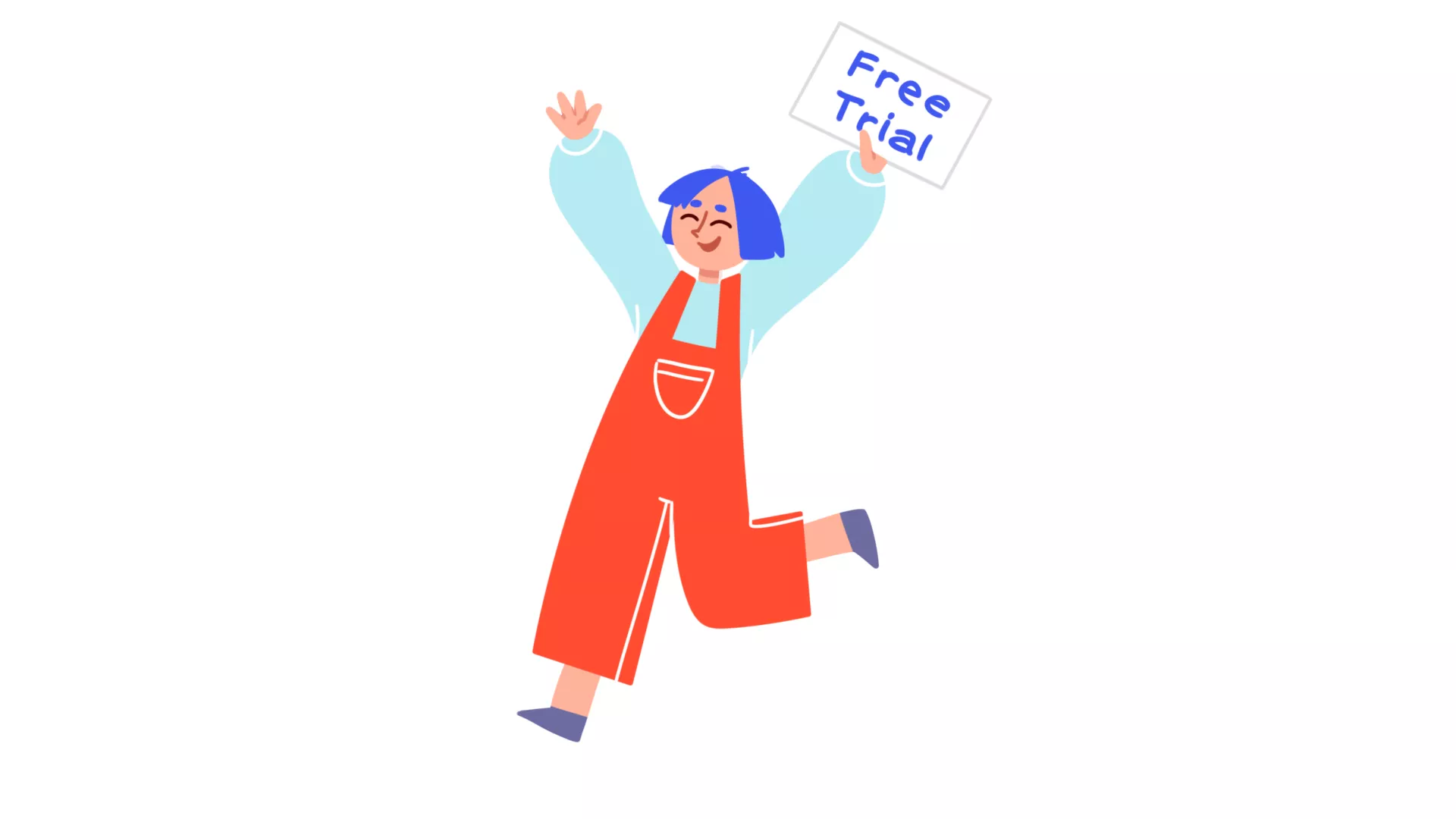 As per paid plans, Krock.io offers flat pricing (meaning that you don't need to pay for every additional user), starting with a Solo plan for $7.99 per month on an annual basis ($9.99 a monthly basis). This plan has 10 GB of storage.
Next comes a Plus plan with $52.2/month for an annual subscription and $69 for a monthly contract. It has a capacity of ten users and 100 GB storage.
Finally, there is a Pro plan for $79.2 per month for an annual membership ($99 if you pay monthly). This package allows for an infinite number of users as well as 250 GB of storage.
Krock also offers custom plans for big enterprises with the storage of 500+ GB.
Check out the pricing page for more details.
2. Filestage
Filestage is a design collaboration software that also allows you to send large files via email link. Within Filestage, you can upload large files and share them online through an emailed link. The document opens and is ready for feedback when the customer or coworker clicks the link.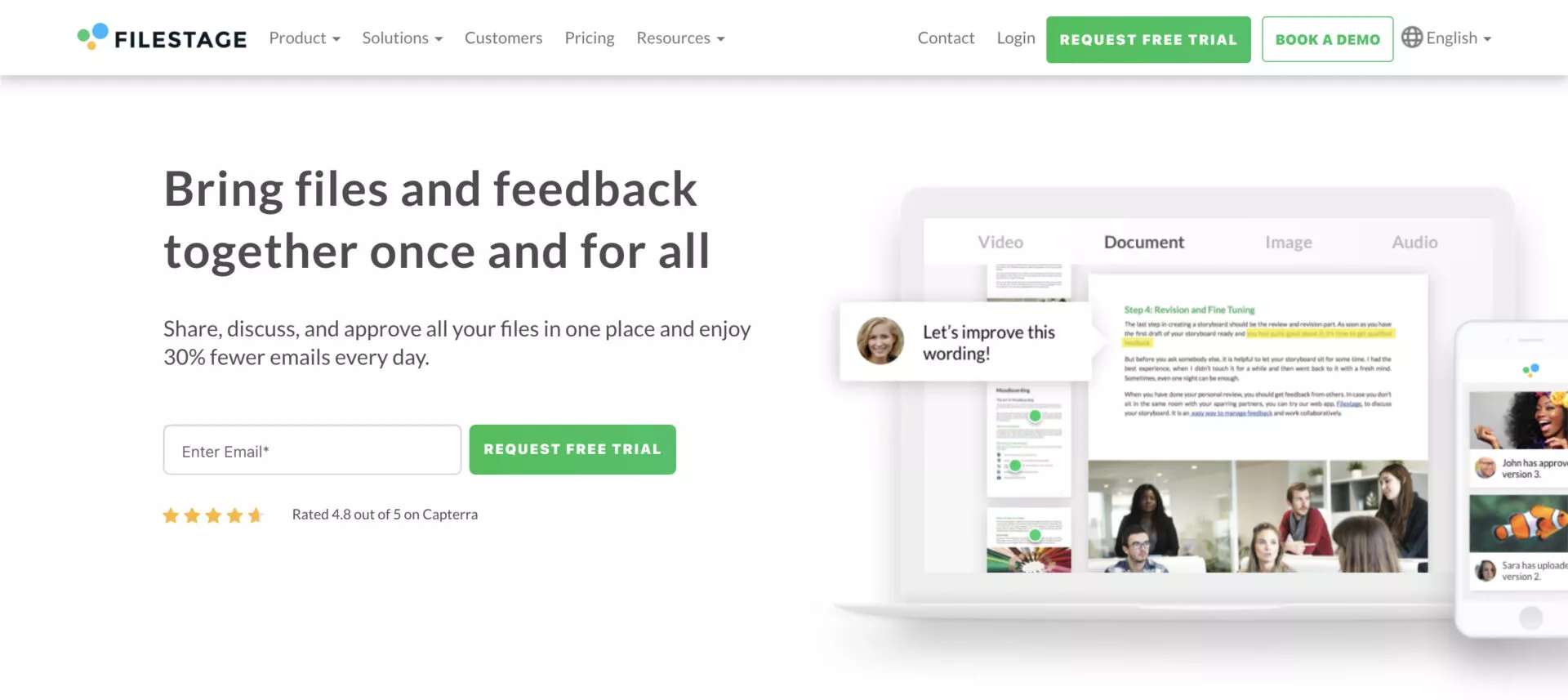 Filestage was created primarily for client feedback as well as review and approval processes.
Thus, if you are looking for a platform similar to Krock, where you can manage your projects, gather all feedback, create storyboards, assign tasks to your teammates, and transfer large files on top of that, Filestage is not the best option. It lacks functionalities that are essential for end-to-end project management, especially if we are talking about the video production industry.
Pricing against Storage
Filestage pricing starts at $13.5 per user with its Essential plan. Unfortunately, it only offers 5 GB of storage, which is surely not enough if you need to send large video files.
The next Advanced plan offered by Filestage jumps up a great deal: it is $26.75 per user, and you can only contract it if you have 5 or more users on your team. Which is $133.75 per month. Taking into account that it offers 75 GB of storage, it seems quite excessive.
Last, a Professional plan will get you 250 GB of storage at a high cost of $55 per seat. And there is a condition of 5-user-minimum as well. So at the end of the month, you are looking at a $273 bill.
3. MailBigFile
MailBigFile has a freemium approach, with four levels of service available. The free version lets the users upload up to 5 files totaling 2 GB using the web-based interface. These files are then free to download for ten days.
For $29/year, the Pro membership increases the file size limit to 4 GB and makes the files available for download for 28 days. With the payment of $120 for Business Lite membership, your files will be available for 30 days and the size limit will go up to 5 GB. Finally, the Business account, which costs $240 per year, accepts files up to 20 GB and keeps them available for sixty days.
4. DropSend
You can use the DropSend file-transfer site to create an email to your recipient and attach the file you want to send. Your receiver gets an email with a link to the file, which they may view or download. DropSend has three personal plans, but all of them require a paid subscription.
The Basic plan is $5 per month and includes 10 GB of online storage with up to 25 monthly sends. There is a Standard plan, which costs $9 per month, includes 25 GB of storage and up to 50 sends per month, as well as additional perks. And the Professional plan, which costs $19 per month, includes 25 GB of storage, an unlimited amount of sends every month, and a slew of sophisticated capabilities.
5. Filemail
Filemail is a quick and easy-to-use website. Fill out an email form with your address and the destination address, type your message, attach your file, and send it. Your recipient will then get a link to the file, which they may download or view online.
The free option lets you upload files up to 5 GB, with the $10-per-month Filemail Pro plan you can transfer files up to 25 GB, and the $15-per-month Business plan allows for limitless file sizes.
6. Send Anywhere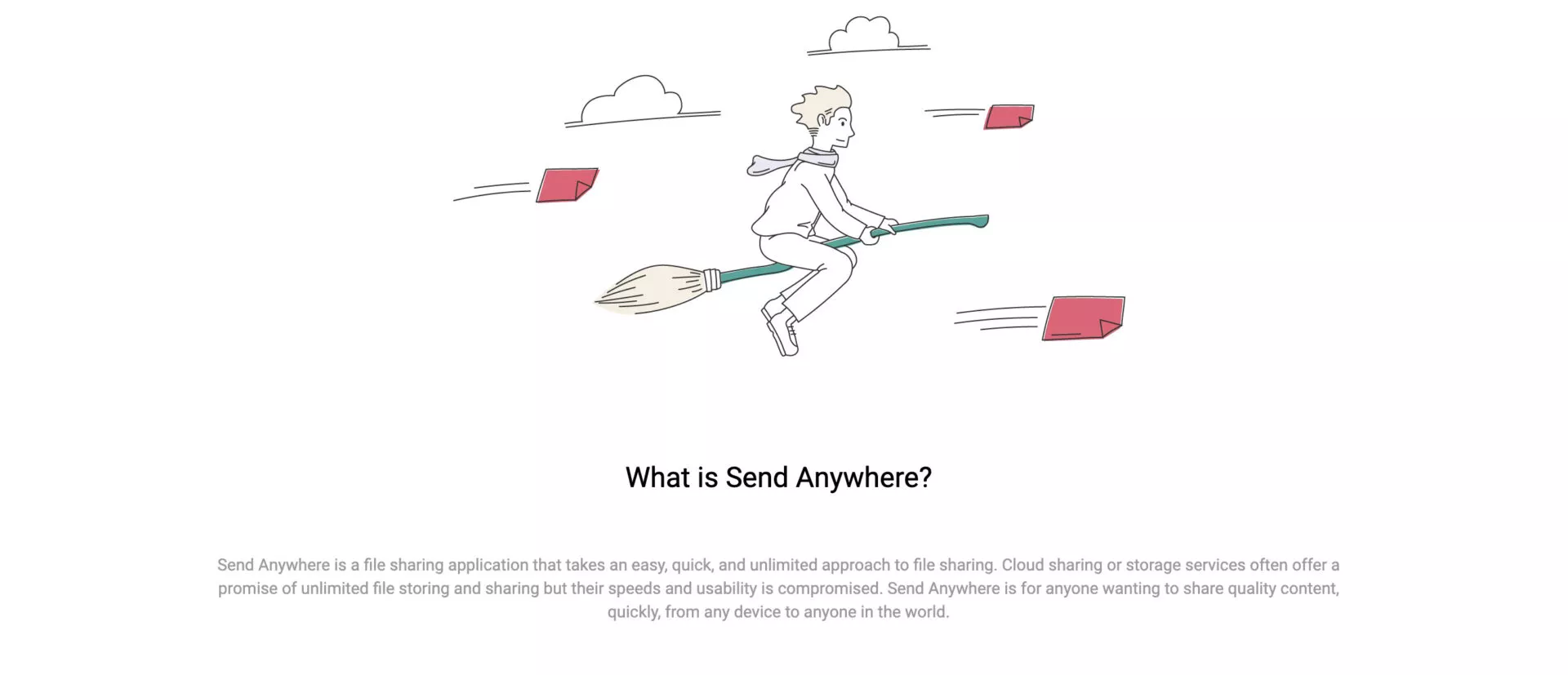 Send Anywhere is a file-sharing program that lets you send files from your smartphone to any destination using a 6-digit key. You can create a link to access files so that others can view your shared files from anywhere. Files also have an expiration date, which means they will be unavailable after a certain length of time.
The maximum filesize for Send Anywhere is 10 GB. The application is compatible with a variety of operating systems, including Windows, Mac OS, Linux, Android, iOS, Amazon Kindle, and Outlook Add-In.
If you need more firepower, you may purchase Send Anywhere PLUS, which is faster, with a transfer speed of 100 MB/s and the ability to upload up to 50 GB at once. The paid version is also quite inexpensive, costing $5.99 per month.
7. Smash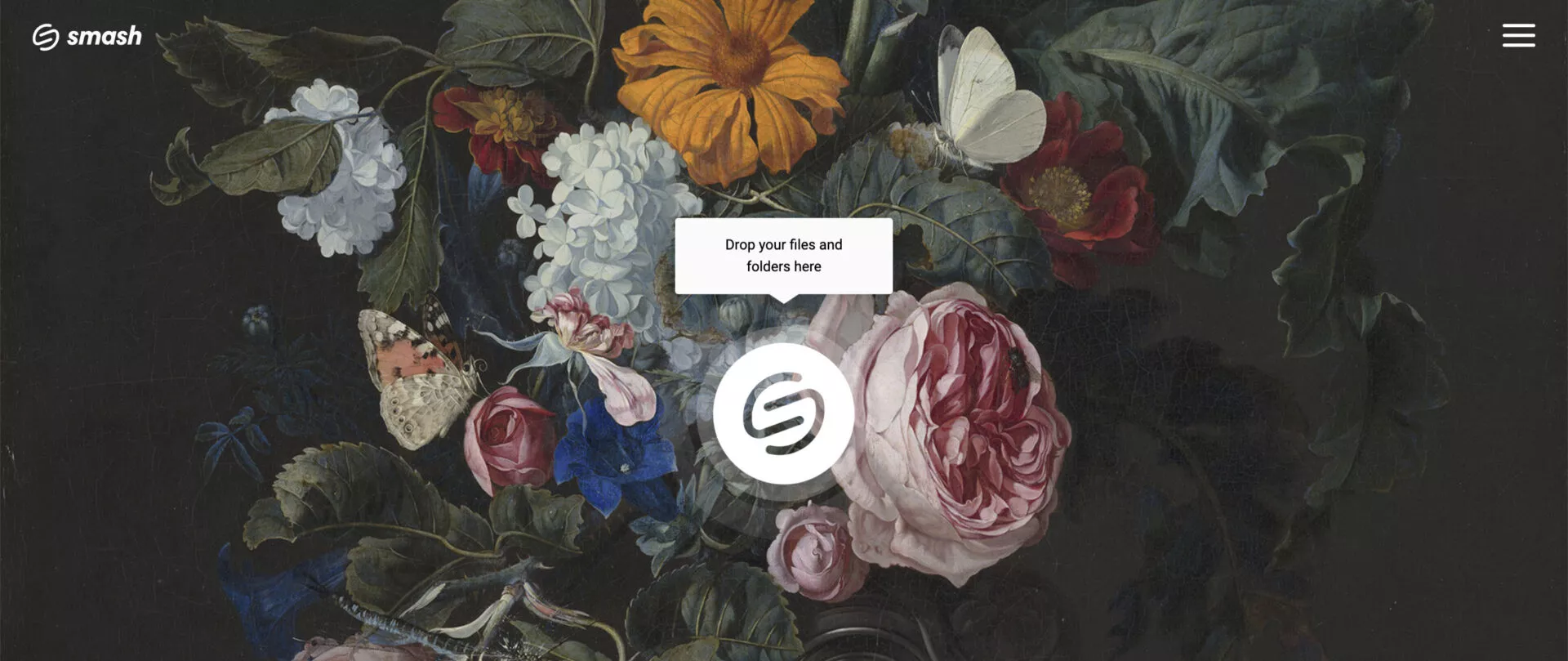 Smash is another service that keeps things simple. With its free plan, you can transfer files of any size, they will be available for 14 days, and your recipients will be able to preview them before downloading, even on mobile devices. You can lock your data with a password, and you can even trace downloads in real-time.
Upgrade to the Premium plan for €5/month (annual payment) to keep your files accessible for up to a year. Priority transfers for files larger than 2 GB are available, as well as a file transfer history and reporting. You will also be able to personalize your download page with a logo and background image.
8. MyAirBridge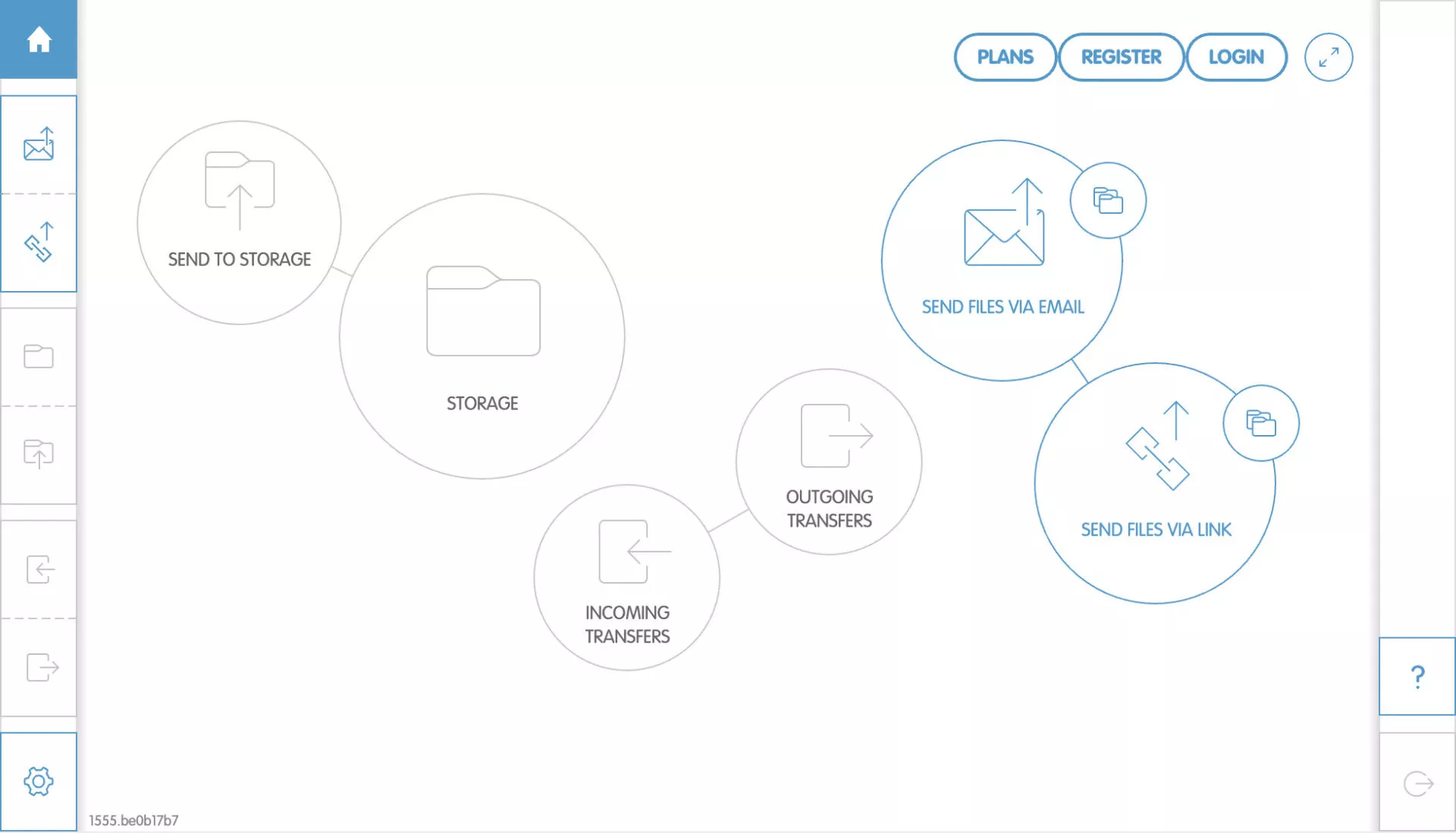 MyAirBridge is a free application that allows you to upload (using your mobile device as well) and share up to 20 GB by email, shared link, or download to your own storage space. It takes some time to upload large files, and the receiving experience is not the best, but it gets the job done for personal or small team use.
Plans from MyAirBridge range from Basic ($2.99/month) to Enterprise ($65.99/month). Users with the Enterprise plan have access to 15 TB of storage, unrestricted uploads of up to 100 GB, and the ability to password-protect files for added security.
9. Hightail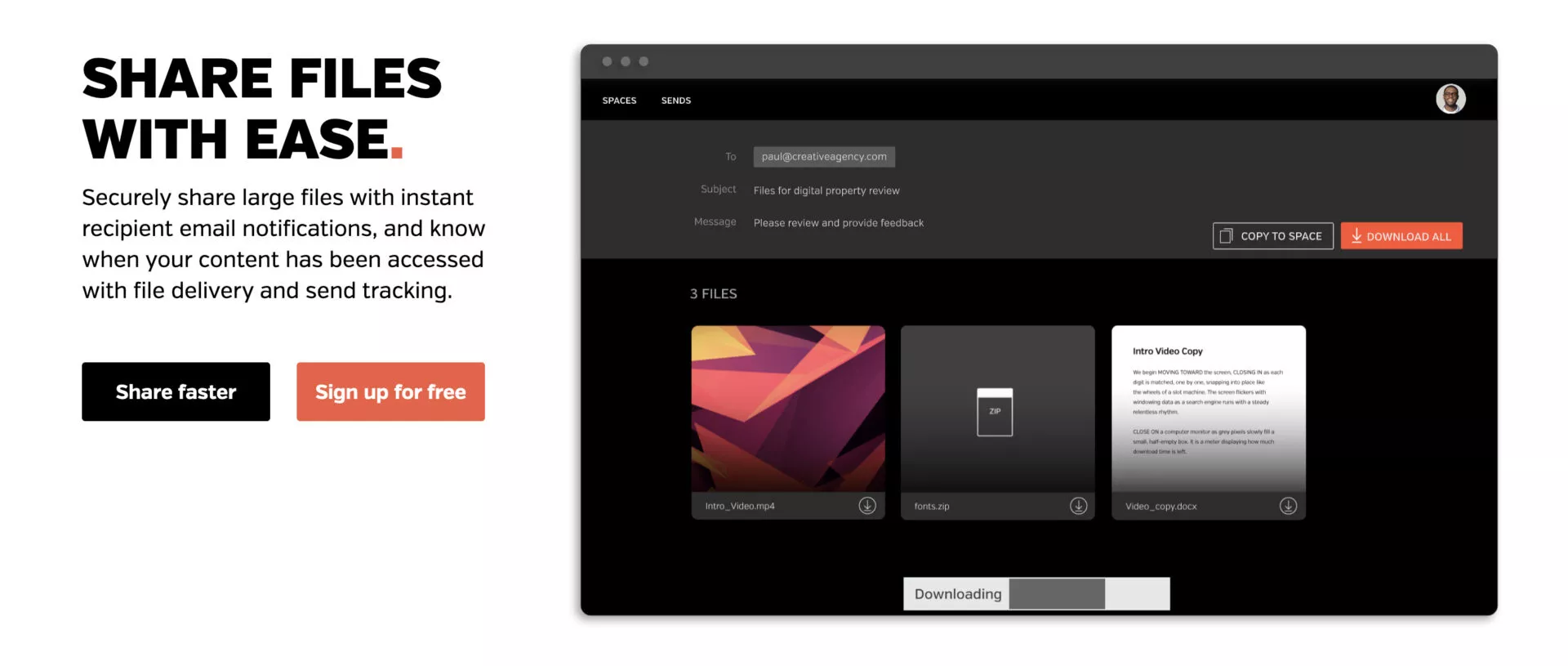 Hightail (formerly YouSendIt) was revamped and relaunched in 2013 as a platform for sharing and collaboration. Its free Lite plan allows you to share files up to 100 MB in size, with quick visual previews and the opportunity to comment on any file.
You may share files up to 25 GB with the Pro version, which starts at $12 per month and includes extra collaboration tools like email notifications and tracking. If that isn't enough, there is also a Business plan, which offers tailored packages to meet the demands of your firm.
10. WeTransfer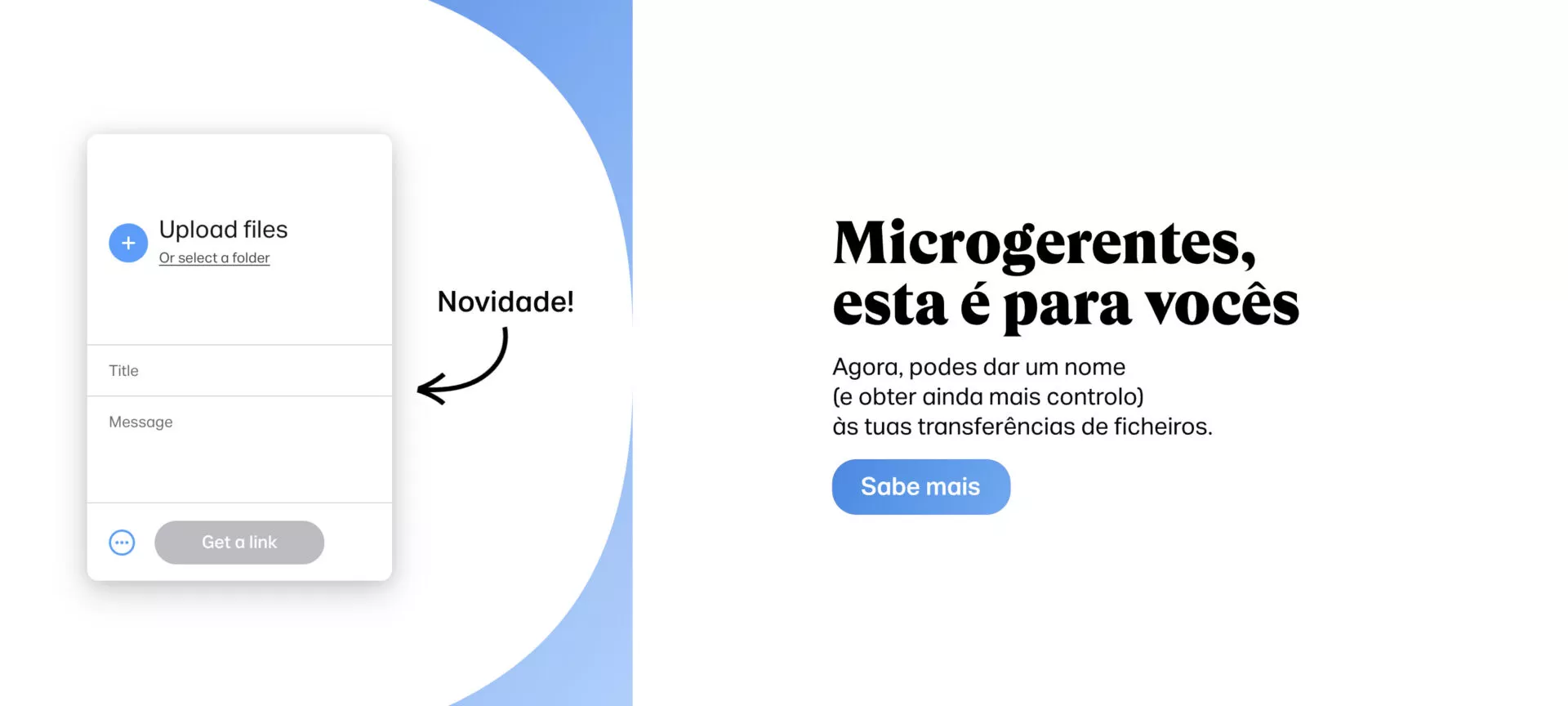 WeTransfer is a user-friendly service that is well-liked by many individuals. Simply select the file to transmit from your computer, then enter the emails and type your message. To transfer your file to the addressee, click the Transfer option.
File sizes of up to 2 GB are permitted with a free ad-supported WeTransfer account. You do not need to register an account, but each transfer requires guests to enter an emailed verification code. A WeTransfer Pro subscription costs $12 per month and includes file sizes up to 20 GB, as well as other perks.
11. Bitwarden Send

Sharing files with Bitwarden requires a $10 yearly subscription. To share a file larger than 500 MB, go to Bitwarden's Send page and click the Create a New Send button. Fill in a name for the file you want to share, then attach it.
You can share the file with specified restrictions, such as a deletion date, an expiration date, and a password. When you save the new Send, the file is uploaded to Bitwarden. You then provide the URL to others, who use it to download the file.
Large file emailing is now easier than ever thanks to modern cloud storage technology, file compression, and other possibilities. Check out all the options we have described in this article, test them out, and, hopefully, find the right tools that suit your needs of sharing large files.
∗∗∗
FAQs
What are the best tools to send large files via email?
Here are 10 out-of-the-box tools to share large files with an email link:
What are the advantages of using online tools to send large files?
The main advantages of file-sharing tools are:
easier online collaboration
data-loss prevention
keeping your inbox neat
ability to easily track the file
multiple user access