Now that most of us are working remotely, managing projects has become even harder.
Organizing your team's entire communication, keeping all your clients informed, and tracking the review process – are just some of the challenges every company faces now.
There are a lot of project management and online proofing apps available today. However, the pool is way smaller when it comes to the tools designed specifically for creative professionals. Most of them focus either on project management or the review process and are loaded with a huge amount of unnecessary features. The majority require special training for the teams to transfer their work there.
Not to mention that the cost to use separate platforms in order to cover every aspect of the workflow is quite high.
Especially if your team falls into the category of small or middle-sized firms. You need different platforms to:
host and run your projects
collaborate with your team and, possibly, freelancers
communicate with your clients and track their revisions
Krock allows doing all of the above and more in the same place and at a much friendlier cost.
Let's say you are a boutique creative agency with up to 10 teammates. Shall we have a look at what Krcok has to offer compared to the alternatives?
Cost and time optimization with Krock
When we talk about optimizing any kind of production process, we also talk about cost optimization. 99% of all the project management and online proofing tools charge a per-user fee (Monday, Asana, Notion, Wipster, Wrike). Some of them offer plans that are either for 3, 5, or 10 users (Filestage, Monday, Boords).
So if you are a boutique creative agency with 4 or 7 team members, you're facing either a limit of features or overpaying for user seats you are not going to use.
Krock offers flat pricing for teams up to 10 or 20 users, with a plan for 10 users cheaper than all the available apps charge for a 3-user plan!
Now, let's say your agency specializes in animation. Besides the tools for drawing and sound editing, you would need:
a platform to host video
another one to run the project and assign tasks to your teammates
one more for the internal feedback process
a place where your clients will review your work
All the features in one place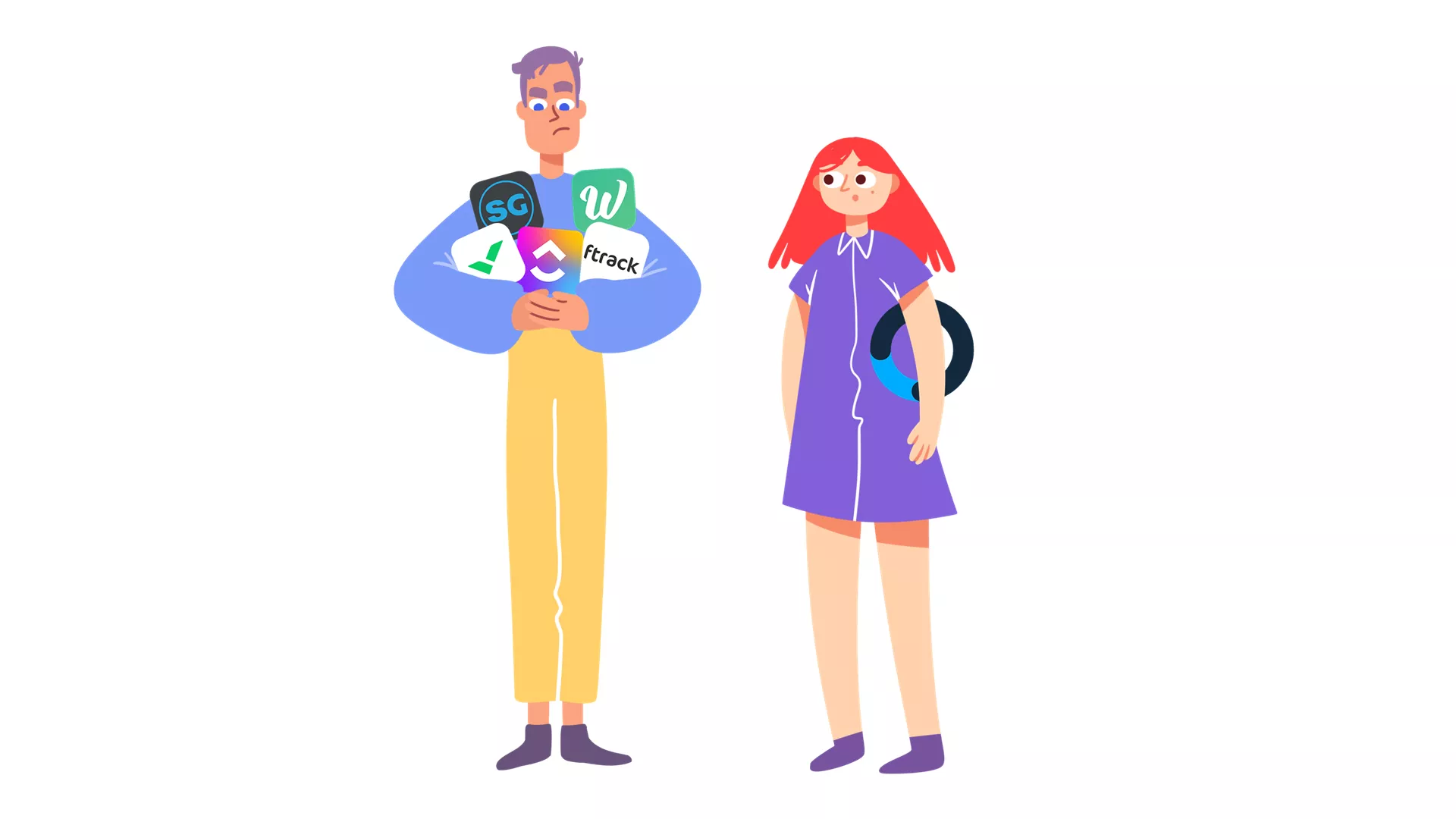 You can go for a set of online apps, for example, Boords ($29) for creating storyboards, Wrike ($29.4) for running the production process and sending versions to your clients, and Vimeo ($19.4) for hosting and sharing your work, with a total check of $77.8 in case there are just 3 of you on the team. If your team counts 5 members, that check goes up to $157.4.
While Krock is $55.2 flat and you can:
Create s custom pipeline for your production
Have a client brief right where your project would be displayed
Create storyboard and imagery
Host your animation
Create different versions of any stage of your production
Leave text and visual comments on an image, video, and pdf
Make your comments internal by turning them invisible to the client
Send as many versions of your work for review to your clients
Track all the feedback
Have all of the above in one place with a great design and only necessary features
Check these comparison charts to get a better idea of how Krock can save your money and time:
Krock vs Filestage + Notion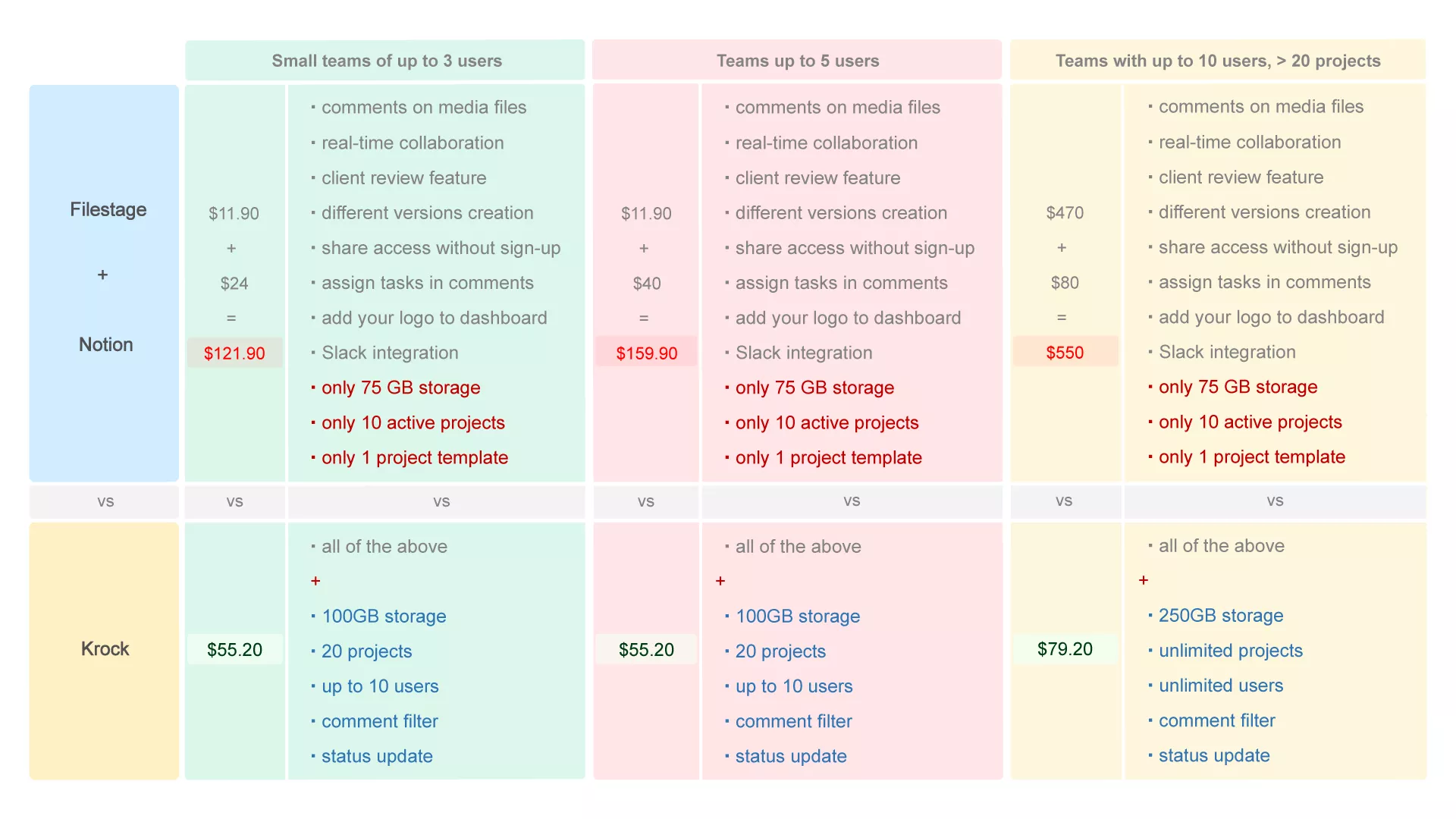 Krock vs Vimeo + Boords + Monday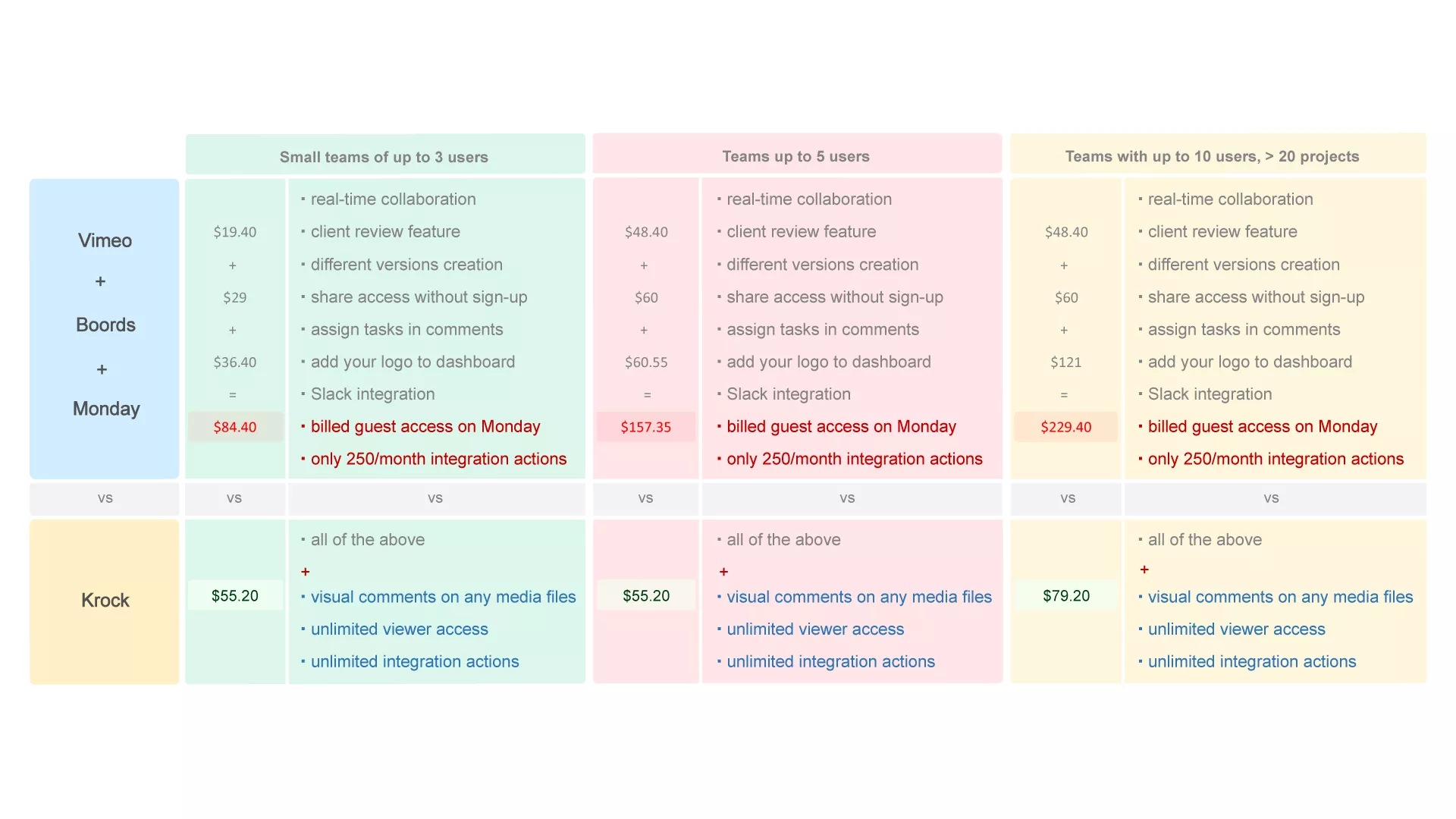 Krock vs Wipster + Click up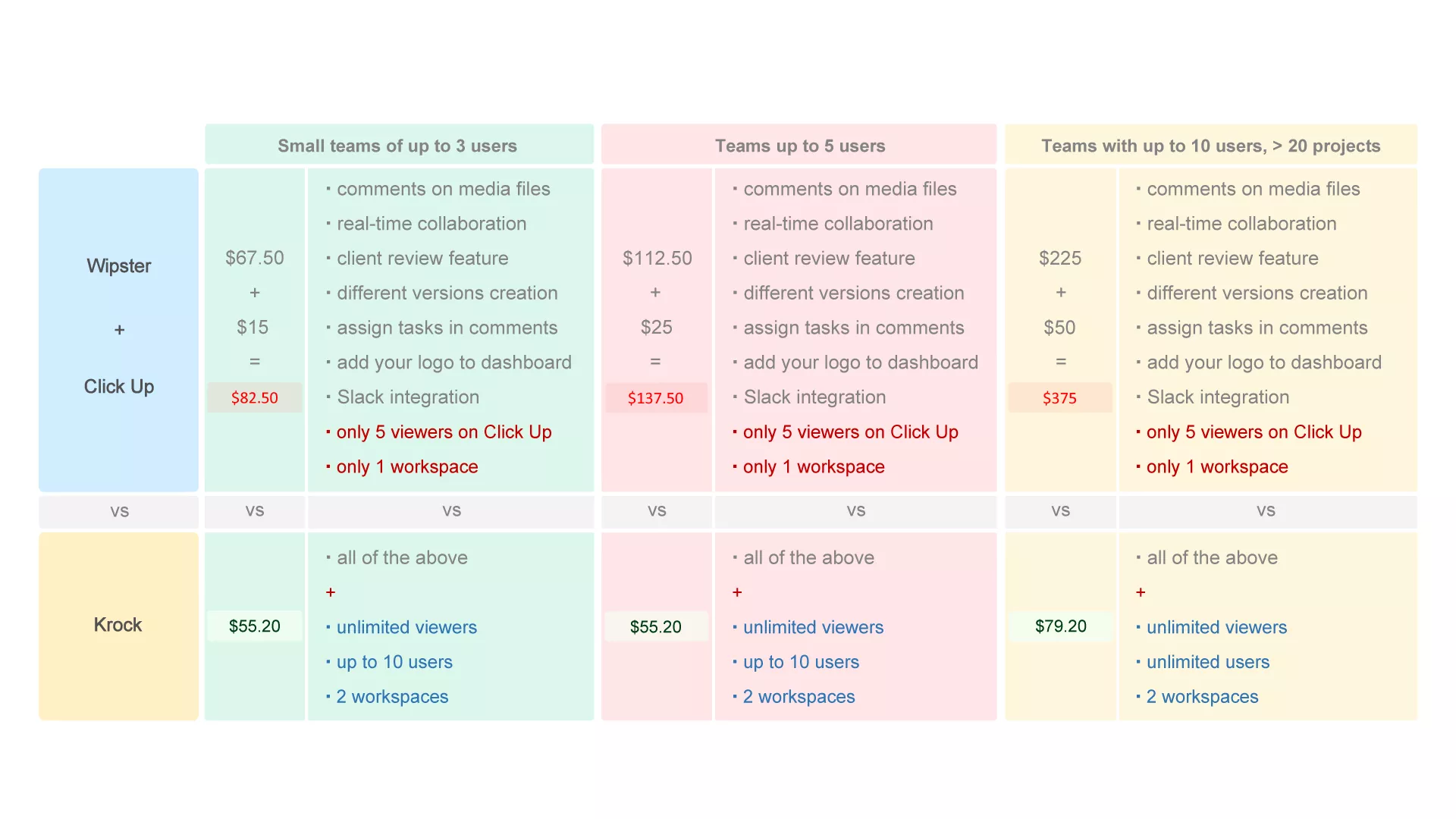 Krock vs Wrike + Asana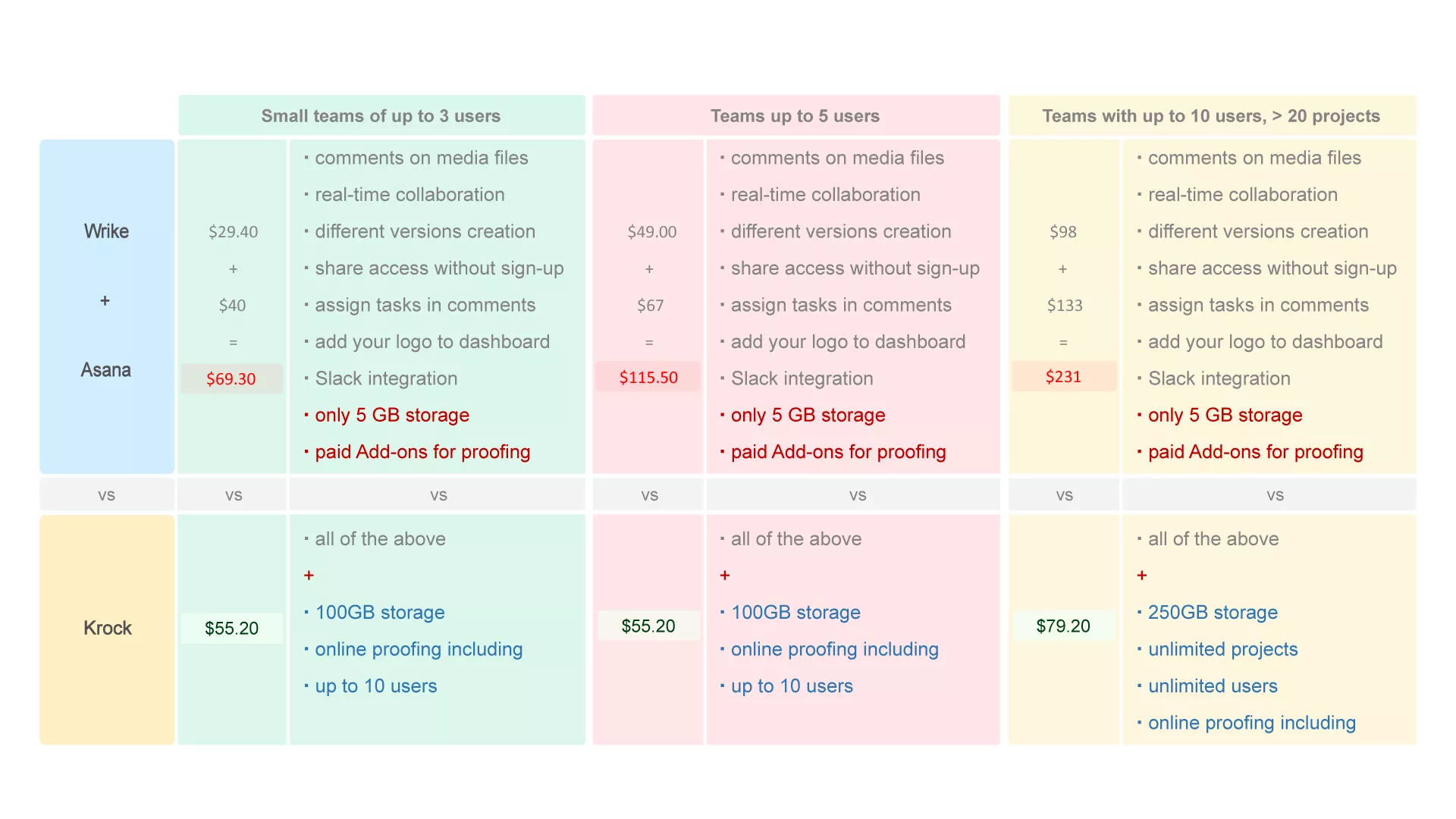 Krock is way more cost-efficient than any alternative set of tools out there while storing all the features to guarantee a smooth creative workflow.
Not convinced and want to check out all the functionalities Krock has in store?
Try Krock for free for 2 weeks and see for yourself. Our free trial includes all the unlimited features of the paid plan.
Got any questions? Schedule a quick demo call and our team will be happy to assist you in the best way possible.