Are you wondering what are video editing rates in 2023 will be? Or do you want to know how much an hour of video editing will cost? If so, you've come to the right place.
As a video editor, you can charge a variety of prices depending on your skill set, experience, and position in the market. It's all about your pitch!
Let us give you some real-life statistics.
Although there are no quick fixes, we've prepared a guide to help you decide.
Do you want to know how to find a video editor at an economical cost?
Since most video editing companies have existed for hundreds of years, they are familiar with how much to charge for video editing beginner or expert services. People in the medical field understand what is "reasonable and customary fees"; plumbers, cabinet makers, and roofers know the going rate in their fields; even body moderators and tattoo artists can easily find out how much their competitor's video editing charges. These disciplines have an extensive history, which has allowed them to develop rate structures that are pretty easy to understand.
There's also motion picture editing, which didn't even exist until around a century ago. Also, nonlinear video editors have been around for about thirty years. In fact, "prosumer" desktop editing was not as widely used until the end of the 20th century. The video industry became a vast market, a thriving industry that evolved from highly specialized artists.
In the new digital age, a great deal of video editors is turning to laptops or smartphones to create their work with smart magic tools, and are able to take advantage of various multi-functional video platforms such as KROCK.IO. As a result, these types of video services are designed to serve millions of digital editors who are eager to manage their workload in one click.
Here you can manage projects and make sure they are error-free and delivered by the deadline by using a competent online proofing tool. Additionally, because online proofreading solutions are web-based, they make it simple for your clients to view your projects from anywhere in the world and at any time of day.
Keep it all
together with Krock.io!
And also, the question is, what must designers consider when searching for a video production cost estimate template? Several factors affect the price of a video edit, including:
The total duration of raw footage

The total length of the final edited video

Different Motion graphics used

Multiple types of text overlays involved

Color grading or scheming

Image stabilization

General complexity levels
In light of the above, they will provide you with an estimated total video production cost.
Alternatively, you can start with your own research: look at the prices charged by freelance video editors with a similar skill set, as well as what video editing companies offer – try to identify 3-5 that fit the range you are looking for.
Now you roughly know what you are looking for. You don't have to start with the cheapest rate you've found if you're just starting out – make it a range of rates you can choose from.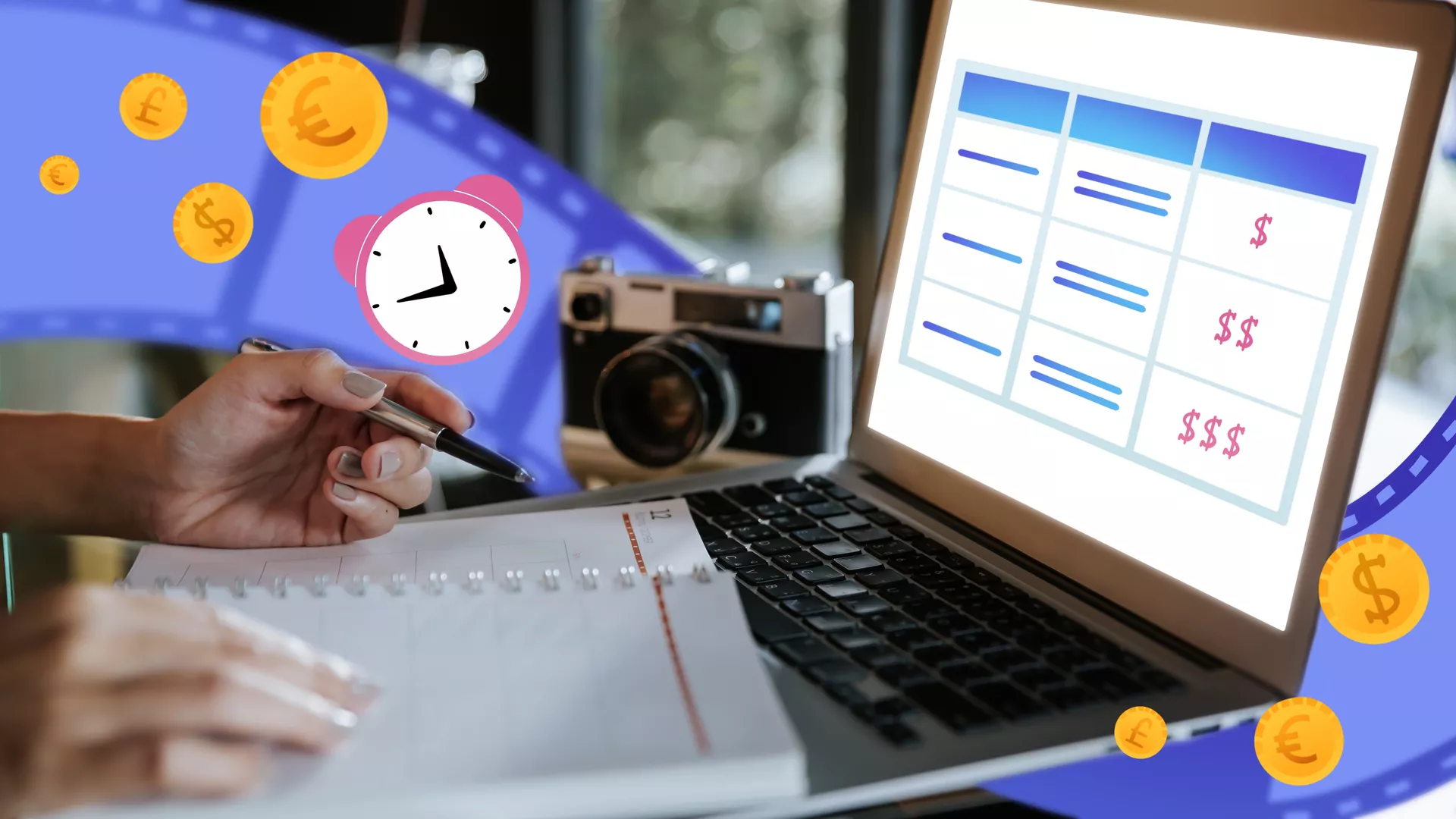 What to pay for a fixed Video editing rate versus an hourly rate in 2023
Most video companies usually work on a fixed fee system. Or using monthly subscription packages that include a certain number of videos.
Using fixed video editing charges means that you always know in advance how much your video will cost. In contrast to hourly rates, where you might have an idea of how much the total will be but you don't know the exact rate. But mainly companies pay about 25-45 USD per hour.
It is wholly based on the client's requirements whether they choose an hourly or fixed rate to edit a video.
Video editing hourly rates
| | | |
| --- | --- | --- |
| Video Editor Level | Job Description | Average video editing per hour rates |
| Beginner | Have a piece of knowledge about basic editing software (Adobe Premiere, Final Cut, Pro) | $20-$45 |
| Intermediate/ Advanced | Beyond fundamentals, also know about videography, cinematography, animations, montage sequences, and a polished portfolio | $45-$100 |
| Expert Editor & Producer | Beyond editing expertise, they also have other skills such as project/product management, live-action video, whiteboard video, and storyboarding | $60-$100 |
According to the data above, a video editor's hourly rate will range between 25 USD and 45 USD for a beginner, 55 USD to 80 USD for an advanced video editor, and between 80 USD and 100 USD for an expert.
It depends on the project and how much time the editor spends on it. But, if you need information on how much YouTube editors' work costs, it usually takes about one hour of post-production time for every minute of finished editing in a YouTube vlog-style video. For example, a 5-minute finished edit will take 5 hours (on average) and should cost between $225 and $500 if you hire an advanced or experienced video editor.
It sounds reasonable to clients!
There is no record of the average amount of time a freelancer, YouTuber, or innovative video company's editor spends editing a video, but a ballpark estimate is between 5-6 hours. That includes everything from revisions to finalization.
It costs an average of 259 USD to edit a video. Therefore, dividing 259 USD by 5 or 6 will give you an hourly rate of around 40 USD to 50 USD per video.
The rates above are at the top end of the hourly rates for an experienced video editor, pretty accurate figures!
In addition, you save money by hiring a video company editor by avoiding the costs of video editing software, templates, plugins, and stock video.
Essentially, you will take the hassle out of all third-party licensing and assets costs as well as extra outsourced video editing rates that usually the clients are not aware of.
Types of video editing costs
Video creation is available for a variety of purposes, including GoPro, family, wedding, branded, corporate, animated videos, and so forth.
As far as costs go, they vary slightly from one video type to another.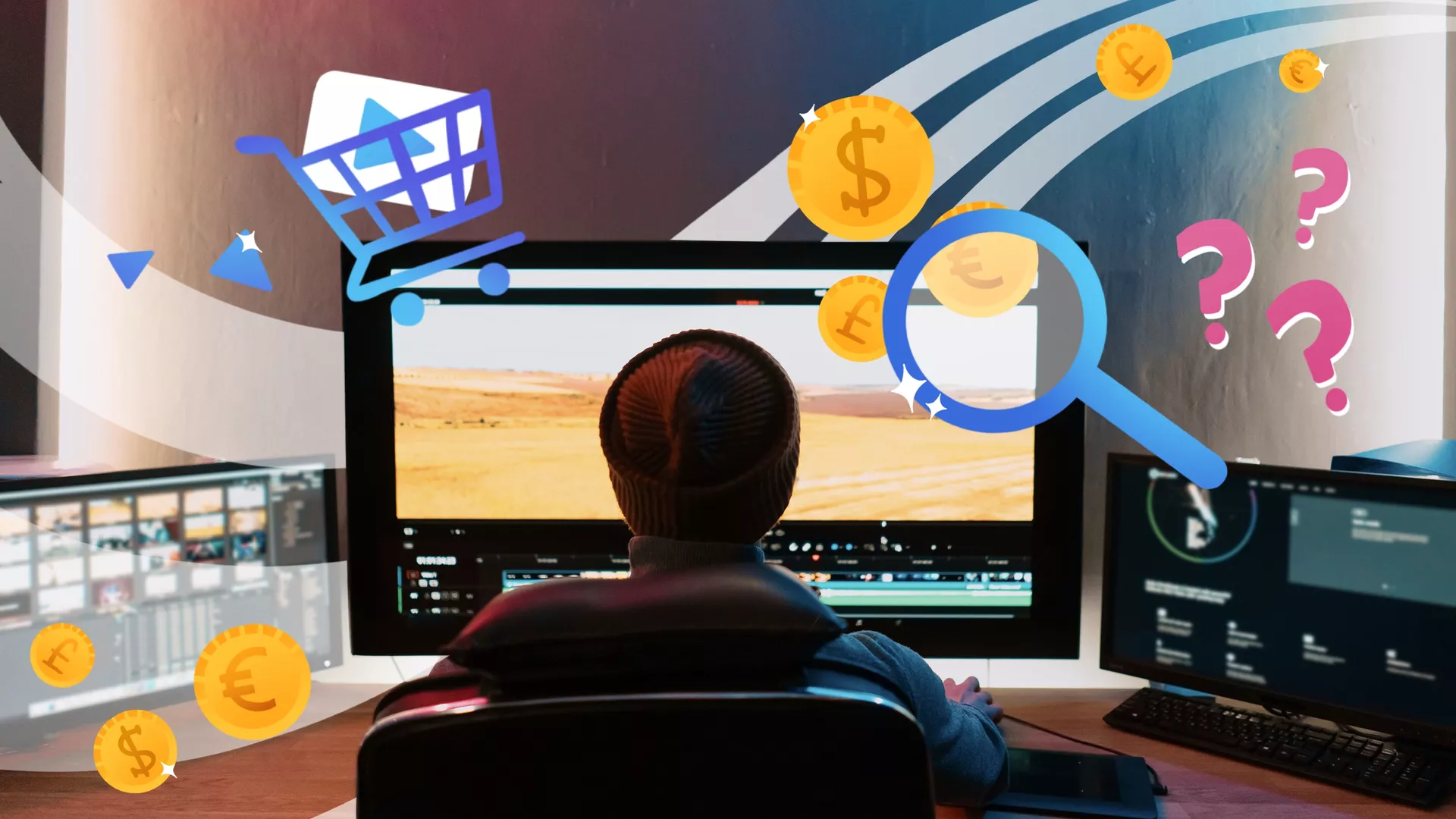 Personal videos
GoPro & family videos are probably the easiest to edit so both can be put in the same category as these are likely to be the most entertaining. This should make them the most affordable option.
In this case, the cost depends mostly on the amount of source footage the client has and how long the final video should be.
Consequently, it costs about 100 USD for really short personal videos. On the flip side, some adventurous videos of long vacations or overseas trips cost over 1,000 USD.
Weddings
Next, there is a new category for weddings, which is separate from everything else.
Wedding filmmaking, A huge industry that everyone knows about!
Videography for weddings should always look elegant and professional. These videos should ideally have a cinematic quality. You need everything to look great, the colors should be perfect, and you need a little storyline. As an editor, one of the advantages of wedding videos is that you (almost) always work with professional videographers. This means they use professional equipment and are knowledgeable about it. Hence, the shots are steady, the settings are correct, the framing is appropriate, and the scenes are in focus. Having all this information makes editing much easier since the quality of the finished edit will always be affected by the quality of the source footage.
Also, the storyline or order of events, which is more or less the same for each wedding. All of these benefits allow for streamlined post-production. Therefore, the cost of editing a wedding video is not as high as it might seem.
Custom videos for brands and companies
Here, you must follow a given script, follow specific instructions, and maintain a branding guideline. Maybe you have to make it with a unique appearance & style.
These are not only the most demanding videos, but also the most expensive ones, and the prices vary greatly as well. All it takes is a clear understanding of the client's needs.
Doesn't matter whether you want to create animated, YouTube, branded, or corporate videos, but can't understand how much you will charge. Now, it becomes easy for you to determine the rate quickly through the top-notch KROCK.IO cost calculator. With this calculator, you can find out how much income you make in real terms, including how much money you spend on third-party services (such as stock sound effects and photos for video editing as well as royalty-free images and video footage subscription packages). Also, you need to understand how many videos you will need to create to earn a handsome amount of money in the future. Doesn't it seem cool?
Feel free to use the KROCK.IO video editing cost calculator. Click here for the cost and number of videos you can create per month, excluding the use of third-party services.
When you have a KROCK.IO cost calculator, What worries you?