As a creative professional, you know feedback and approval are crucial to any project. But when you're dealing with multiple types of content, managing the workflow can become daunting. Have you ever found yourself chasing down feedback and communicating it to team members? And project timelines can come to a standstill while you wait for stakeholders to review and approve your work. Sounds familiar? Time to try out the approval software.
Do you feel like you're always bogged down by the approval process? If so, you may be ready to try out some software designed specifically for approvals. In this post, we'll explore the benefits of using such software and what features to pay attention to when choosing a solution for your company. Then we'll cover the top five approval software platforms for brands and agencies
What Is Approval Software?
Approval software can help creative teams stay organized with features like version control, automated notifications, and permission controls. These tools can streamline the approvals process and make it easier to get your work done.
Benefits of Approval Software
It's not a secret that each business requires specific features when it comes to workflow software. However, there are some benefits that are universal to any business that implements an approval workflow software solution. Perhaps most importantly, everyone involved in a project can see its status at all times. This transparency ensures that projects stay on track and avoid bottlenecks. Additionally, automated feedback and approval tasks keep the creative process moving along smoothly. Finally, project managers can easily get a bird's eye view of all assets and projects under their purview. Approval workflow software benefits include:
Upgrade Team Collaboration
With the rise of remote work, more and more creative teams are finding themselves collaborating on projects from different locations. Approval workflow software helps team members communicate and collaborate seamlessly, regardless of location. Users can tag each other, communicate online, and can see the status of all their files and projects — no email is needed.
This transparency afforded by approval workflow software is just one of the many advantages it provides to creative teams. It can be confusing when working on specific tasks or creative process parts as a team can get duplicate tasks. To avoid this, it is important to assign specific roles to team members and have a clear working plan.
Make Feedback Loops Shorter
In creative processes, feedback is essential at different stages to ensure the best possible outcome. However, there are marketing leaders who don't get timely feedback and comments from internal stakeholders stating this is the top cause of project delays.
Approval software can help overcome this issue by ensuring creative teams are getting the feedback they need in a timely manner. Automated notifications can also alert clients and other team members when their feedback is overdue, helping to keep projects on track.
Achieve Fewer Mistakes and Rework
As a marketing leader, you are always looking for ways to improve accuracy and quality in your feedback process. Such software as Krock.io offers annotation and markup tools that can help with the workflow. Reduce the misunderstandings risk and the number of revisions required to complete a project. These tools allow you to provide specific, actionable feedback that can help improve the overall quality of your content.
Different markup tools allow users to precisely target a particular section of a file when they make a comment, which reduces the potential for misinterpretation. This, in turn, leads to fewer exchanges between team members and clients.
Streamline Review and Approval
If your creative team is still relying on email to share content and request feedback, try to work with a system that is more efficient. Approval software gives you the ability to model, automate and manage the entire review and approval process in one platform, eliminating the need for lengthy email chains with multiple recipients and large file attachments. Teams that use workflow automation tend to have more comments, more versions, and more approval decisions, but also significantly shorter project turnaround timelines.
Create High-Quality Content
If you want to create high-quality content, it's important to have a good collaboration process in place. This means having clear communication and feedback mechanisms between all team members. For example, when creating text-based assets like website pages or marketing materials, it's important to have multiple levels of review and approval before finalizing the piece.
Complete Project Faster
You'll be surprised how fast projects can progress when you don't have to spend time seeking feedback or waiting for clarification. Projects using approval software like Krock.io only need to complete a couple of versions on average and 4-6 versions without any formal approval software or process.
Reduce Compliance Risks
In addition to the inefficiency, sharing content via email introduces unnecessary risks, as the security of an email account has a lot to do with the strength of a user's password. Approval software provides a secure, cloud-based way to share content, reducing marketing and brand compliance risks.
Features to Look For in Approval Software
Consider whether the approval software platform includes all the necessary features for your team. Check the following features that can upgrade your work.
Collaboration and Feedback Management
Approval software is useful and comes in handy during the whole creative process. It means that you don't have to hold the software away until the review process but actually use it all the time. Software solutions offer features that support collaboration, notifications attached to specific assets, tagging tools, and live chat. These features benefit internal teams as well as improve communication with external freelancers and stakeholders. You can find them on Krock.io.
Version History and Controls
You need to be sure that the whole team is working on the one file that is right after you've got several versions of one file. Approval software allows you to control access to previous versions. You can also view a file's full version history to keep track of all the changes including the information on people who've changed the file.
Many File Types Support
Creative teams can work with hundreds of different file types, including audio and video. Approval software should allow you to store, share and tag creative assets in various formats.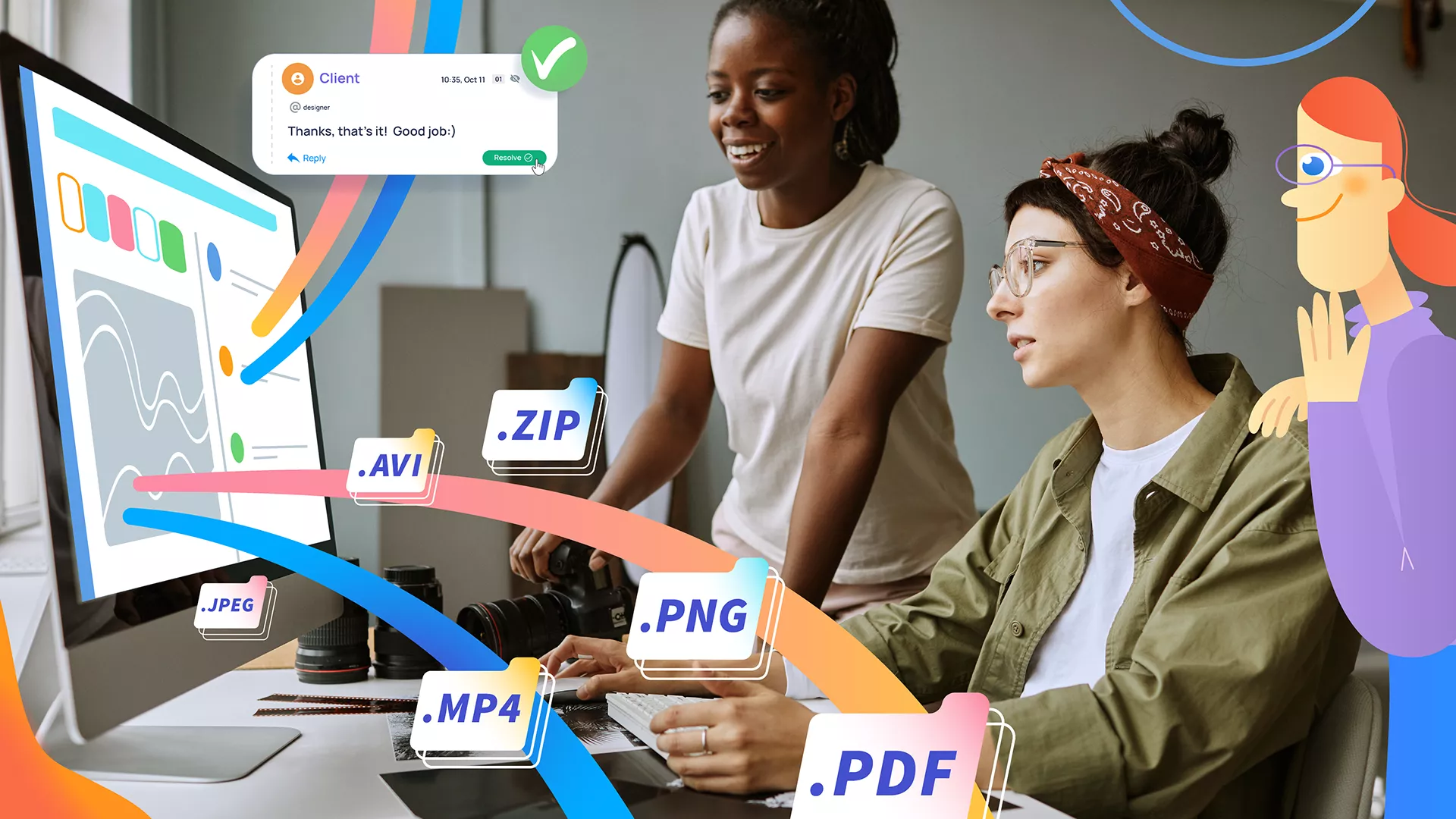 Project and Approval Status
Approval software allows internal teams and any external stakeholders access to quickly view approval status and requested changes. This visibility level helps to make sure that the whole team as well as clients are on the same page.
Automated Approval Workflows
With the best approval software, you can automate workflows, so assets are constantly moving through the pipeline and handed over from one user to another in seconds. You can customize these steps as well.
Security and Permissions
It is also possible to be secure when using software like Krock.io. Make sure your content and information are secured. Approval software should include features such as data encryption during file transfers and SOC 1 and SOC 2 certified hosting. The ability to set custom permissions for users and files further enhances security.
Integrations with Existing Tools
Approval software may not come with design tools, but it should integrate with the software you use every day. When it doesn't play well with other critical software, teams waste time moving back and forth between platforms.
File Access
One of the benefits of approval software is that it helps team members find assets in seconds. This functionality depends on your ability to filter your search. So look for a platform that offers multiple levels of custom filtering.
Conclusion
Missing files missed deadlines, and backlogs of feedback are not necessarily part of the creation process. These problems arise because creative teams don't have the proper processes in place to streamline their workflow. Approval software includes all the features needed to set up processes and significantly increase efficiency.
Creative review and approval software help you focus on production instead of endless administrative tasks and feedback management.