We're firmly in the digital age, which means that collaborating online is more important than ever. With an increase in remote work, creative collaboration that makes sense is key to your business succeeding. There are many products used for collaboration between employees, but each has different pros and cons.
Today, we'll focus on the comparison of Krock and Ftrack, and how they make workflows more efficient but in varying ways. Let's see what functions differ, which compare, and what software is right for you.
Online Proofing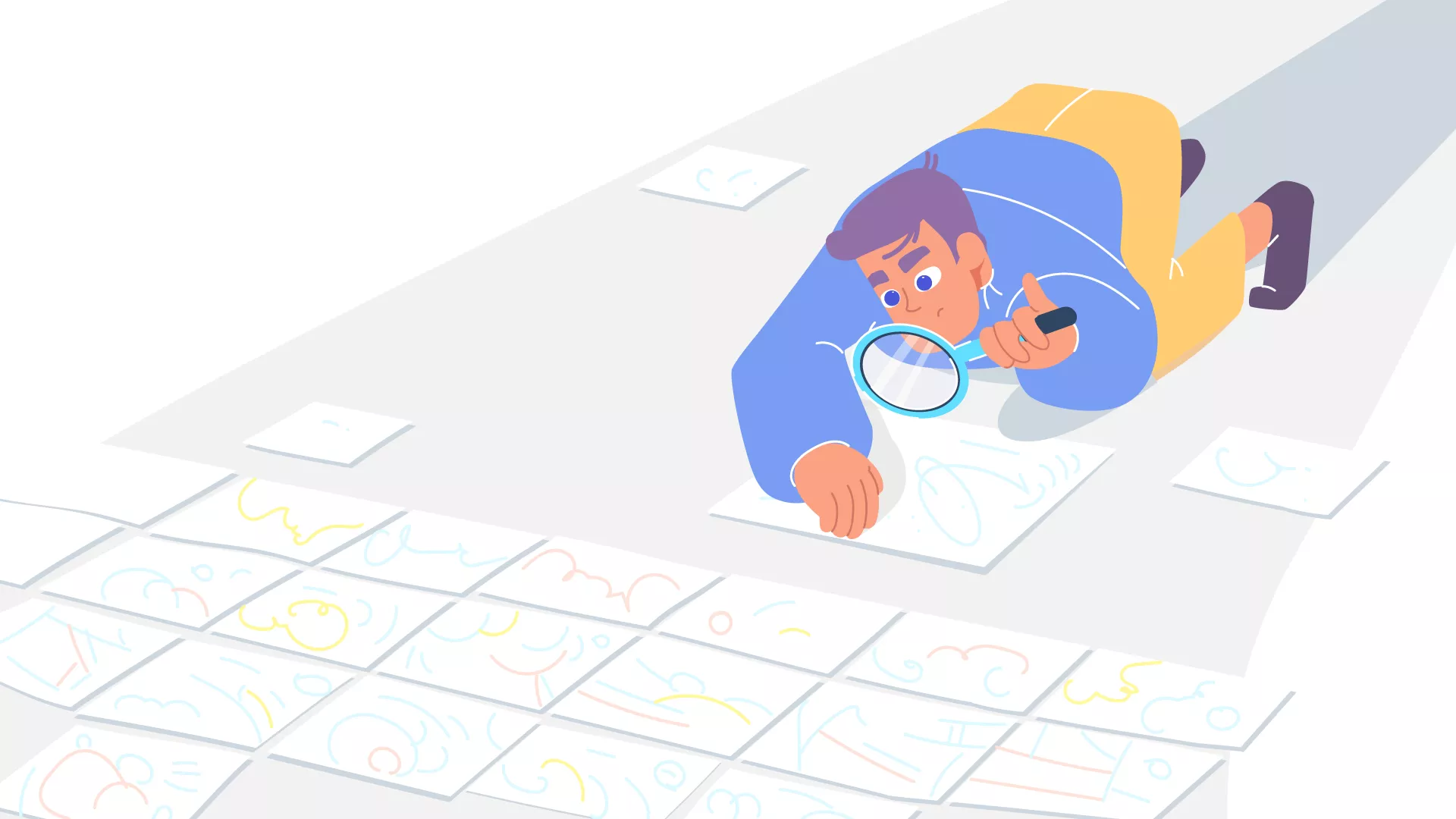 Ftrack App
Ftrack specializes in creative video review. If you're making a film or animation, it's a good video approval software that can help you greatly. Teams can sync videos up with Ftrack to watch the creation at the same time. This way, the team can pause at the same time when someone has a note, just like the office was in person.
You can also draw visual cues: arrows and lines on the video shot to make your note clear. Or hop on a video to chat with a client or an employee at any time to gain further clarity. Each note will show up on the exact frame of the film that you are referencing. With these tools, there's no doubt that your suggestions will be communicated loud and clear.
Online Proofing in Krock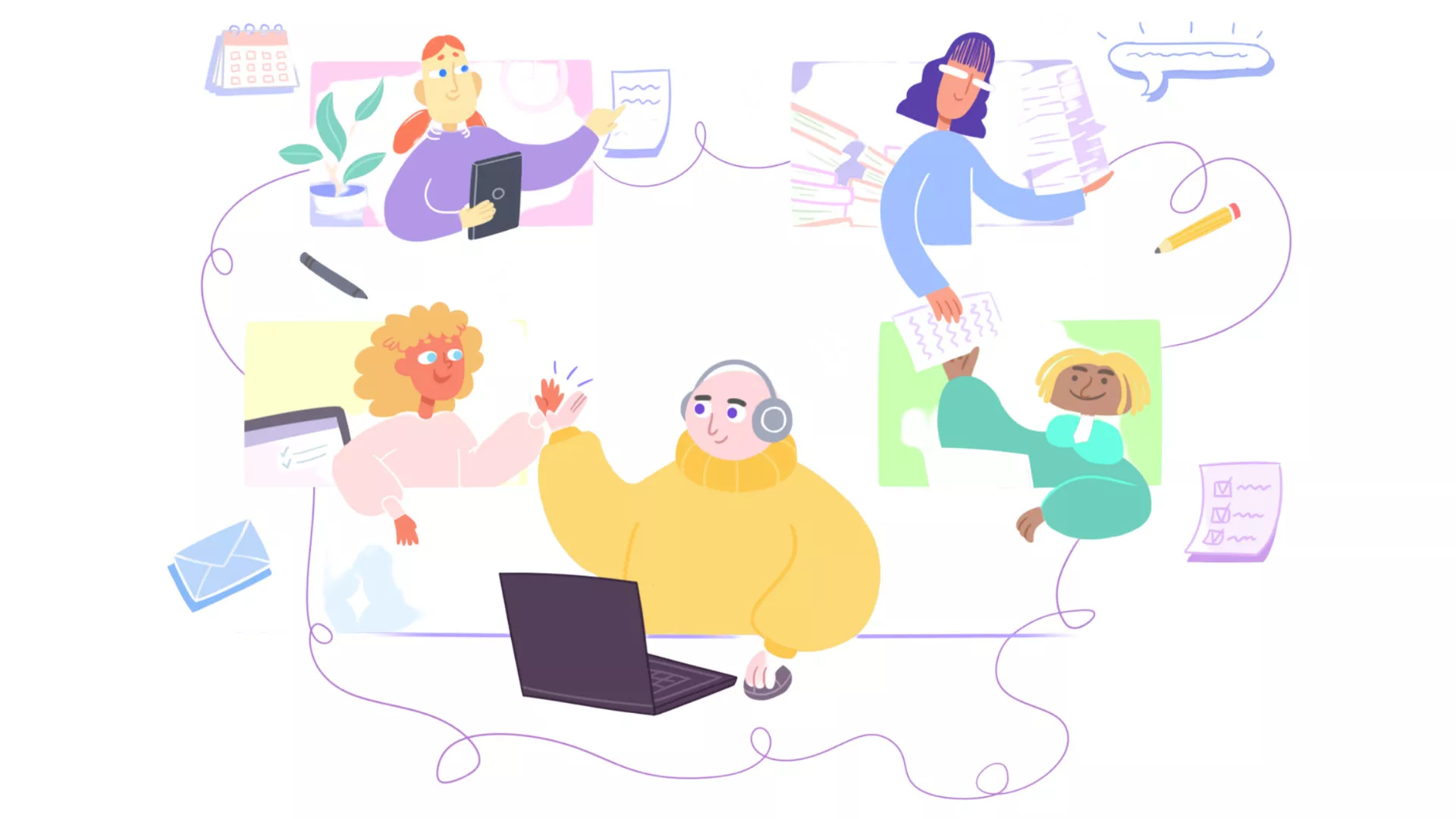 Online proofing features that Krock has are the same as the ones Ftrack has, plus some. Krock is also fitted with features like visual comments, similar to Ftrack's visual сues. You can tap the exact spot and frame on a video to make your note clear on Krock, just like on Ftrack.
There is one crucial difference though. In Krock, you can leave visual feedback on all types of media. Whether you want to edit a picture, pdf, or video.
Along with editing various media files, you can filter your comments section by author, file, or time sent. It saves you time scrolling for that specific comment you're looking for from a coworker. Besides team communication, Krock also took care of client feedback: clients can leave visual comments and notes on any file – talk about the end of unclear revisions!
Client Online Proofing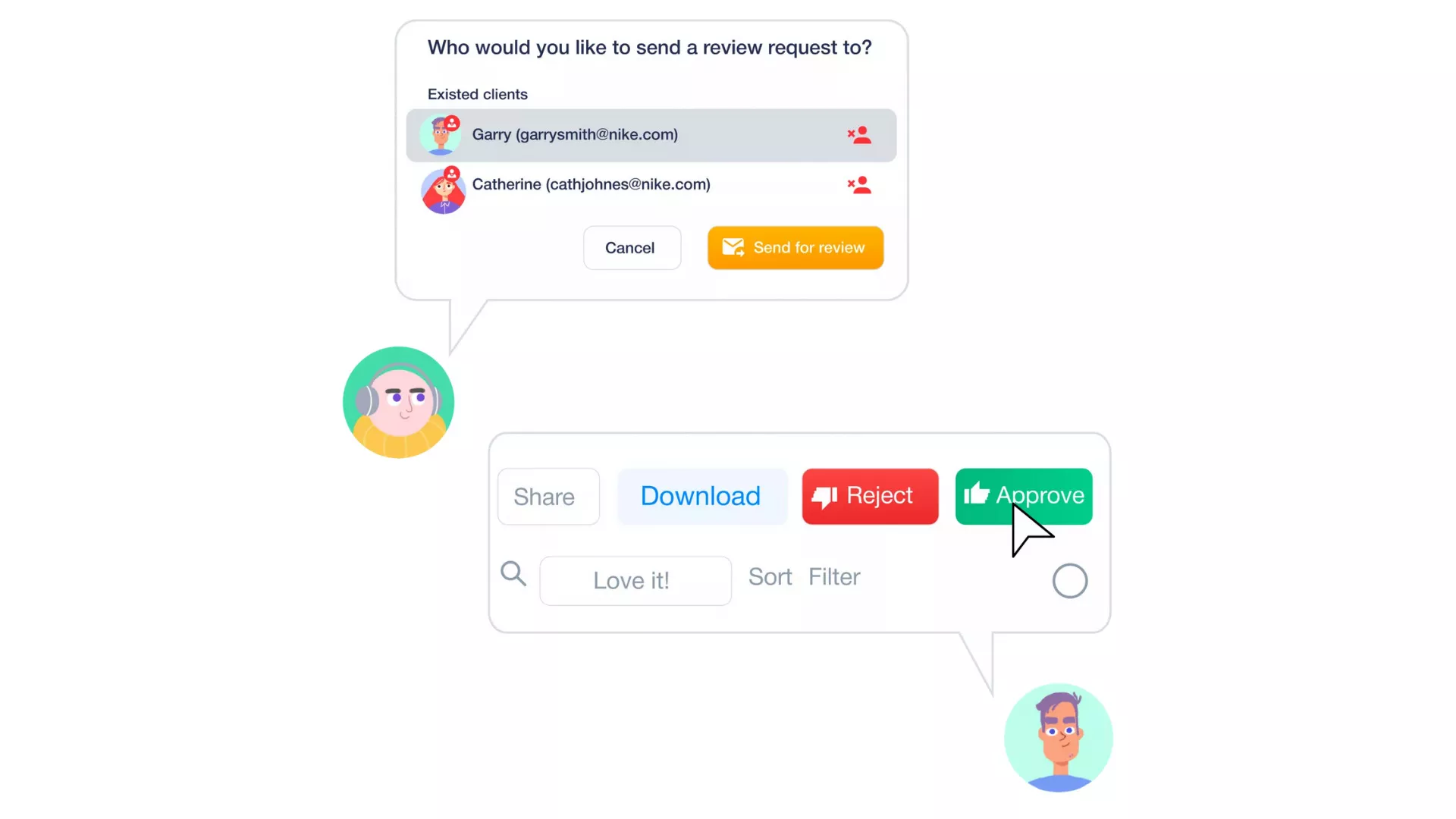 Both Krock and Ftrack have a major feature – an online proofing system for clients. While Ftrack revision sessions are great for professional teams, users with no experience in creative software may note that it takes a certain savviness and a little time to learn the interface.
In Krock, the client will find a one-click client review system with hustle-free onboarding.
Although the procedure itself is similar in both tools, you can send a version for the client review directly from Krock. Whereas in Ftrack, you will have to create a separate session for your client to review your work.
Creative Project Management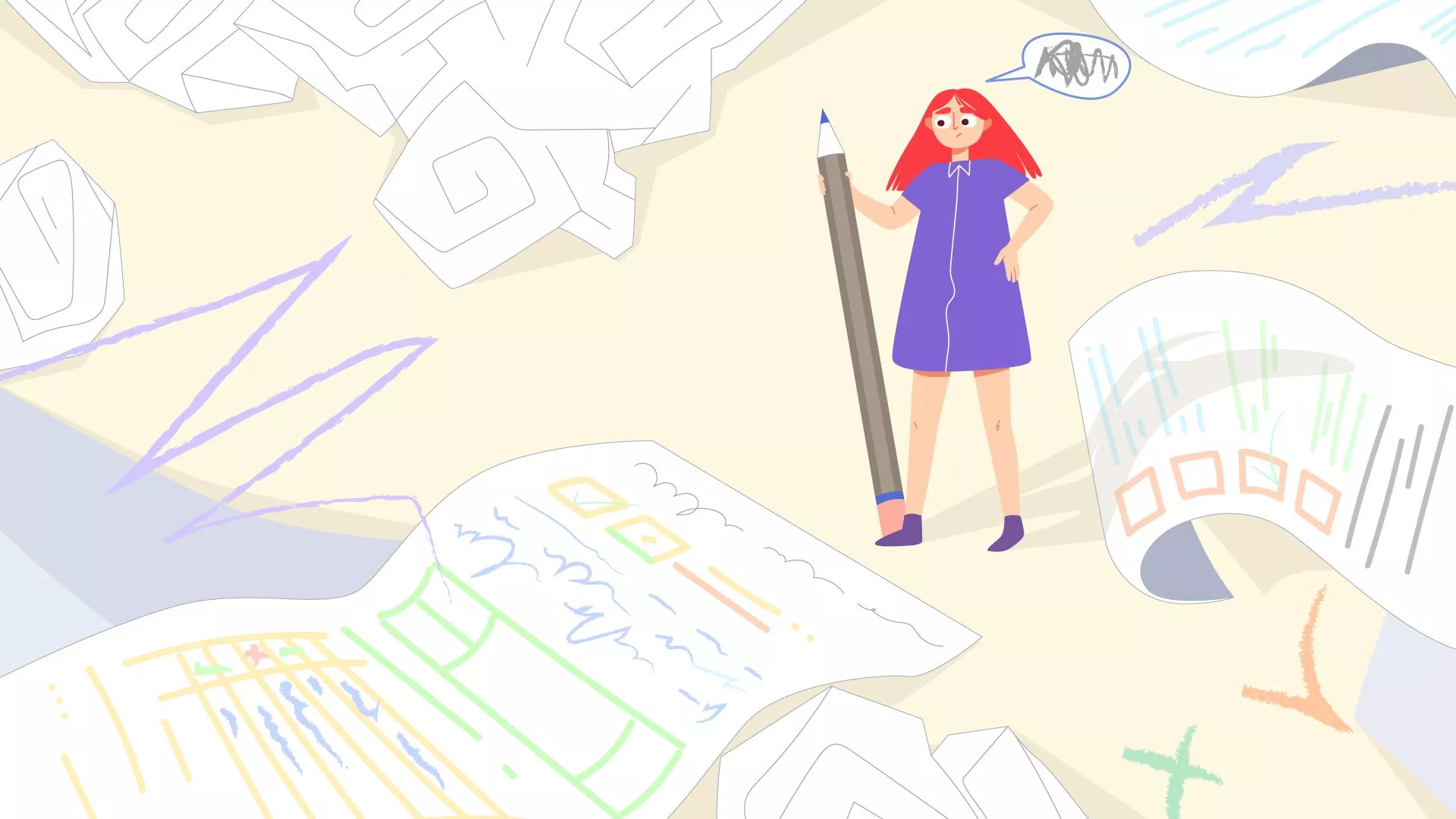 Ftrack
Managing any project can be stressful. Creative projects require no less level of focus. Figuring out who does what job and communicating that clearly can be a bulk of the problem. However, thanks to the SaaS advances of the last few years, project management became much more simplified.
In Ftrack, you can make simple project plans that ensure you make all of your deadlines for each. You can easily adjust the schedule and change it as plans change and projects progress. The page for project planning is quite straightforward, highlighting different projects in various colors and setting a clear chart for deadlines and milestones for each project.
Another key ingredient to an efficient collaboration tool is a strong and accessible chat feature. With Ftrack, you can send messages to an employee or client and that person will be notified on Ftrack and is a connected outside communication tool, like an email or phone number. This ensures that everyone is up to date with the project they're working on.
Creative Project Management in Krock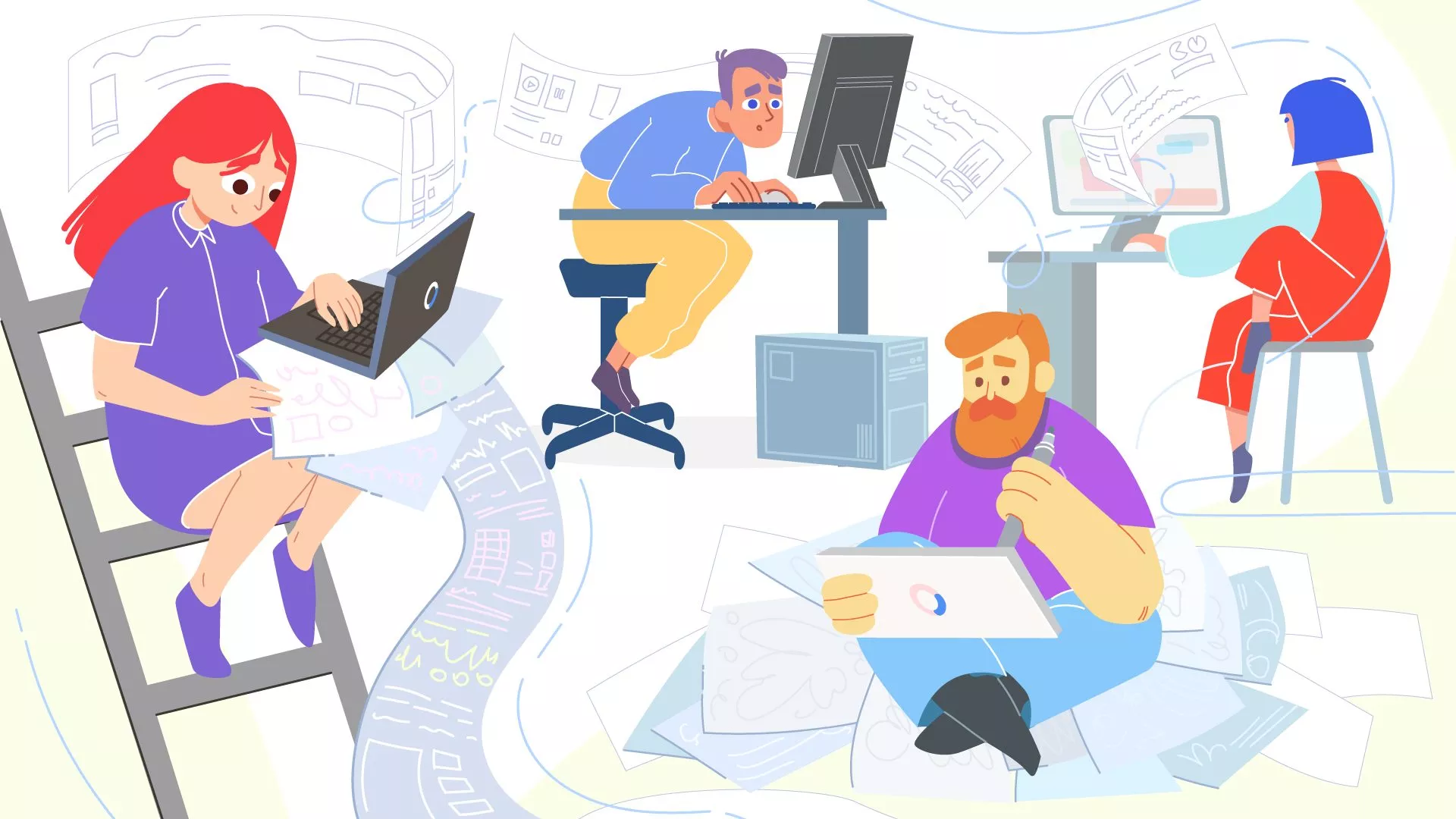 Krock has a slightly different approach than Ftrack. For one, Krock has various workspaces, which you can use for different clients and teams. There is also role-based access, each role with its limitations and permissions. Besides clients, you can also invite freelancers to the project you are working on.
Just like in Ftrack, you can create a custom pipeline for all of your projects. However, Krock went a little further into diversifying the pipeline stages, or as called in Krock, steps.
There are 6 step types to build your production pipeline with:
PDF – for briefs and other documents
Image – for designs, illustrations, etc.
Board – for storyboards, reference books, mood boards
Video – for animations, films, explainer videos, etc.
Assets – for various types of files from video to AI or PSD, uploaded without a preview
Folder – to group your steps according to team or production stage in one place
Link – to send an external link to your project pipeline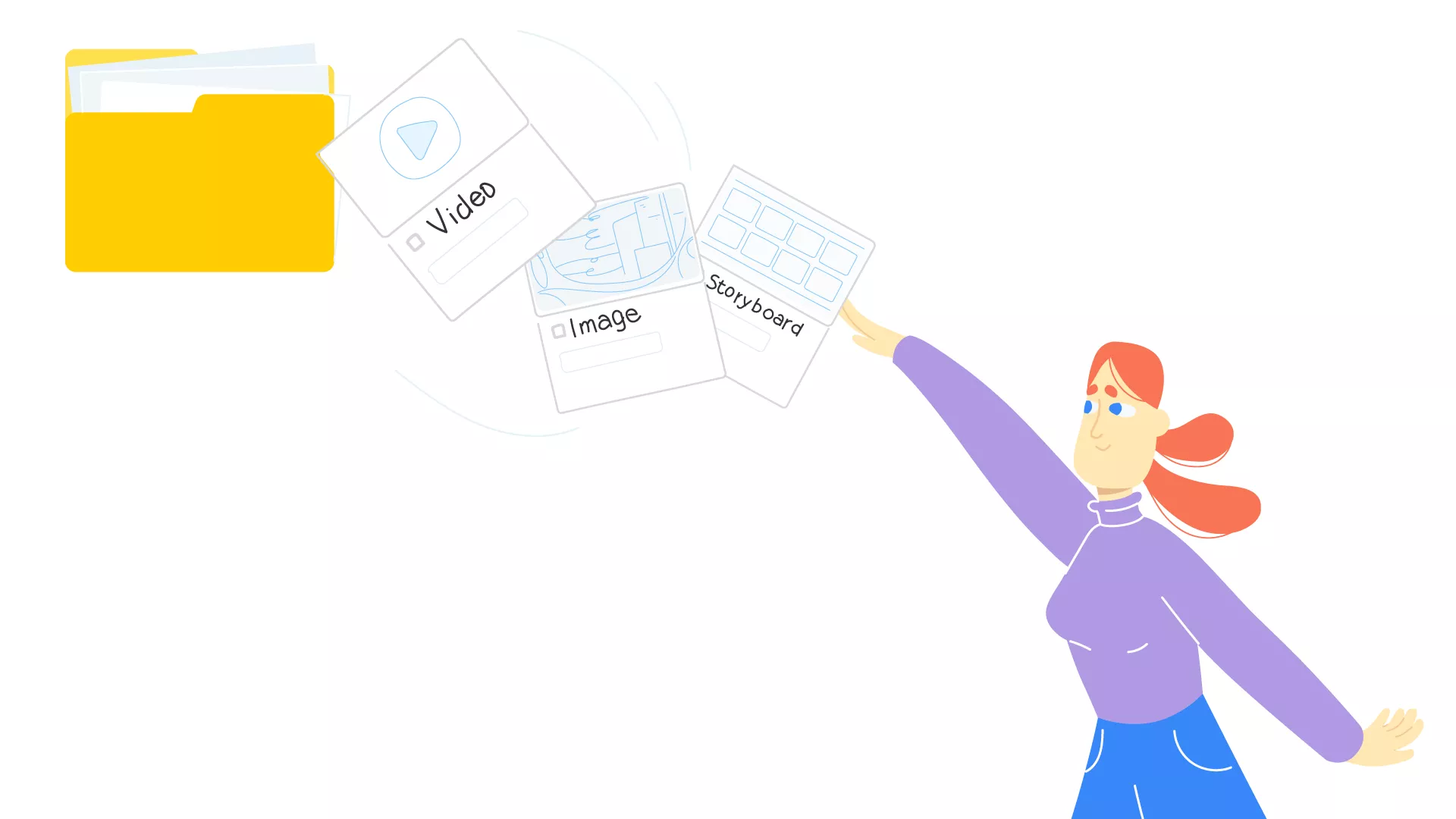 Another quite useful feature that Ftrack lacks is Gantt Chart.
The Gantt Chart is likely to be the most used technique for visual project planning. It helps you to:
Layout and improve your project schedule
Increase your team's productivity
Manage your resources better
Define the fastest path for project completion
Chunk down complex information
Storyboard Builder

Taking into account that Ftrack is focusing mainly on video production, it is quite a surprise that it lacks a storyboard-building feature.
Since Krock was designed with animation artists in mind, a storyboard builder was an essential tool. However, animator or not, every creative can benefit from this tool.
The storyboard builder works within 6 steps:
Upload your images that will appear on the storyboard
Re-order with the drag and drop feature – the frame numeration will sync automatically
You can also customize your board to where clients can't make comments or only certain employees can view it
Comment and attach files for feedback on specific frames
Collaborate with clients live from the storyboard
Easily share your storyboard as a link or export it as a PDF
Ftrack Pricing vs. Krock Pricing
Krock has reasonable prices for the amount offered, and various plans to suit your needs. You can buy the cheapest plan, the solo creator plan, for $9.99 monthly. For annual solo creators plans, the price is $7.99 per month.
Krock also offers multi-user plans if you work with a small or large team. The Krock plus plan allows for collaboration between 10 users for $69 per month or $52.50 for annual billing. If you have even more users, the Pro plan allows for an unlimited number of team members for $99 or $79.20 for annual payment plans.
Current pricing plans can be found here.
Ftrack has the only per-user-fee system. It has 3 plans available, plus add-ons. The cheapest plan is $15 per user per month and has quite a lot of limitations. The next plan starts at $30 per user per month. It has more features to it, but if you have 5 members on your team, $150 bites a little as opposed to $69 for Krock. And if your team is 10+, you are looking at an exuberant bill at the end of the month, while at Krock you only pay $99 for an unlimited number of users.
What's the Creative Proofing Software for Your Team?
While Krock has the same features as those in Ftrack, it offers quite more for a much friendlier price. And one of the biggest advantages is its user-friendly interface.
Krock does not require any sort of training for the team, or even client onboarding. Many creative agencies use Krock as a selling point, providing transparency to the clients throughout the whole project. The client review process is simple and efficient.
Ftrack is, by all means, a great tool for professional, in-team video production. However, if you are looking for a creative project management system with broader functionalities, different types of media review features, a user-friendly interface, and visual task planning, – Ftrack might lack some crucial points here.
To sum up, we have made this feature comparison chart: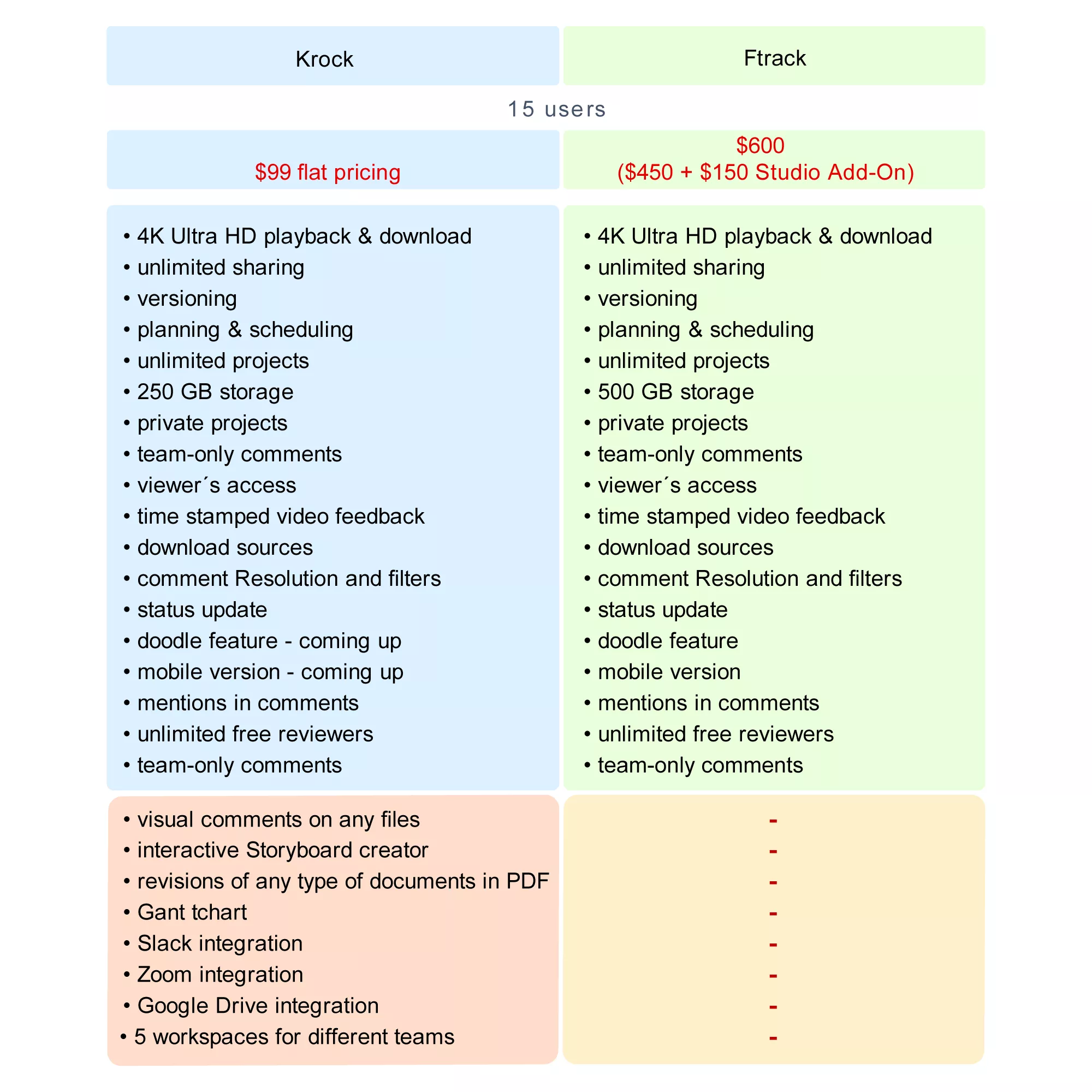 We have compared the review and project management functionalities of Ftrack vs. those of Krock.io, so you can make an informative decision upon which platform suits your team's needs best. However, there is nothing like trying out the software yourself to help you get an understanding of how it can influence your workflow.
But don't take our word for it – try out Krock.io for free! Or maybe you have some questions? Book a quick demo call, and our team will gladly help you out with all of them.
∗∗∗
FAQs
1. What is Ftrack?
Ftrack is cloud-based project management, production tracking media review platform, with features similar to Krock.
2. What is the best Ftrack alternative?
Krock is a great Ftrack alternative, offering all the features as Ftrack, plus:
visual comments on any type of files
interactive Storyboard builder
interactive Gantt Chart
Slack & Zoom integration
Google Drive Integration
different workspaces for different teams and clients
3. What is Ftrack pricing and how does it compare to Krock pricing?
Ftrack has the only per-user-fee system. While Krock offers flat pricing.
If you have 5 members on your team, you'll pay $150 per month with the plan suitable for small creative agencies, as opposed to $69 for Krock.
And if your team is 10+, you are looking at bill $300 at the end of the month, while at Krock you only pay $99 for an unlimited number of users.