Virtual production: What is it?
To produce spectacular effects in-camera rather than putting them together digitally in postproduction, virtual production blends live-action and LED displays.
Virtual production approaches enable filmmakers to observe real performers within the context of digital assets and surroundings by fusing gaming technology with conventional filming processes. Filmmaking becomes more fluid, and creative decisions are made at the moment, live, and concurrent with filming, greatly accelerating and simplifying the production process.
What stages comprise the post-production procedure?
To assemble all the components of a movie or video, postproduction uses editing, music composition, visual effects, color grading, and sound design. From sharing and annotating dailies through final sound mixing and color grading, Moxion offers a wide range of capabilities for postproduction. All are intended to speed up the procedure and save both time and money.
What Moxion is?
The robust cloud-based workflows and review features of Moxion have made it a current favorite among digital filmmakers. Asset management, creative review, cloud collaboration, and much more are made easier by Moxion for efficient film and television production.
Moxion contains a number of security features, including watermarking, MPAA compliance, and complete digital rights management, in addition to improving the efficiency of the creative process and output. Moxion joins the Media & Entertainment portfolio of Autodesk, providing media professionals with a set of innovative, collaborative solutions.
Advantages of Moxion creative collaboration software
Cloud-based processes in real-time
Through secure cloud-based processes, deliver and evaluate material in a matter of seconds. Moxion's rapid footage review on any device makes it simple for crews and stakeholders to collaborate across sets and locations, regardless of where they are.
Exceptional color review abilities
Moxion offers remarkable brightness, color, and contrast performance along with a broader spectrum of color depth and brighter highlights thanks to industry-leading Dolby Vision® and HRD10.
Fully compatible and integrated
The ability to exchange and integrate footage and information thanks to a single tool that is interoperable with other market leaders including ShotGrid, Flame, Media Composer, Adobe Printer, Black Magic Resolve, and more.
Top-notch security
The major studios in the entertainment sector rely on Moxion's security features, which include access control, screeners, and DRM for improved watching, sharing, and editing protection.
Top Autodesk Moxion Alternatives for Professionals & Beginners
For teams working in VFX, animation, and video games, there is a set of tools called ShotGrid. Teams from big to small studios can concentrate on the important things because ShotGrid is equipped to handle creative production tracking needs.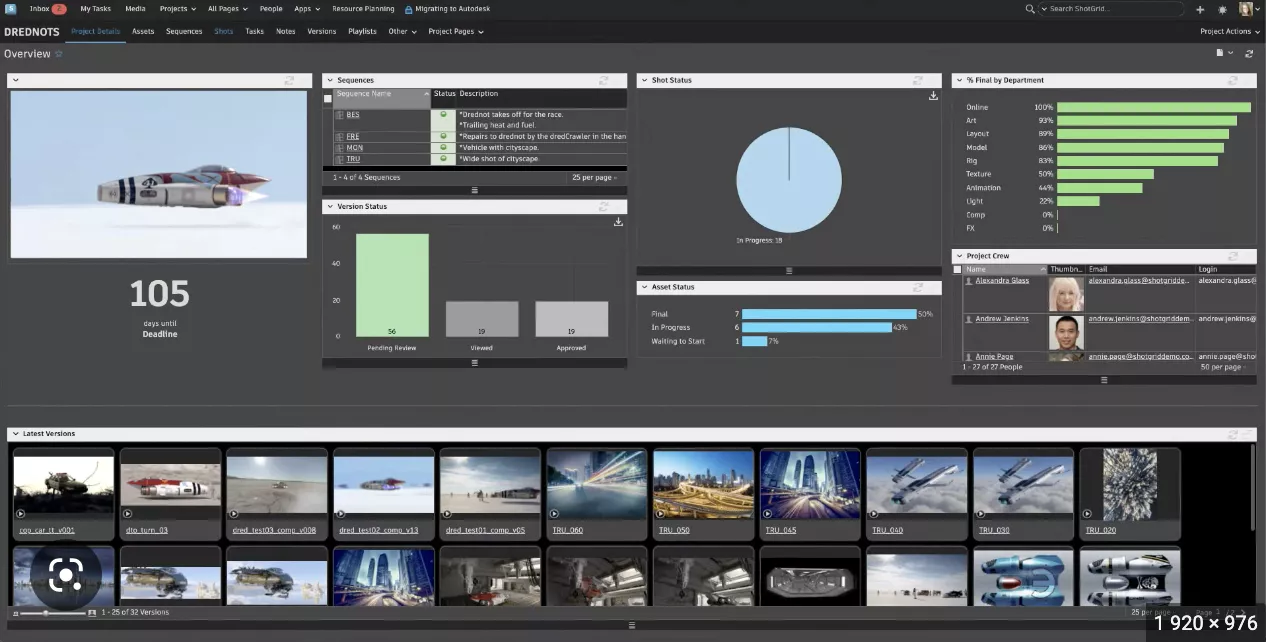 Krock.io
A solution for managing creative teams through visual client communication at every level of the production process is called Krock.io. It is used by media production businesses.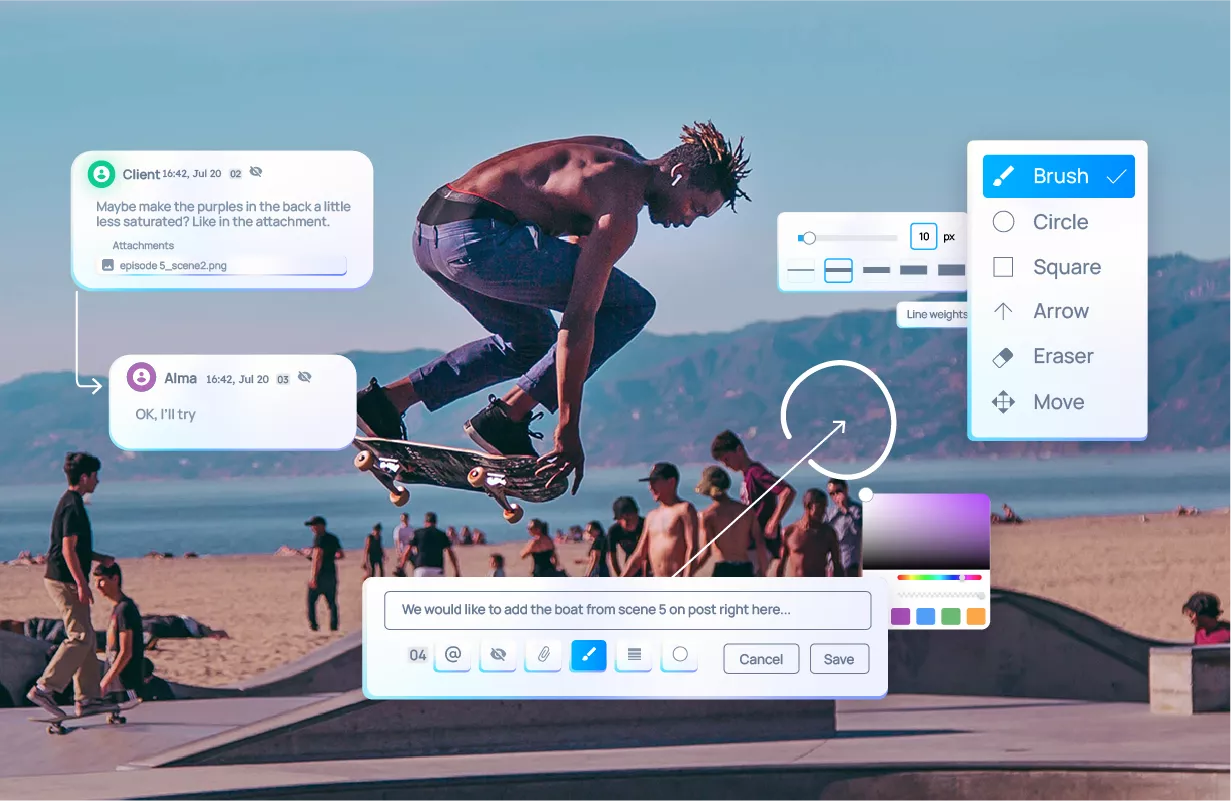 With Krock.io, you may submit films, pictures, and other media assets while adding annotations on top of the material.
This platform allows you to manage tasks, assign people to projects, and control work at each stage and in each version. It has a user-friendly interface. Another advantage of Krock – you can store project assets and control their visibility to team members and clients. All project assets can be stored in one project, safe in a cloud, and available for local and remote teams.
An online proofing tool called ReviewStudio makes it simple to collaborate on review and approval procedures for any of your media productions. Avoid siloed communication. Everyone is in agreement when feedback and permissions are centralized. Images, videos, web pages, PDFs, and other content may all be readily marked up and commented on by reviewers, collaborators, and visitors.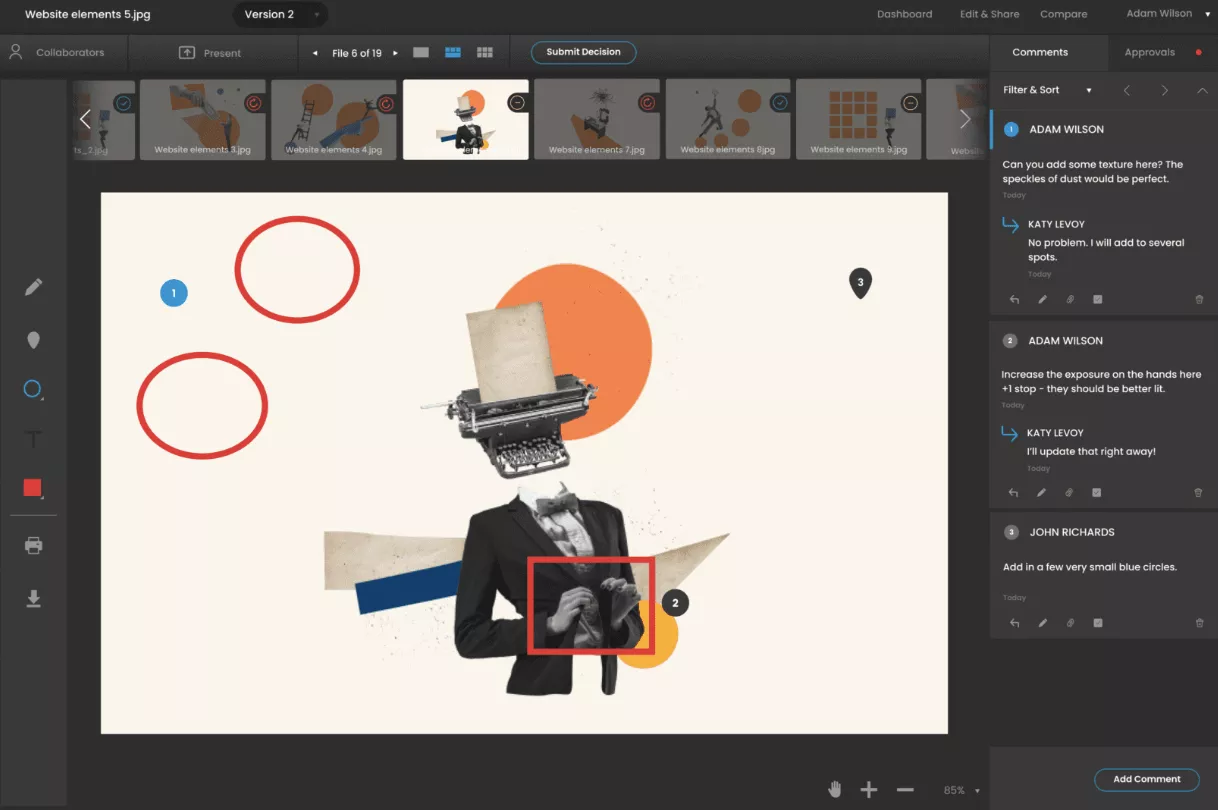 Thanks to integrated task management, you may designate any remark, markup, or annotation as a task. Flexible notification settings guarantee that the relevant individuals see the feedback at the appropriate time.
The Stuttgart-based startup Filestage offers an online workplace where users may collaborate, evaluate, and approve movies, audio, papers, and designs with customers and coworkers.
Professionals in advertising, design, cinema, sound, media and other creative fields may use the platform to their advantage.
A visual review and bug tracking platform online are called zipBoard. To communicate evaluations and comments more quickly, designers and developers typically utilize zipBoard.
Reviewing digital information is simple with zipBoard, including photographs, videos, PDFs, eLearning courses, and live websites. Many businesses and organizations use zipBoard as their primary asynchronous visual communication medium when creating websites, programs, and online courses.
The ability to communicate with clients, stakeholders, outside reviewers, and the development teams all in one location makes it a favorite among independent product managers.
Because zipBoard handles providing and receiving feedback, producers may skip tedious screen-sharing sessions and lengthy email chains thanks to zipBoard's visual capabilities.
The Oklahoma City-based CageApp company offers a project management and media collaboration platform called Cage. Its Standard plan, which lets users submit, evaluate, share, and present work for approval, is advertised as being perfect for freelancers and small teams wishing to cooperate with reviewers.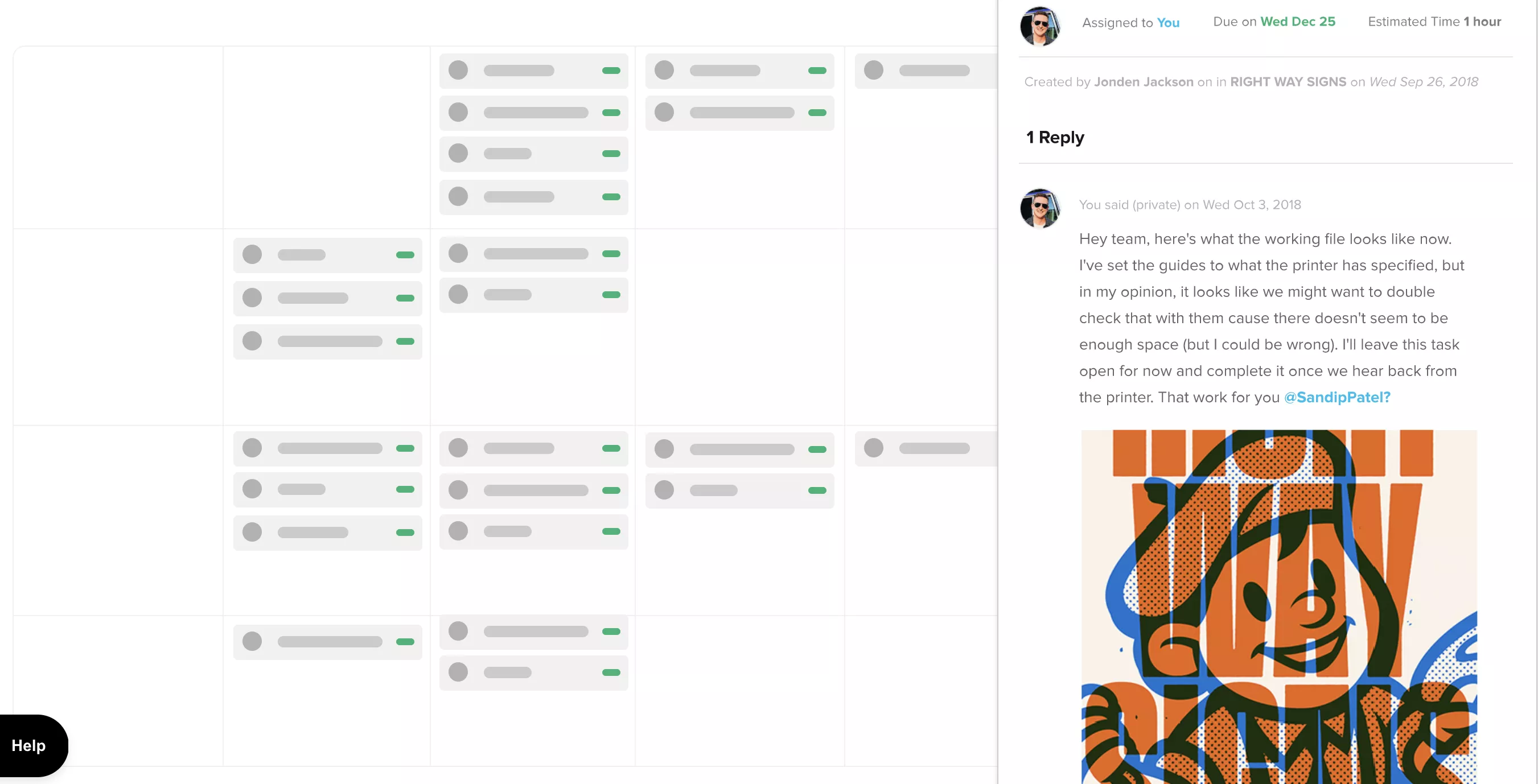 The professional plan is touted as the best option for groups or organizations wishing to streamline their project management and media engagement.
Check out more articles on getting started with Krock.io:
If you have any questions or need help, just let us know.