In the age of remote work, collaboration software has become an indispensable part of a creative workflow. If we look at the pool of apps for managing video feedback – Frame.io is one of the most widely used tools.
But, given its recent acquisition by Adobe, which left current users uncertain whether the service would endure the same level of user-friendliness, many video production teams are looking for better alternatives to Frame.io. Not to mention, that creative teams usually need to use a project management platform together with Frame.io, doubling the costs and hampering the efficiency of the workflow.
Content creators are in a constant search for tools that would make their work processes more efficient. Especially when it comes to video review – one of the most time-consuming types of content production.
Krock.io and Frame.io share some great features for video review. However, Krock.io offers way more functionalities, making a case for a great Frame.io alternative!
Let's have a look at some of the benefits you gain from switching to Krock.io.
Online Proofing Features
Although Frame.io is designed merely for video review, it actually lacks some of the most useful features in the commenting section. For example, you can add a PDF file with the brief or a script, but you cannot leave a visual comment on it. Visual comments can only be left on images or videos. Thus, if you want to highlight a specific spot in the script or make a comprehensive edit, – you would have to describe it all in writing in the comment.
Doesn't sound really handy.
You also cannot attach files to comments. Showing a reference whenever you require some sort of edits is a must, don't you think?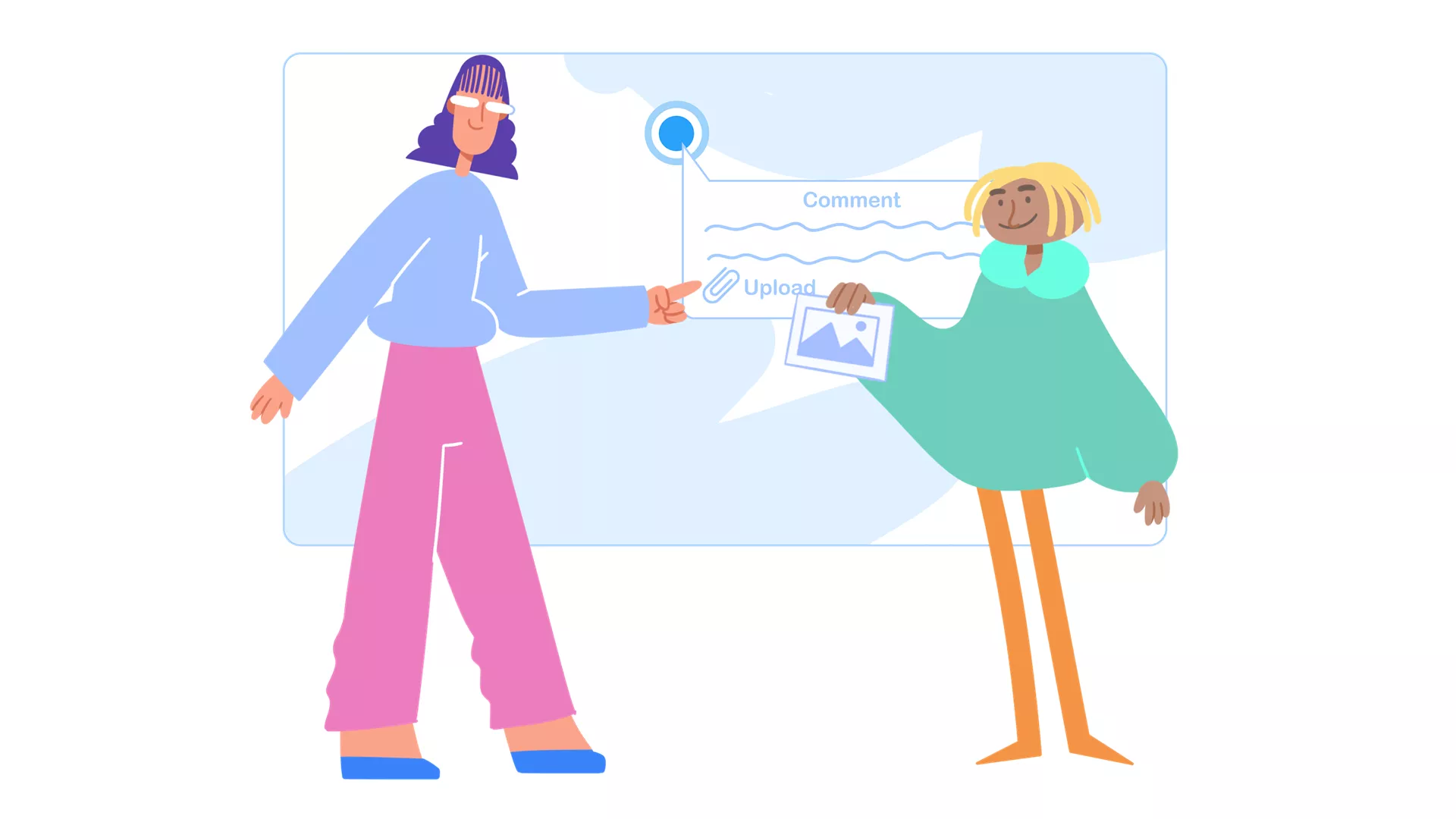 On top of that, you cannot simply reply to the comment of your teammate. You always have to type in their name to mention them.
Online Proofing in Krock
In Krock.io, you can leave visual comments on both PDF documents and images. Simply tap the spot you want to comment on and leave your feedback.
You can also attach any type of file to your comment, so if you'd like your team member to make some changes you can always provide clear references.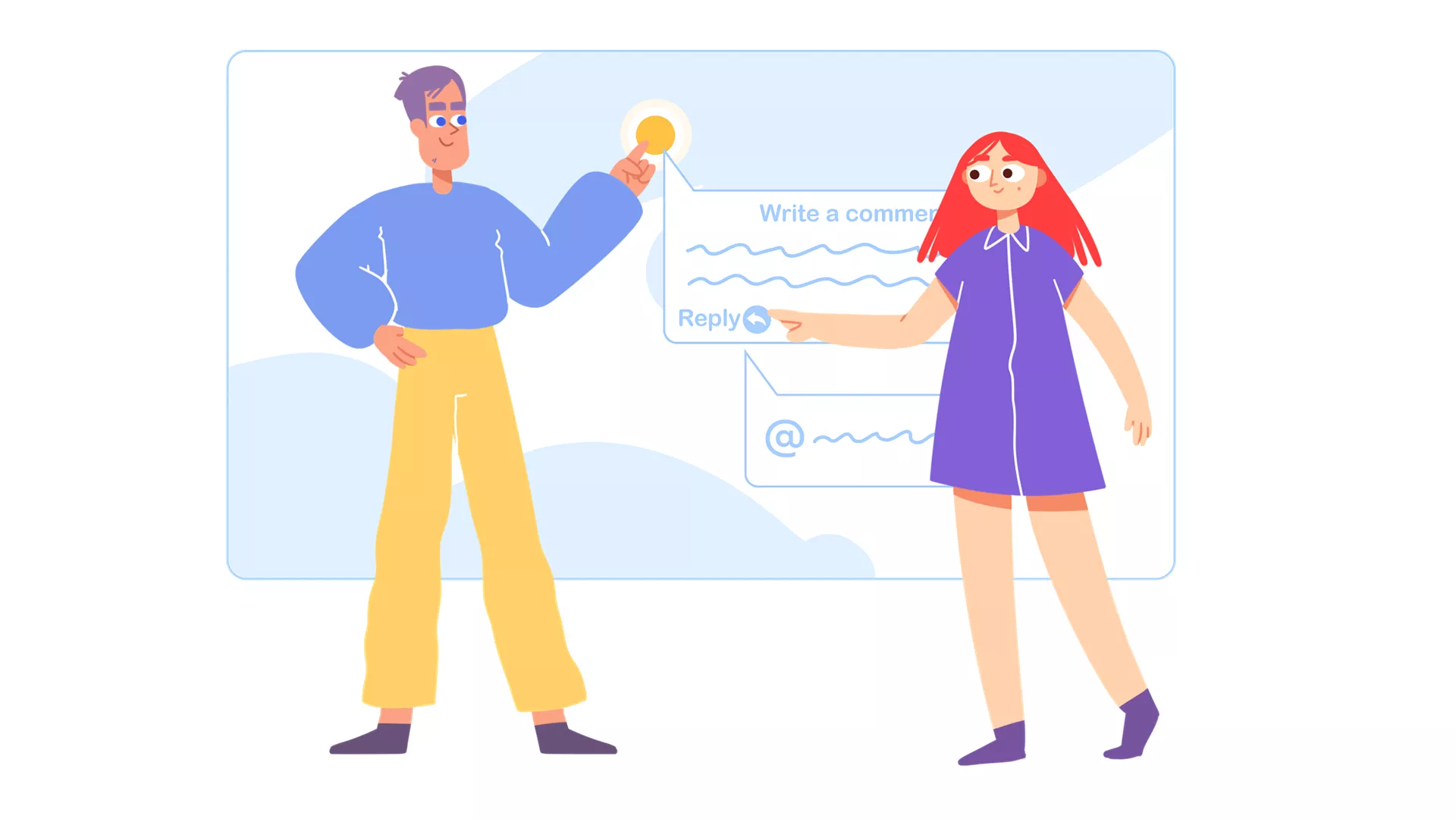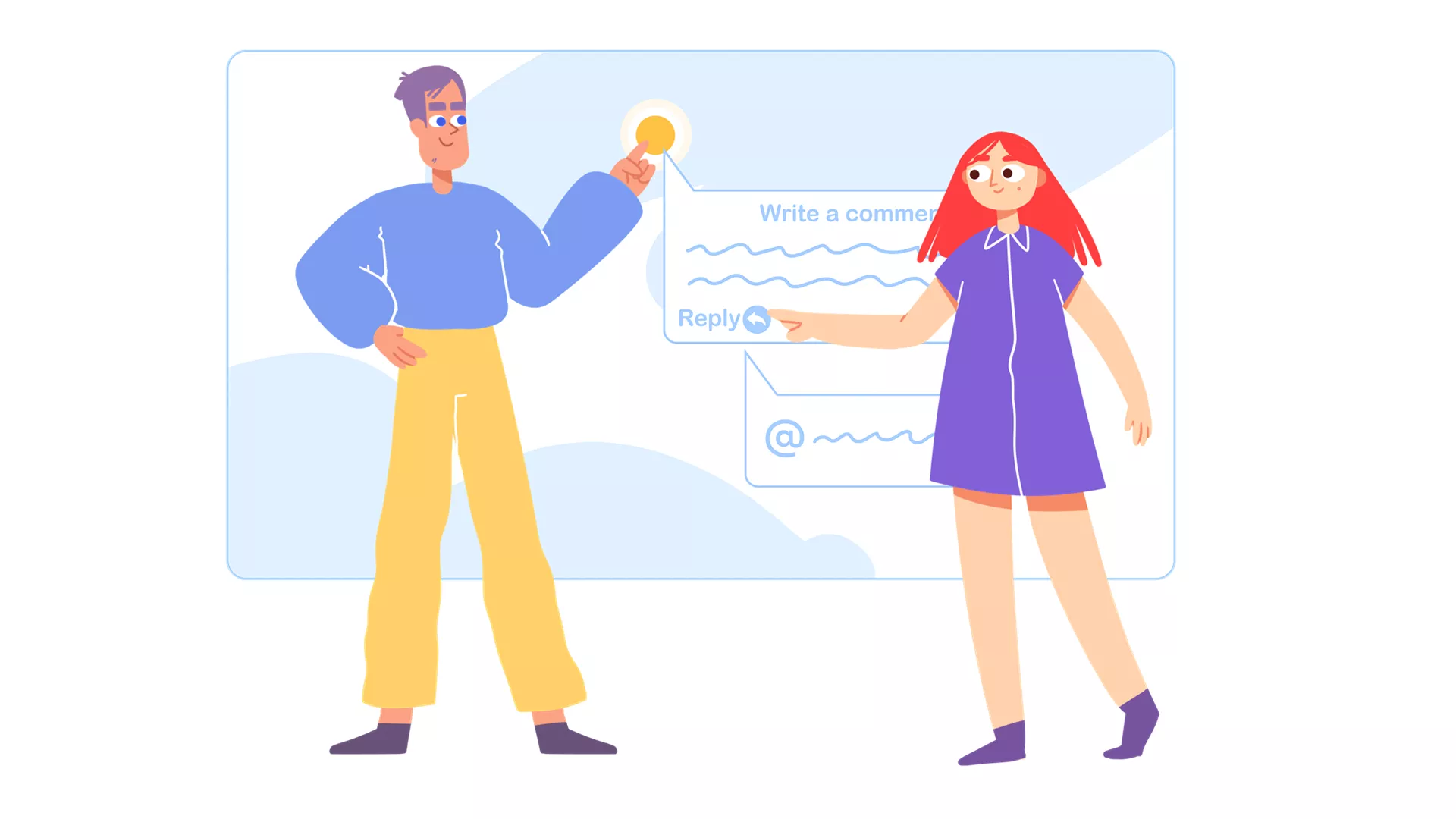 Moreover, Krock allows you to reply directly to a specific comment, creating a thread. Follow all the discussions easily, as all the replies preserve their order and are time-coded.
You can also always choose whether the comment is visible to your client or team only – a feature available to all the plans in Krock, but only to the Enterprise plan in Frame.io.
Notifications
Keeping all the stakeholders informed is one of the pillars of a smooth workflow.
Now that the days of coffee breaks are behind us, the task of notifying your team is on the tools you use. Updates, that were communicated later than they should be, can cost a missed deadline. Not to mention, late replies to a client's request and their further discontent.
In Krock, you have full control over the notifications you receive.
Frame.io offers you to choose whether you want to be notified by email when:
someone requests access to a team you manage
you have been granted access to a team you requested
you are added to a new team
And that's it. To make sure there are no delays in your delivery, you need way more than that.
Notifications in Krock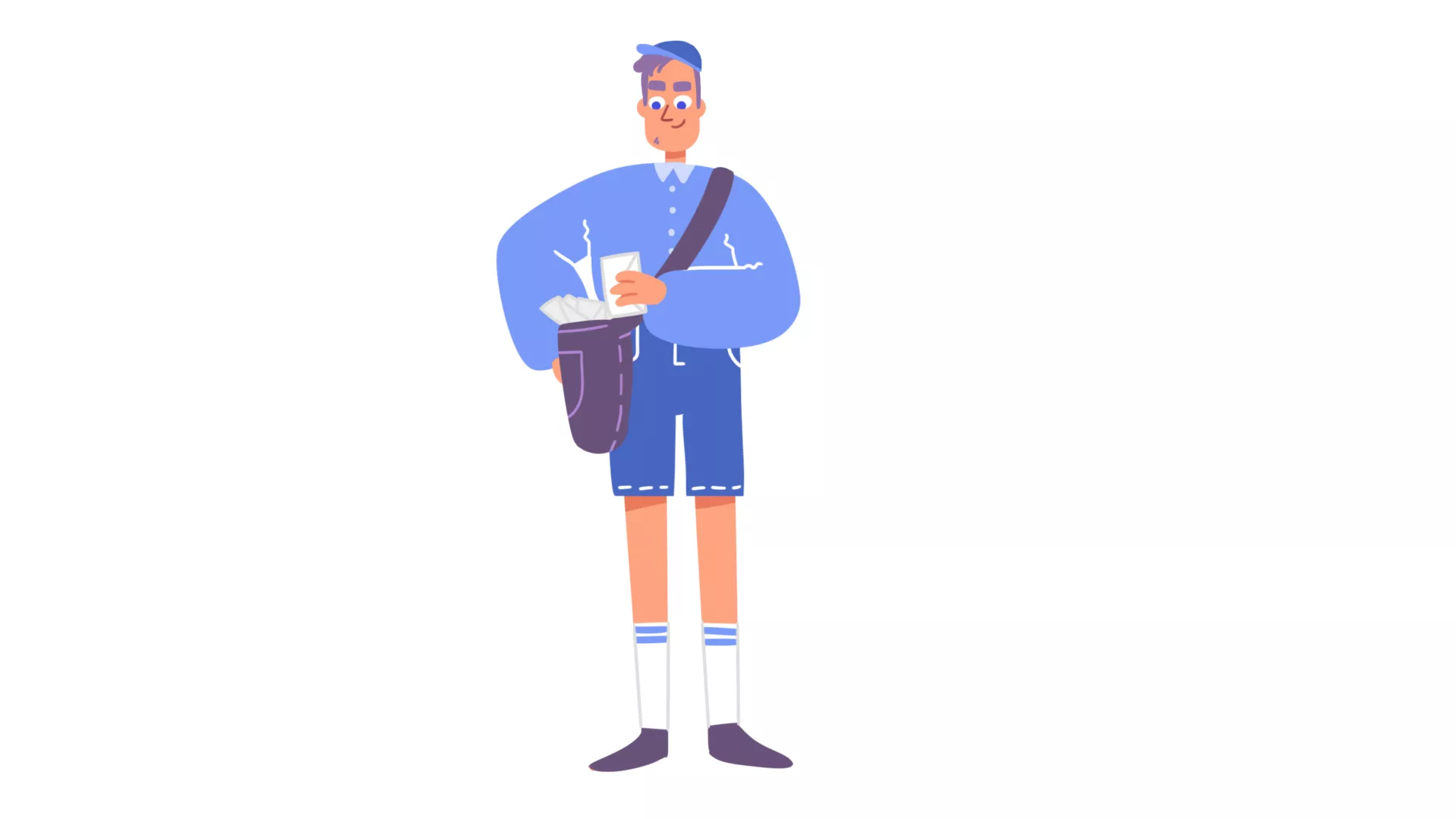 With Krock, you have a default set of notifications that will always be sent to your email when:
a client approves or rejects the version you sent them for a review
someone invites you to a new project
you have been granted access to a project you requested
And there are also those you choose to receive and view or not:
when someone mentions you in a comment
every time there is a reply to your comment
the project or step status change
the deadline update
Same as Frame.io Krock also offers integration with Slack. You can receive the notifications on your project directly into your Slack channel and have all the updates stored chronologically in one place.
Pricing
Frame.io Pricing
Frame.io pricing plan starts with a free plan with up to users but offers only 2 GB of storage. So, given the average temp of a small video production team, you will have to upgrade in about 2 weeks. You can also go no further than 1080 resolution videos.
We checked frame io prices. Paid plan starts at $15 per user per month, and already allows you to playback 4K playback.
With both plans, you can share videos with your clients. But if you want to leave private notes and comments, that would only be visible to your team, you will have to upgrade and pay $25 per month per user.
Thus, if you are a team of 5 and want to have a more elaborate set of features and a little more storage (a $25 plan does offer 500 GB), your monthly bill goes up to $125. Even if you opt for a cheaper plan it is still $75 per month.
According to the Frame.io pricing model, in case your team is larger, you can only have a maximum of 15 users with a $25 plan ($375/month), and 10 users with a $15 plan ($150/month).
In this article, you can read about the top 3 frame io alternatives in 2022. Now take a look at the price comparison chart with Krock over here:
KROCK

Frame.io

KROCK

Frame.io

KROCK

Frame.io
SOLO user
up to 5 users
up to 10 users
unlimited users
up to 15 users

$9.99

$15

$69 flat

up to $150

$99 flat

up to $375
Krock Pricing
Beating Krock in a money-vs-value matter is no easy challenge!
The pricing starts at $9.99 per month for the SOLO creator plan, and if you choose annual billing, this number lowers to $7.99 per month.
If you need a plan for more users – we've got you covered.
Krock offers a PLUS plan for up to 5 users for $69 per month ($52.50 when you go with annual billing) vs. $150 for 10 users in Frame.io.
PRO plan includes an unlimited number of users and goes for $99 ($79.20 with annual billing) vs. $375 for 15 users in Frame.io.
Creative Project Management Features
Frame.io was designed for video review only. Krock on the other hand is so much more than a review tool. Besides all the features that Frame.io has, Krock gets you a full production management system. Plus you can review not only videos but any kind of media content!
Let's go over what Krock has to offer as a Creative Project Management Platform, stating a strong case as a Frame.io alternative:
Krock Workspace and the Dashboard:
you can create a limitless number of workspaces destined for different clients or teams, while this option is only available in Frame.io at the Enterprise plan
the dashboard has a handful of data right in front of you – upcoming deadlines, the statuses of the current tasks, what is under client review at the moment, and the latest comments.
You can also choose if you'd like to see the data related solemnly to you (tasks, comments you've been mentioned in, etc.) or all the teammates' work as well.
Custom Project Pipeline
When you work on multiple video projects, especially with different formats, it's important to adapt the workflow according to the needs of each project.
There are various step types for you to construct your production pipeline – pdf, image, video, and storyboard. Mix and match the steps, and set a dependency for the start day based on the previous step deadline. For example, start an image step only after the briefing has been discussed and the project plan is agreed on.
For those who want to save even more – use our ready-made project templates. From Cartoon series to Advertising Campaign production pipelines – we've got you covered.
Task Assignment
Krock offers role-based participation in workspaces or separate projects. You can also add assignees to specific project steps, like editors for video and managers for briefs, and you can manage whether they can edit and make assignments as well.
Interactive Gantt Chart
The Interactive Gantt chart allows you and your team to stay updated at all times, with access to all the important milestones of all your projects in one place. Whenever someone makes a change in a deadline or finishes a task, it will be automatically synced in the Gantt chart.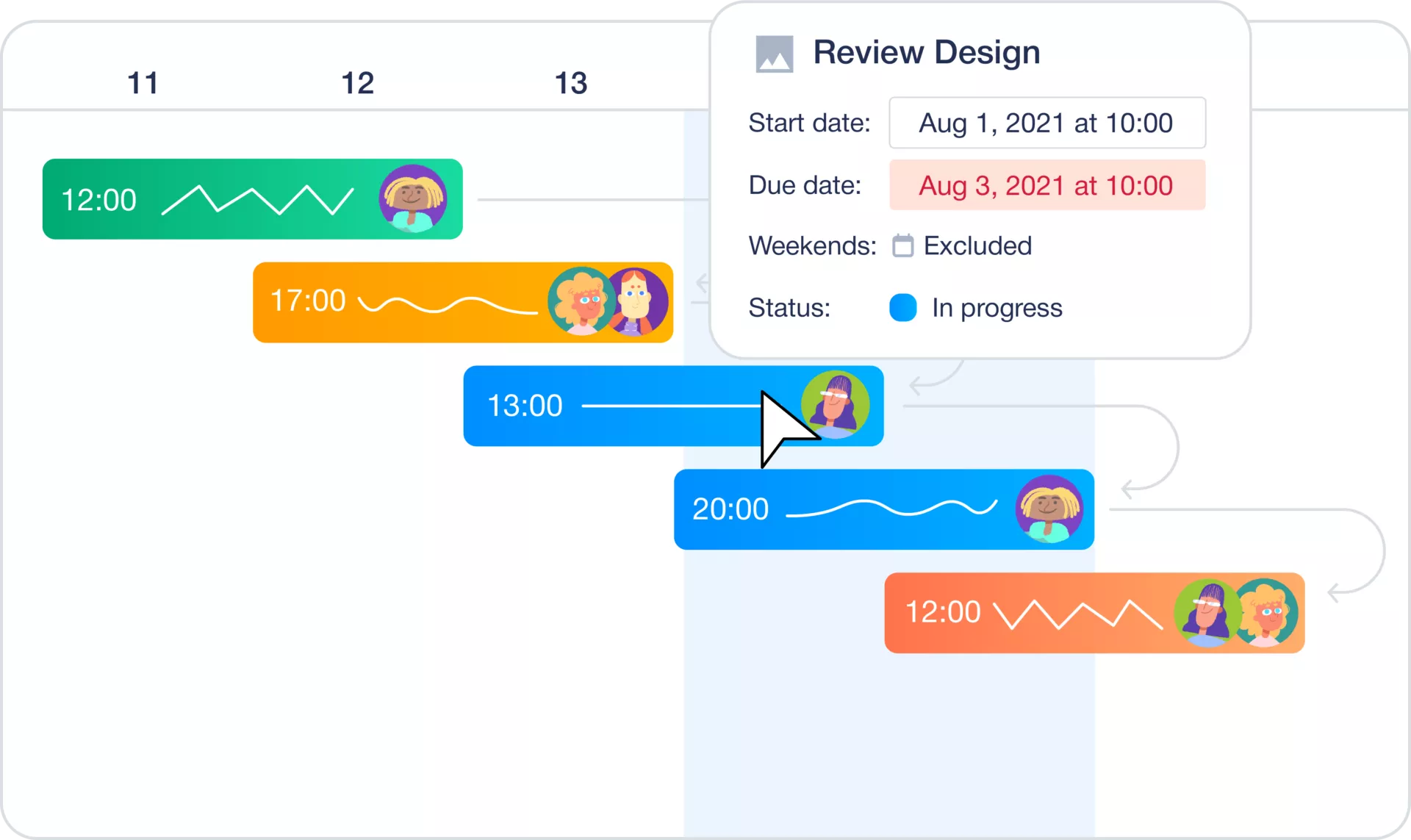 Storyboard Builder
Storyboard creator is another one of Krock's features that deserves special attention. Being a vital part of any video pre-production process, a storyboard is the very first visual representation of your script. It allows you to project your production pipeline more efficiently, ultimately saving your time and money.
A storyboard helps you to visualize the shots you'll need, the order in which they'll appear, and how the visuals will interact with the script.
Another one of the challenges in media production is communication. With a storyboard, you can show a client and team exactly what you have in mind, and facilitate their feedback by providing visuals.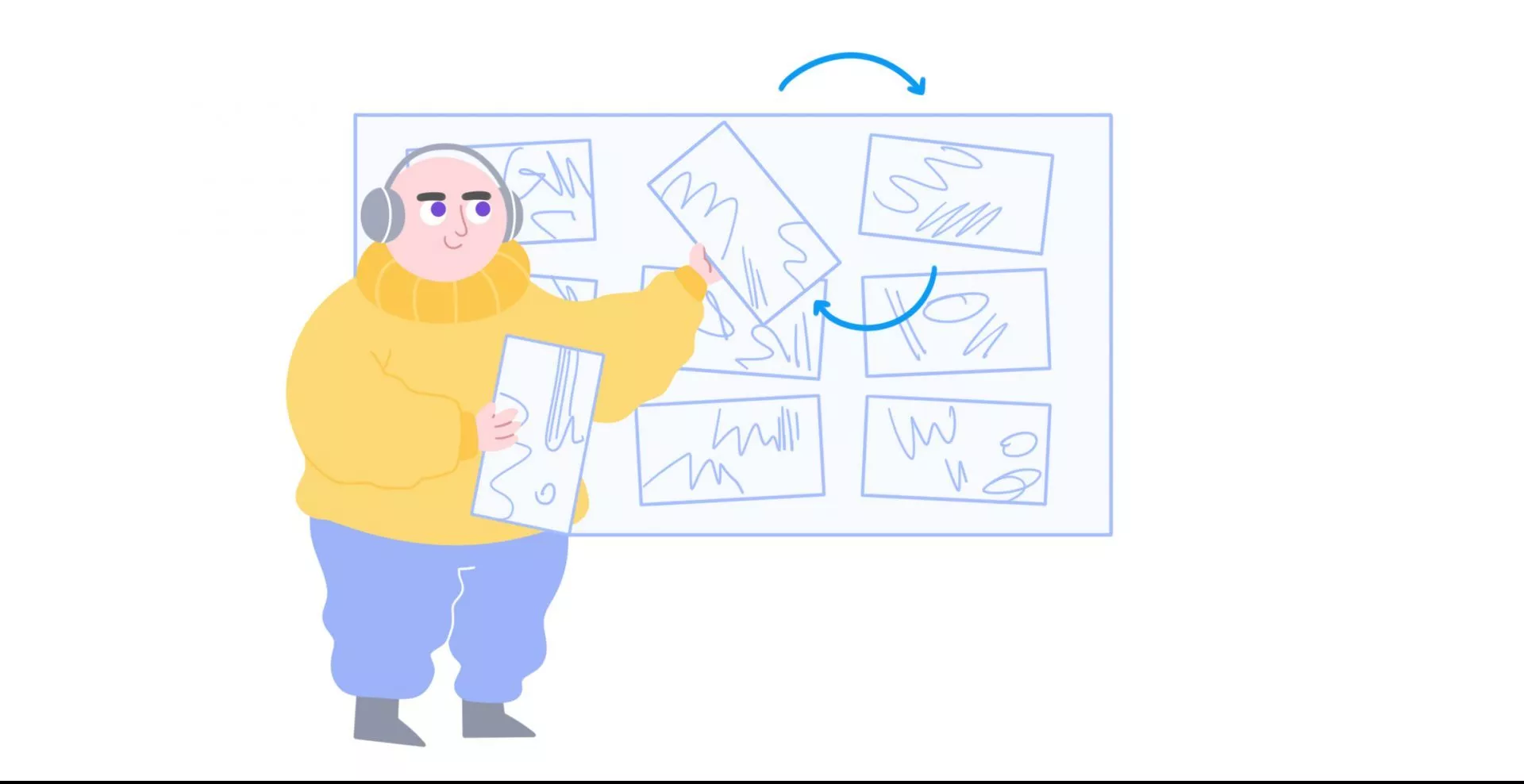 And the Storyboard creator in Krock is just blissful. It offers:
an easy upload of the images for your storyboard, that maintains the exact order
drag & drop feature to re-order your storyboard frames with the automatic numeration
synchronization
customized frames
comments and notes on individual frames made both by clients and team members
PDF export and sharable links
Check out these comparison charts with the features that Krock has to offer vs. those you get with Frame.io: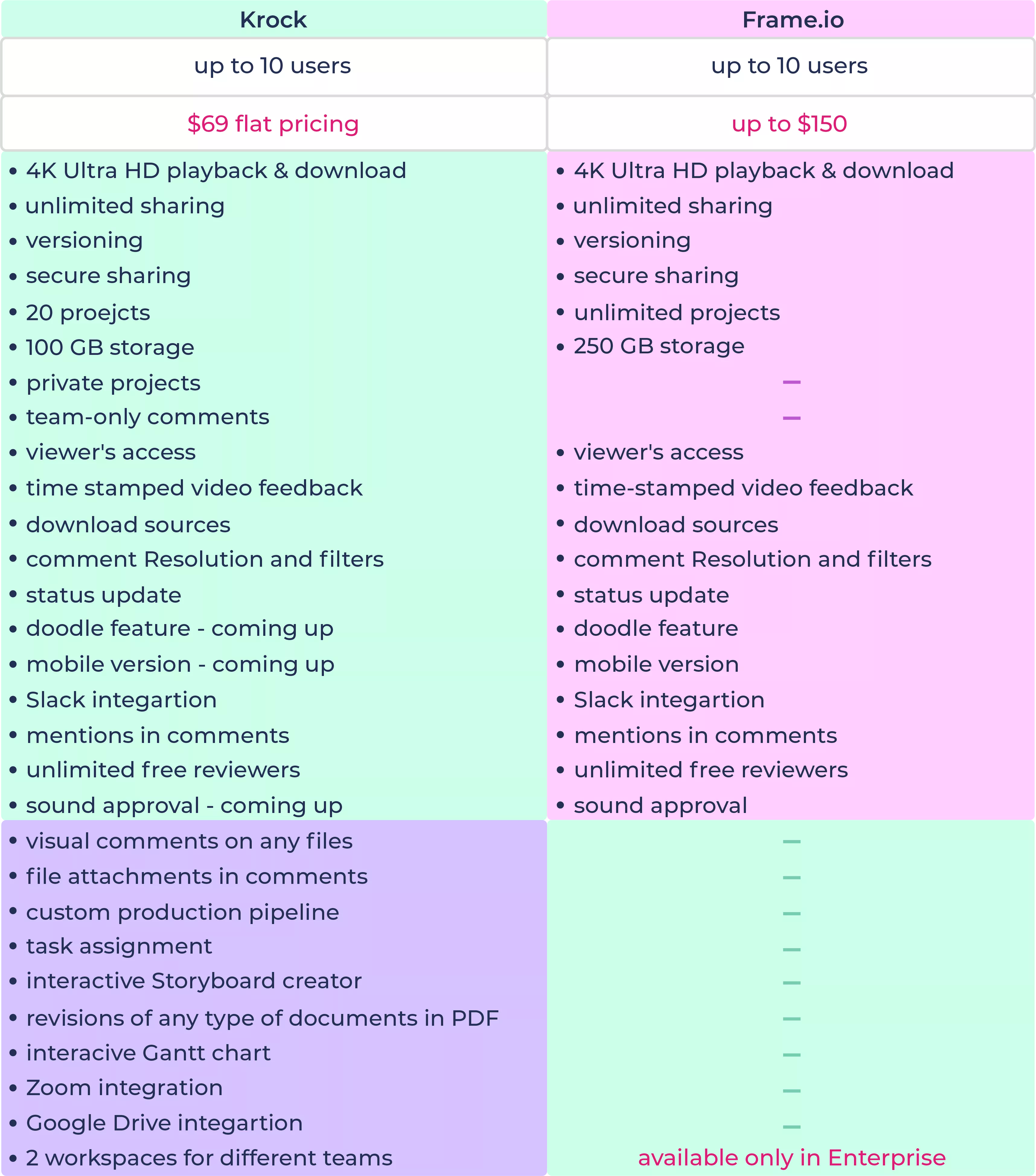 And for the plan with 15+ users: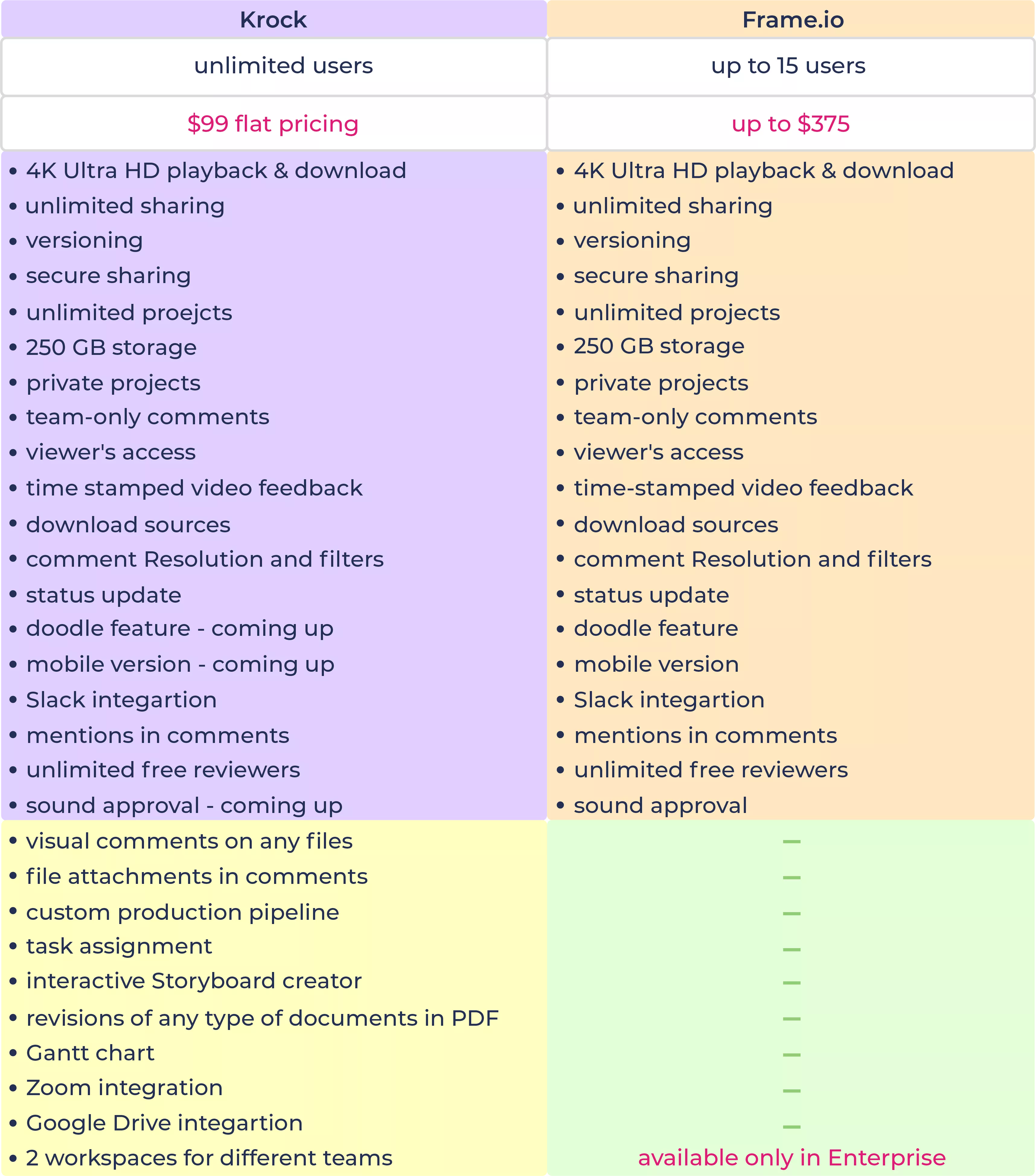 Also, check how Krock compares to other sets of tools here.
Free Trial
Frame.io offers a limited free plan for a team with up to 2 users. But what if you need a subscription for more teammates? Wouldn't it be great to test out the software first to see if it is the right fit for your team?
Krock offers a 2-week free trial with all the unlimited features:
10 users
1 GB active storage
10 different projects with as many videos as you need
download sources
private comments
priority support
personal branding
unlimited shares
Thus, before actually paying for Krock, you can test all the functionalities and see which plan fits your team best.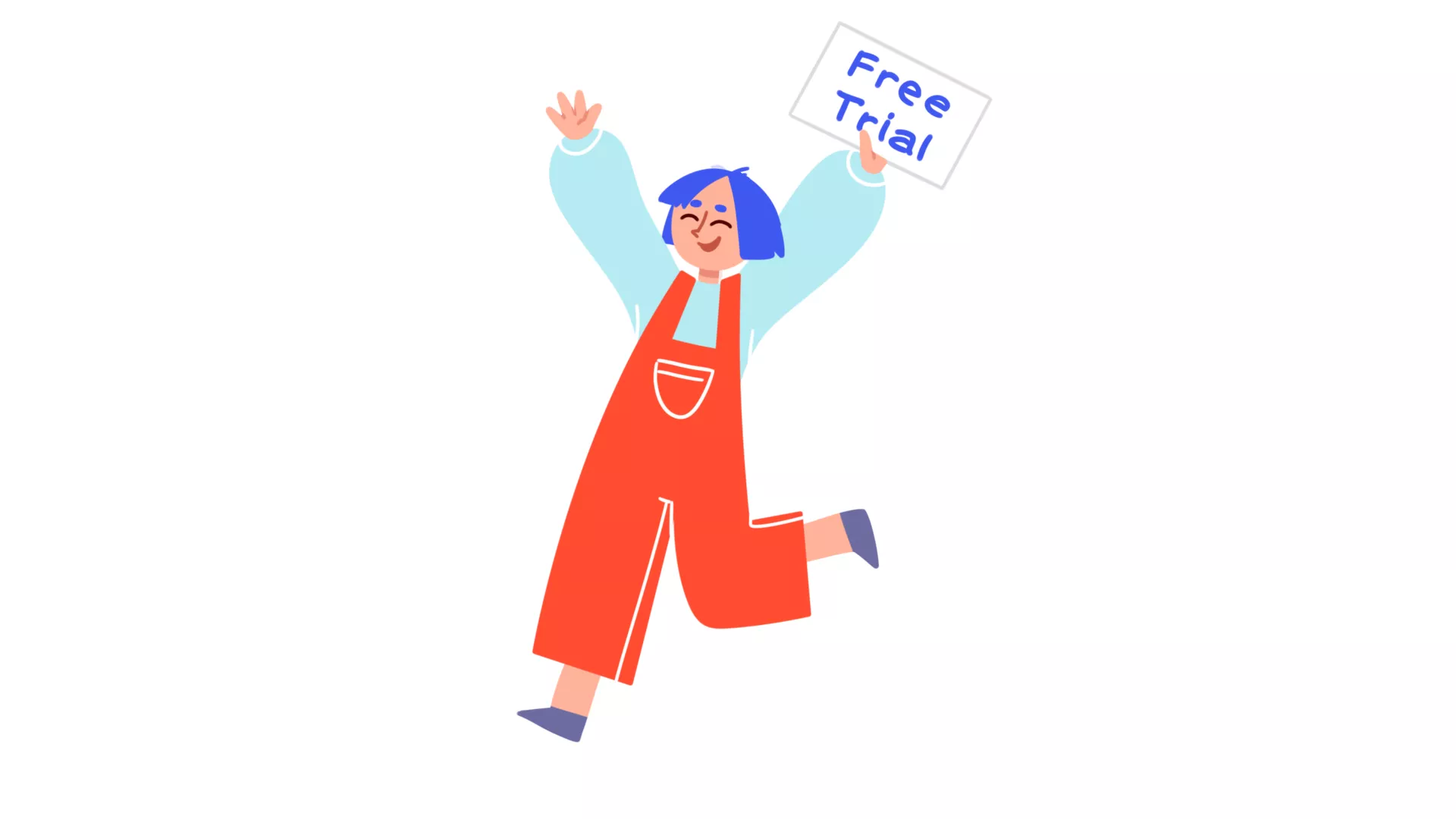 Undoubtedly, Frame.io has good functionality features to share video feedback. We have compared the feature sets of Frame.io vs. those of Krock.io., so you can make an informative decision upon which software suits best your team's needs.
Want to try out Korck.io for free? Or maybe you have some questions?
Book a demo call, and our team will gladly help you out with all of them.