Frame.io is an online tool for proofing and sharing videos. It allows users to collaborate in real-time while working on video projects together. Video review software is an essential tool for the video production business. If you're looking for video review software, there are 3 main factors you should consider.
3 Key factors for choosing a Video proofing platform
Cost per user
Amount of projects per account
Storage
It's essential to consider these different factors before you make a purchase decision. At first glance, frame.io has the best cost per user. But, frame io charges not only for users but for collaborators.
"❗ Note: A user refers to both Collaborators and Team Members. Every Collaborator or Team Member you invite is a paid user."
Not every mentioned system has an option to add collaborators (freelancers). But, in KROCK.IO, you can add as many collaborators per project as needed without extra charge.
Here is a list of 3 leading players you should consider when choosing a frame io alternative in 2022.
Top 3 Frame.io alternatives in 2022
Ziflow
Filestage
KROCK.IO
Ziflow – Creative collaboration reinvented
Ziflow offers a "Business" Subscription as the most popular on their service. From this information, we can understand the monthly cost is $40 per user.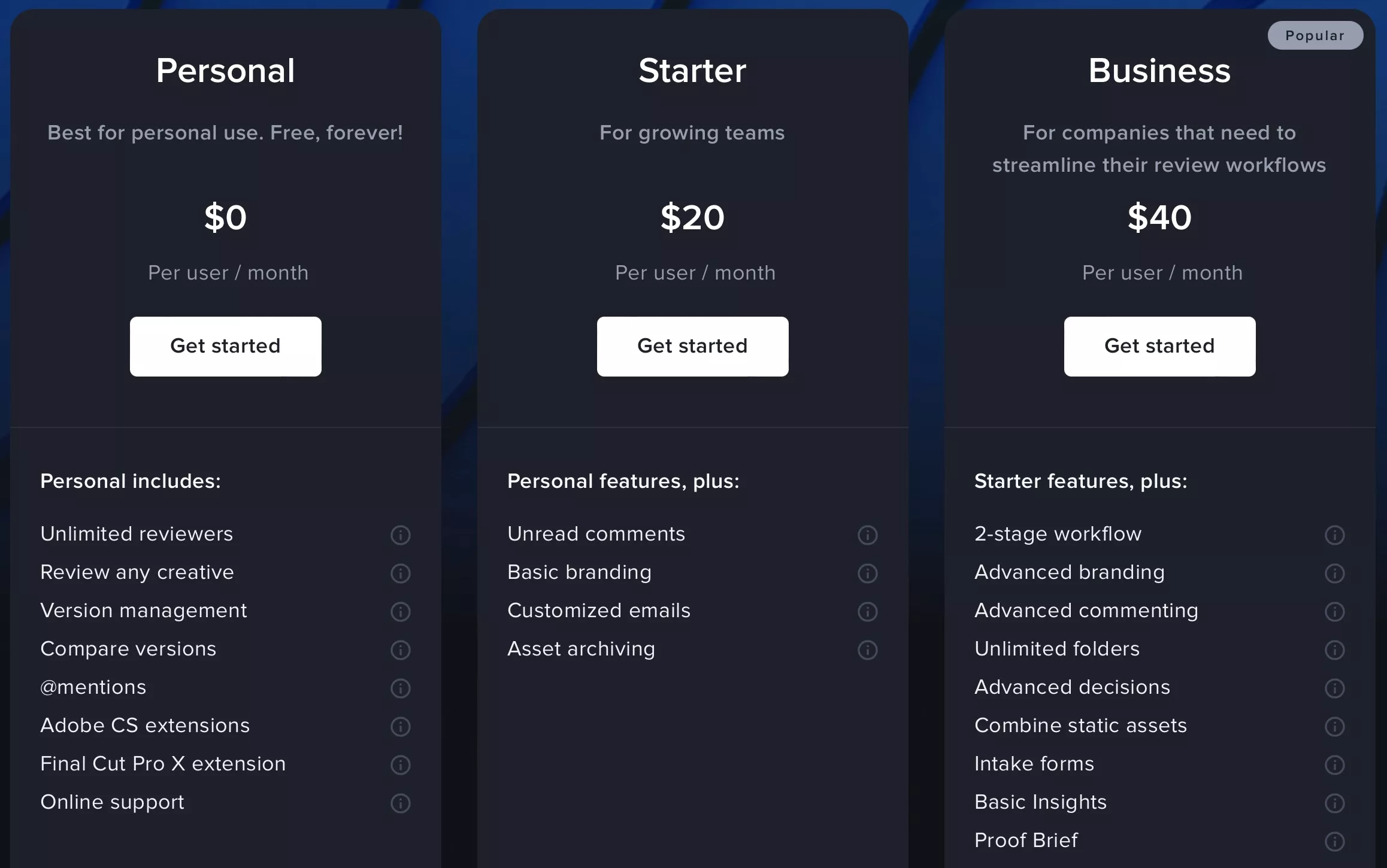 To find information about the storage, you need to dig deeper. Here you can find some limitations, such as 200 proofs. Also, you have 50 GB available per user license.

It means for $250, you get:
6 users (if you need more users, you can add it for $40 / user)
6 x 50 = 300 GB Storage space
Amount of projects is unlimited. but the limitation is the number of proofs (which is 200)
If you need 10 users for video reviewing, it will cost you $400 monthly. For 20 users, you will pay $800.
Filestage.io – The review and approval platform that runs itself
On the Filestage pricing page, we can learn what you can get in the most popular package. The price per user is 49 € (~$50), but the min order is 5 seats. It also has limitations, like 25 active projects and 2 templates. (Krock.io offers unlimited templates). Storage space for your video company is 250 GB.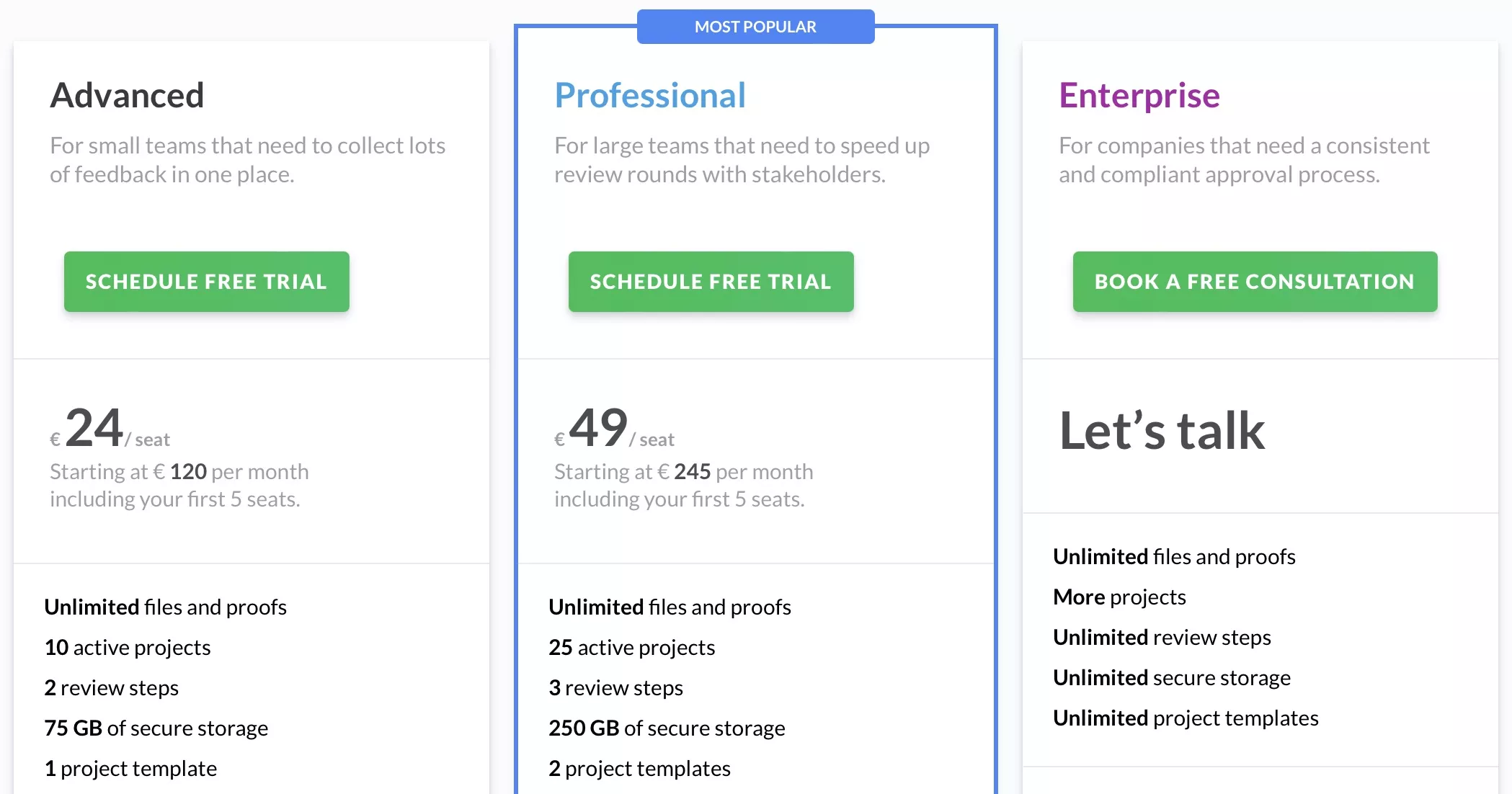 It means for $250, you get:
5 users (if you need more users, you can add it for $50 / user)
250 GB of Storage space
25 projects
If your video company has 10 team members, you will pay $500. Under the same subscription for 10 users with 250 GB, 25 active projects are included.
KROCK.IO – Creative Collaboration and Video Review Software
One tool for animation and video production companies to collaborate on projects. All teams and clients are working in one space but remain anonymous to each other. Krock.io offers different packages for marketing video production companies of various sizes.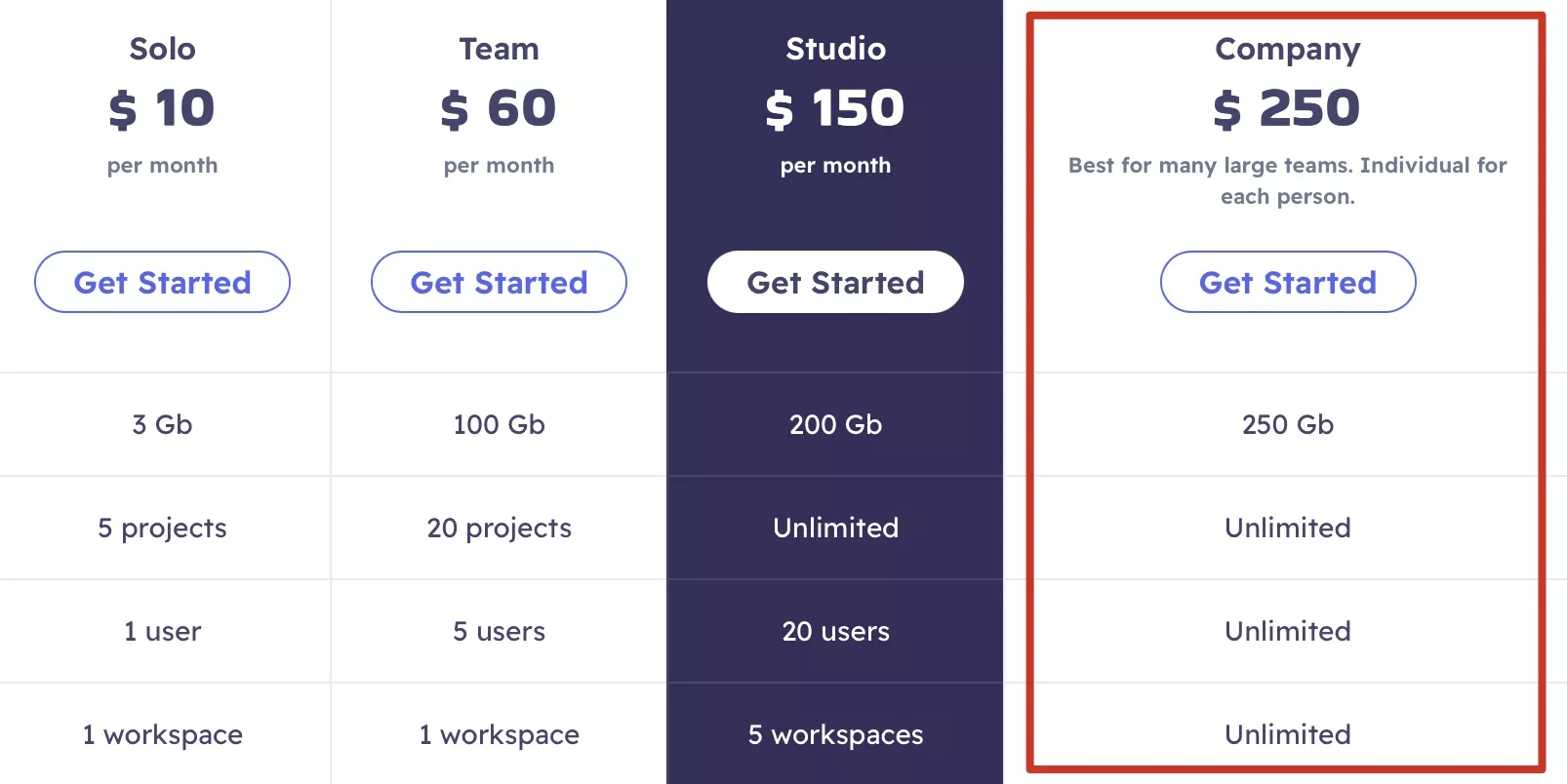 For example, in the "Company Package" for $250, you will get:
Unlimited number of users
Unlimited number of reviewers and collaborators
Unlimited number of projects
250 GB of Storage space
If you need 10 or 20 users, it will cost you the same $250.
Cost per user, project amount, and storage are the main factors for the frame.io alternative.

Try a 2-week trial of Krock.io to experience the benefits of our platform 👇
Keep it all
together with Krock.io!