Frame.io is an online tool for proofing and sharing videos. It allows users to collaborate in real-time while working on video projects together. Video review software is an essential tool for the video production business. If you're looking for video review software, there are 3 main factors you should consider.
3 Key factors for choosing a Video proofing platform
Cost per user
Amount of projects per account
Storage
It's essential to consider these different factors before you make a purchase decision. At first glance, frame.io has the best cost per user. But, frame io charges not only for users but for collaborators.
"❗ Note: A user refers to both Collaborators and Team Members. Every Collaborator or Team Member you invite is a paid user."
Not every mentioned system has the option to add collaborators (freelancers). But, in KROCK.IO, you can add as many collaborators per project as needed without extra charge.
Here is a list of 4 leading players you should consider when choosing a frame io alternative in 2023.
Top 4 Frame.io alternatives in 2023
Ziflow
Filestage
KROCK.IO
Dropbox
Ziflow – Creative collaboration reinvented
Ziflow offers a "Business" Subscription as the most popular of their service. From this information, we can understand the monthly cost is $40 per user.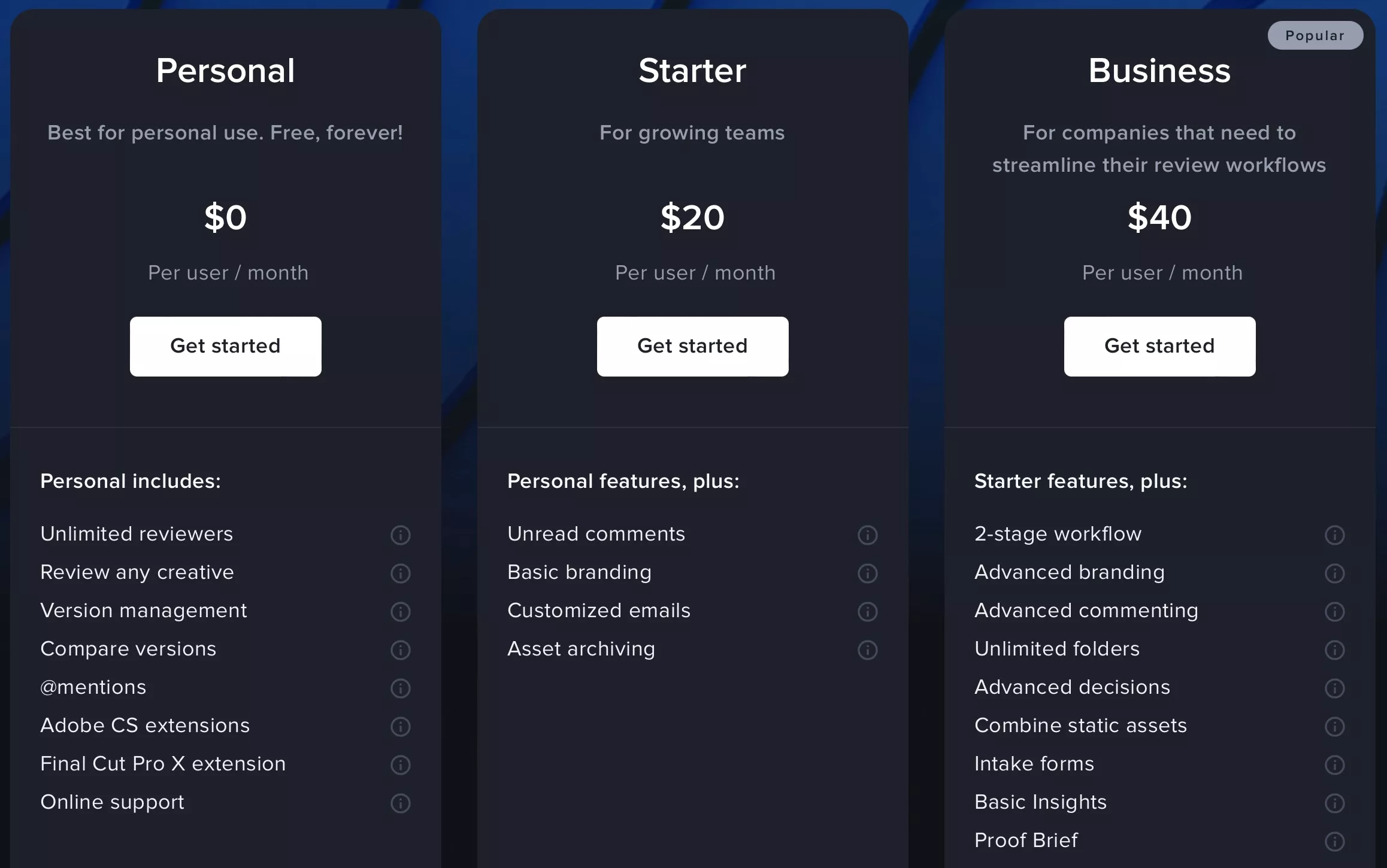 To find information about the storage, you need to dig deeper. Here you can find some limitations, such as 200 proofs. Also, you have 50 GB available per user license.

It means for $250, you get:
6 users (if you need more users, you can add it for $40 / user)
6 x 50 = 300 GB Storage space
Amount of projects is unlimited. but the limitation is the number of proofs (which is 200)
If you need 10 users for video reviewing, it will cost you $400 monthly. For 20 users, you will pay $800.
Filestage.io – The review and approval platform that runs itself
On the Filestage pricing page, we can learn what you can get in the most popular package. The price per user is 49 € (~$50), but the min order is 5 seats. It also has limitations, like 25 active projects and 2 templates. (Krock.io offers unlimited templates). Storage space for your video company is 250 GB.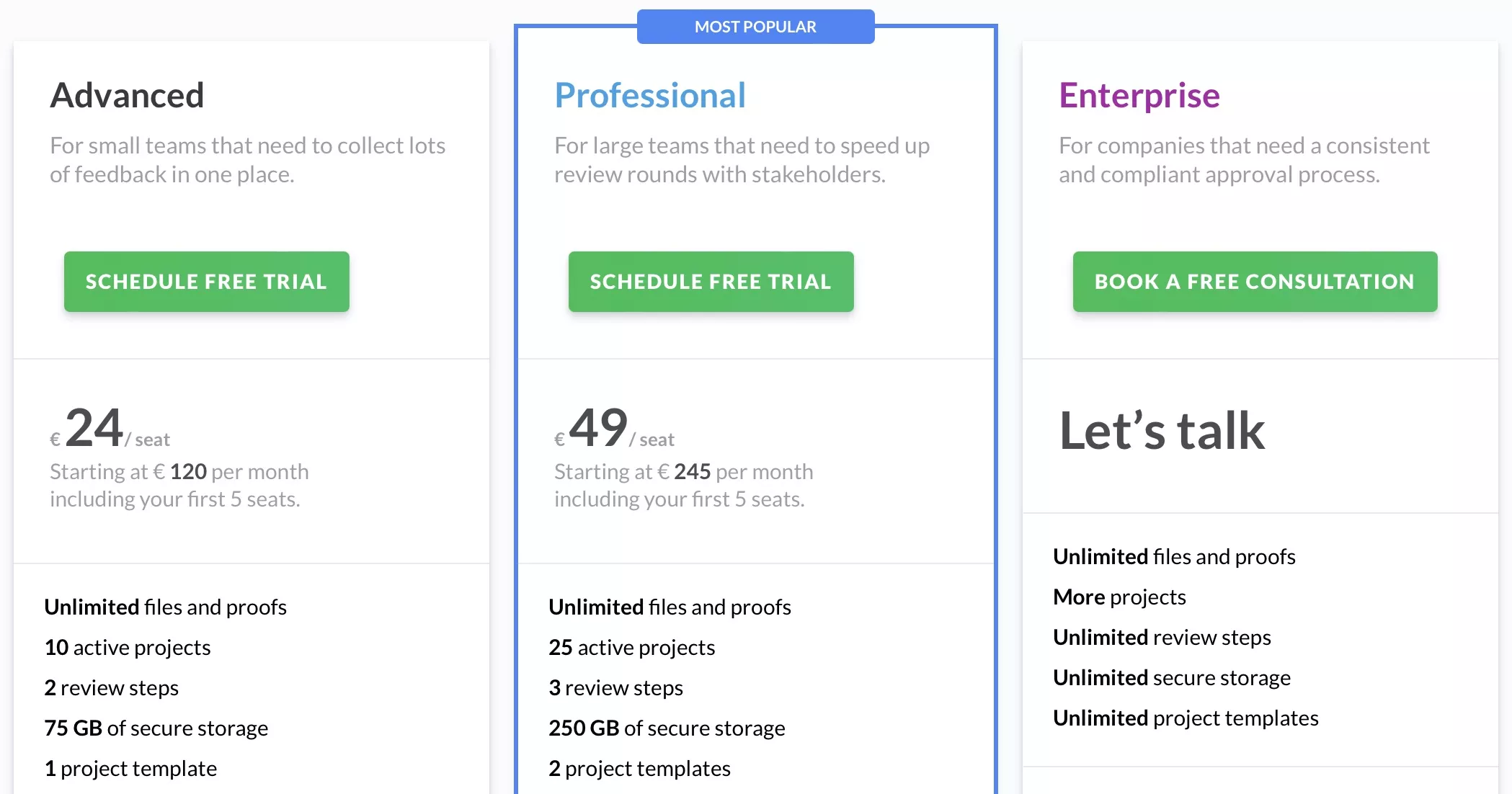 It means for $250, you get:
5 users (if you need more users, you can add it for $50 / user)
250 GB of Storage space
25 projects
If your video company has 10 team members, you will pay $500. Under the same subscription for 10 users with 250 GB, 25 active projects are included.
KROCK.IO – Creative Collaboration and Video Review Software
One tool for animation and video production companies to collaborate on projects. All teams and clients are working in one space but remain anonymous from each other. Krock.io offers different packages for marketing video production companies of various sizes.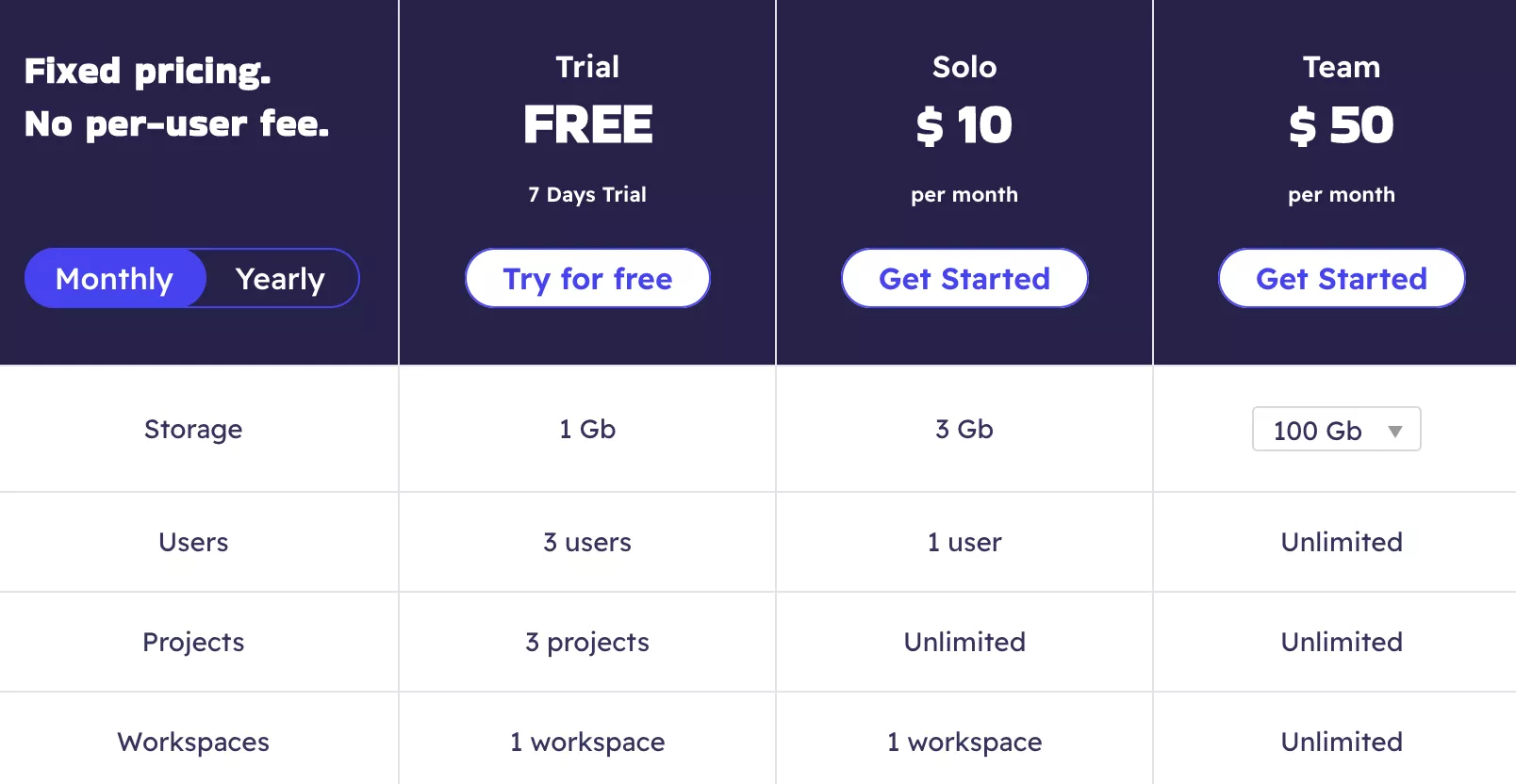 For example, in the "Team Package" for $50, you will get:
Unlimited number of users
Unlimited number of reviewers and collaborators
Unlimited number of projects
100 GB of Storage space
Dropbox
You may upload, save, and transfer files and photographs to the cloud with Dropbox. You may store a backup of your photos, movies, documents, and other files in the cloud and access them from any location, on any device. It's simple to share and send images or files to family, friends, and coworkers thanks to comprehensive sharing tools.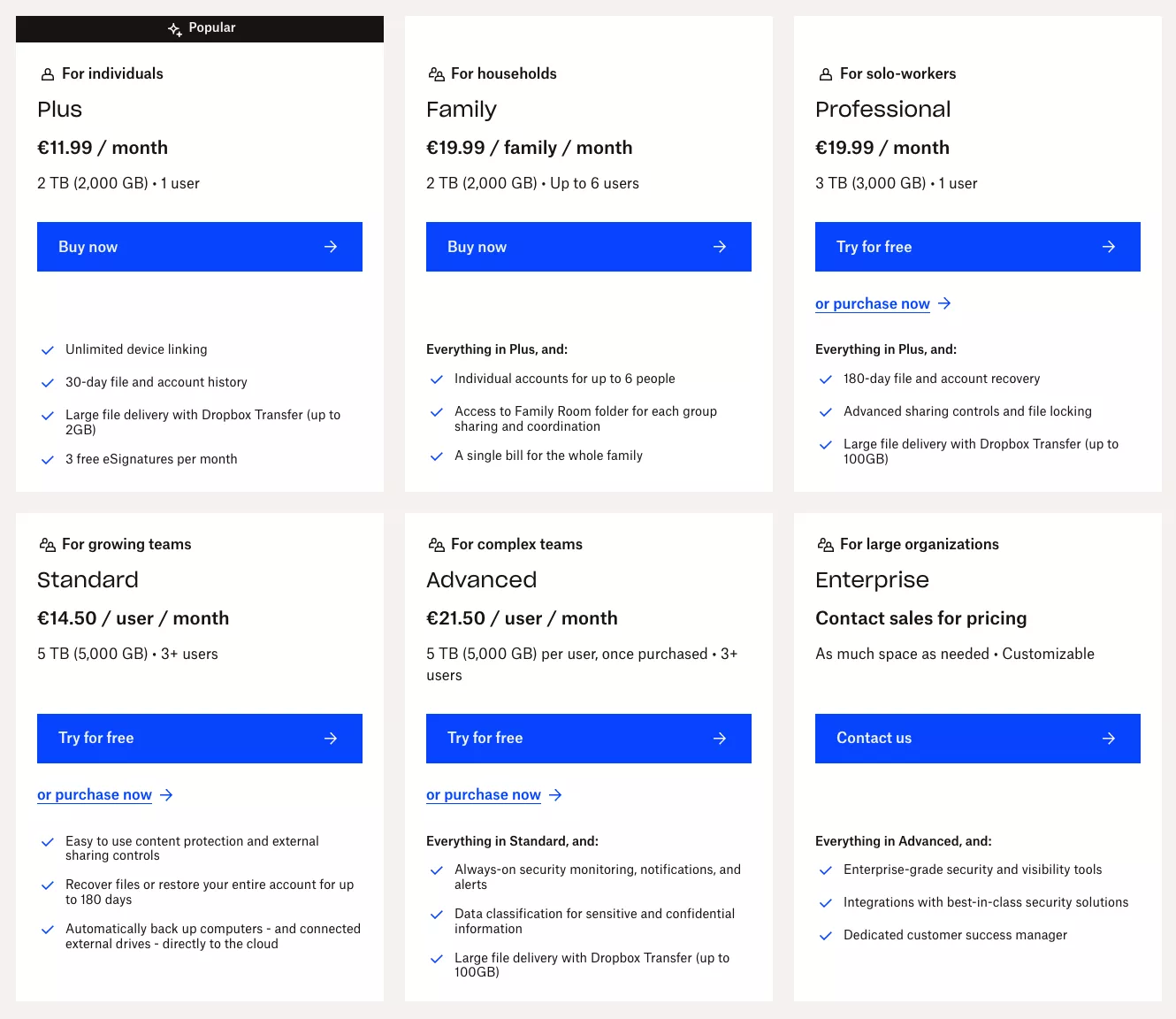 Features:
• For simple video and photo sharing, automatically upload films and photos from your camera roll to cloud photo storage.
• Access every file in your account, even when it's offline, and preview more than 175 different file kinds without the need for any additional software.
• Send huge files to anyone, even if they don't have a Dropbox account, by simply copying and pasting a link.
• Use your mobile device to scan receipts, identification cards, photographs, and other items to create high-quality PDFs that you can send and view from any location.
• Sync folders from your PC or Mac to Dropbox using computer backup, and use version history and file recovery to recover deleted or earlier versions of the folders.
Dropbox Replay is a cutting-edge, simple, and practical solution that enables collaboration with others, whether they be clients or coworkers, and allows them to share comments or criticism in one location.
What is Dropbox Replay good for?
Create a virtual viewing room.
Simplify video sharing.
Keep versions under control.
Get feedback from anyone.
Take action on feedback.
10 Critical features for Frame.io alternative online proofing software
Support all media files types
Shared Workspace
Unlimited amount of reviewers
Video Loop Preview
Versioning
Anonymous workspace for clients and team members
Asset Management
User management with workload overview
Try a 2-week trial of Krock.io to experience the benefits of our platform 👇
Keep it all
together with Krock.io!