There are many different solutions to take into consideration if you're searching for the best project management software for creative teams. It's critical to adapt the software to the requirements of your team because creative project management is a vast area. This list of suggestions was put together by us to assist you in finding the best software for your team.
The user's decision-making process is made more difficult by the fact that project management systems are extending their capabilities and breaking down limits with various feature combinations.
We compiled a list of the top project management software for many sorts of industries and business demands, from project scheduling software to project planning apps, to help you with this important decision-making process.
What is software for project management?
You may plan, carry out, and track your projects inproject management software. You can use it to manage your team, resources, tasks, and project portfolio, offer great outcomes while maintaining your budget and schedule with the aid of project management.
It helps in planning, carrying out, and monitoring of projects. Remote team members can use it from anywhere and use it for anything from little jobs to major initiatives.
There are many alternative project management options on the market, each with special features and cost structures.
The capacity to create and assign tasks, set deadlines, monitor progress, and interact with team members are among the characteristics that all project management software has in common.
Top-rated creative project management software for 2023
Krock.io is a creative collaboration and video review software.
Krock.io is a single tool for animation and video production companies to collaborate on creative projects remotely. It is for all teams and clients in one space.
You can upload videos, images, and other media files with Krock.io and leave annotations above the media content. Share files to get accurate feedback and get approvals.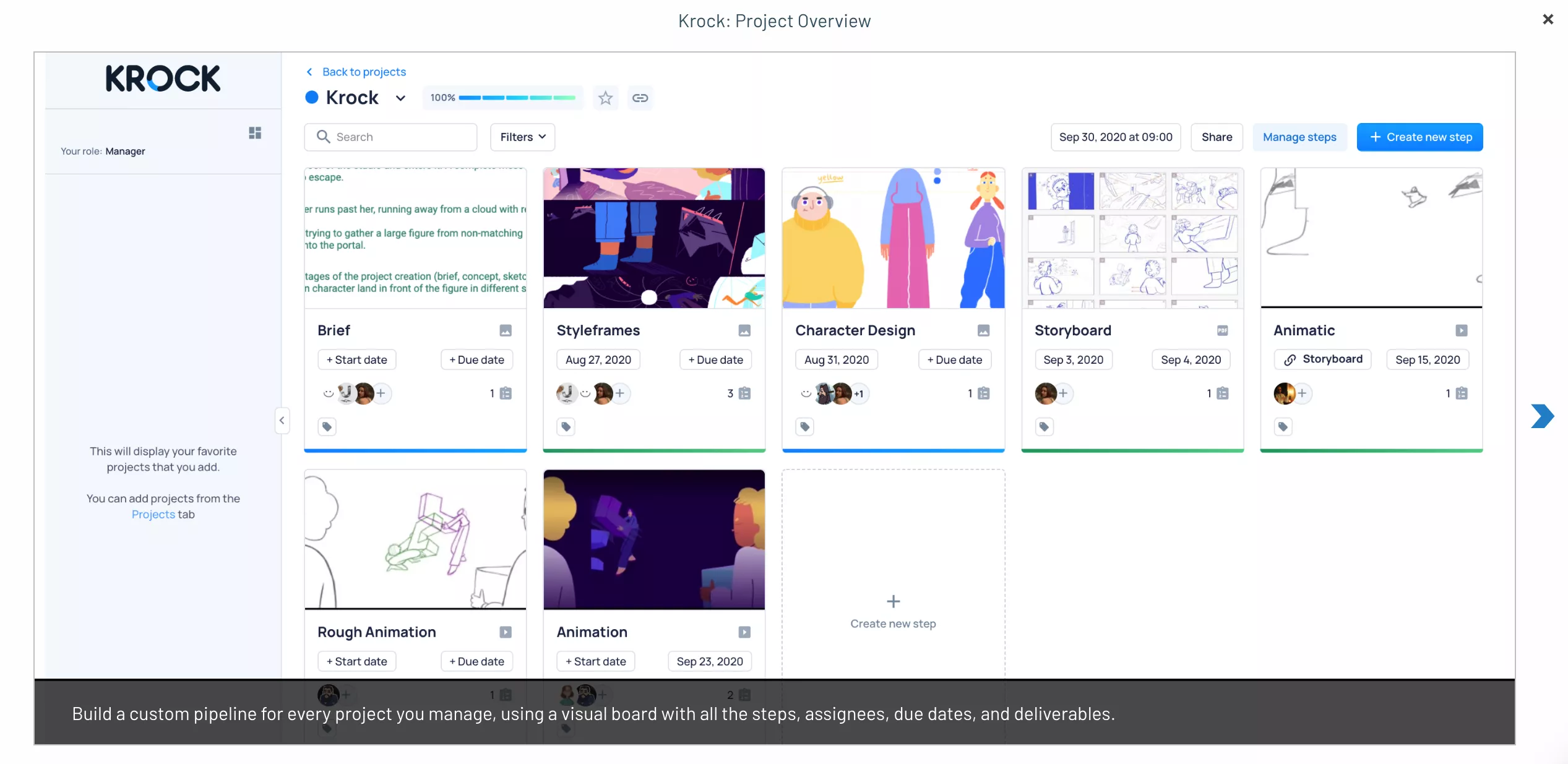 Krock.io has built-in integrations with such services as Zoom and Google Meet so that you can organize the team meeting directly from the project page.
The integration with Slack will be helpful in not missing the notification on changes in project statuses, comments from clients, etc.
Also, Krock.io has pre-made project templates, or you can create them yourself for repeated projects.
This platform allows you to manage tasks, assign people to projects, and control work at each stage and in each version, and it has a user-friendly interface!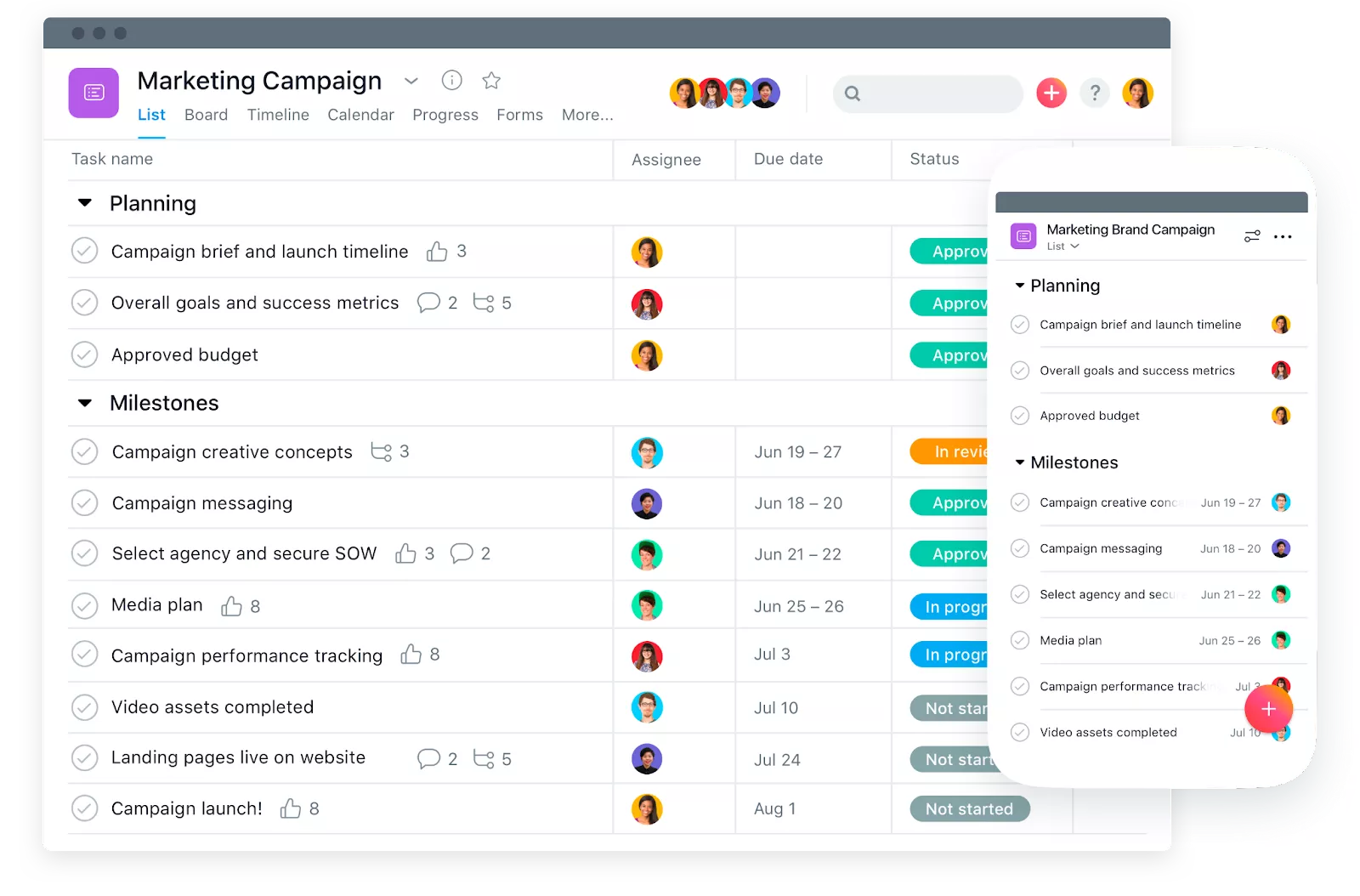 Another tool for managing projects, Asana, aids in team organization and progress monitoring. Task lists and file sharing are among the functions it provides.
Asana is more task-focused. Asana places more focus on the tasks and their structure than on their due dates. It is especially helpful for creative teams that need to picture the iterative process of producing something.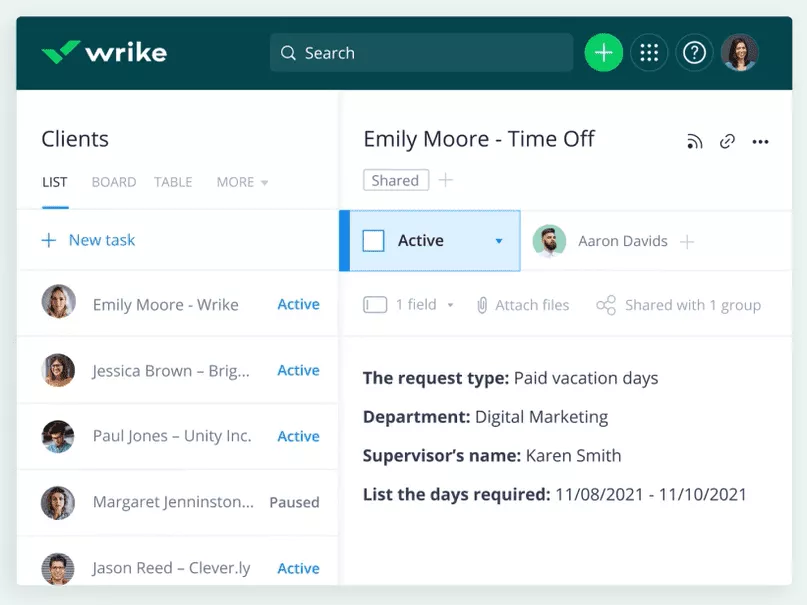 The innovative program for managing projects, Wrike, provides an overview from which a quick evaluation may be made. There are premade layouts and tools available for a variety of jobs, and it even has an in-built connection to Adobe's Creative Cloud.
Create logical locations for your files and attachments to store them and retrieve them with ease.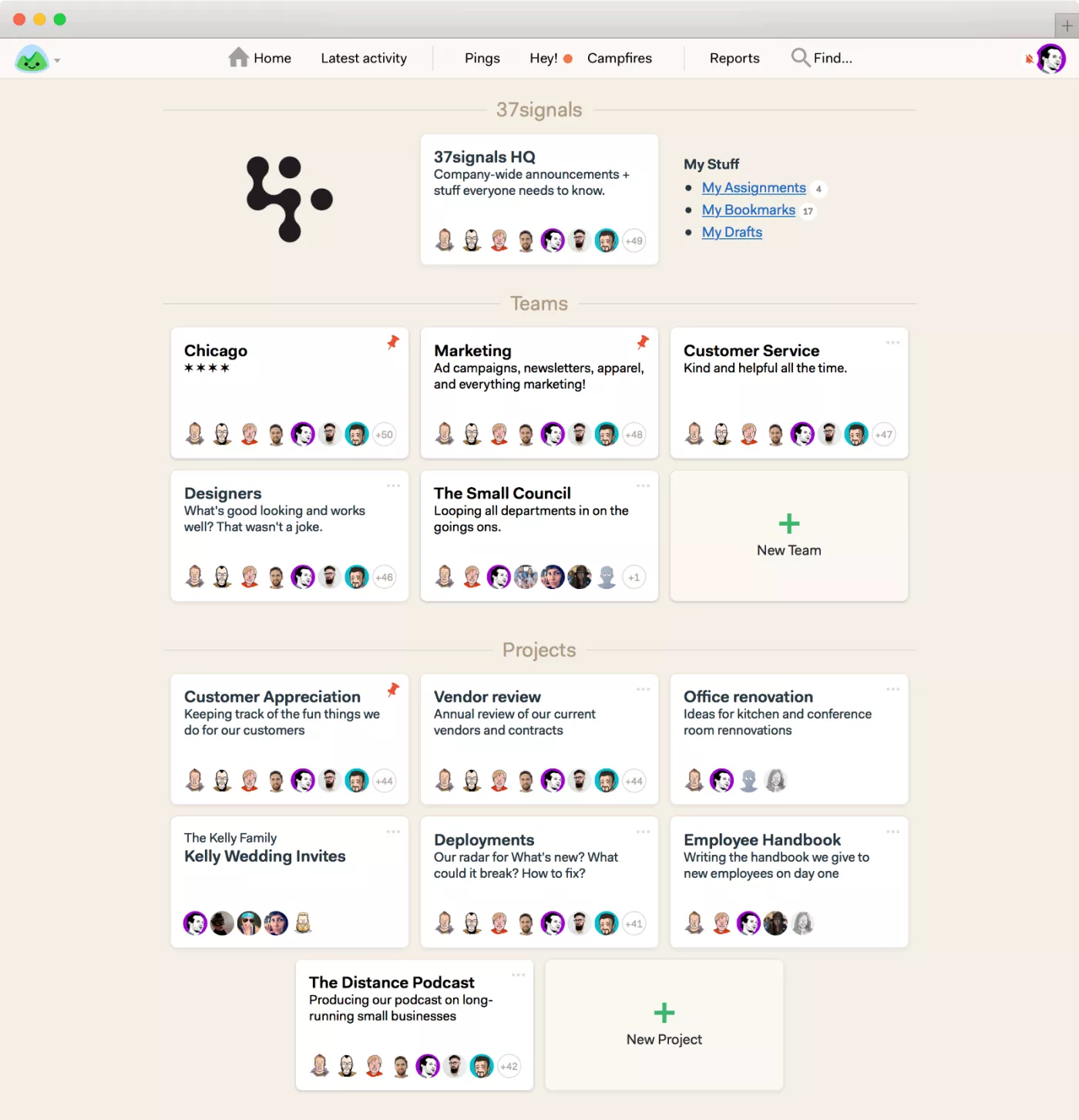 Basecamp is a project management platform that includes built-in team communication and is appropriate for all work settings, particularly remote work. It facilitates task organization, easy information discovery, and real-time project progress updates for businesses, teams, and individuals.
Everyone engaged can work together using specialized tools for project planning, file sharing, and idea discussion.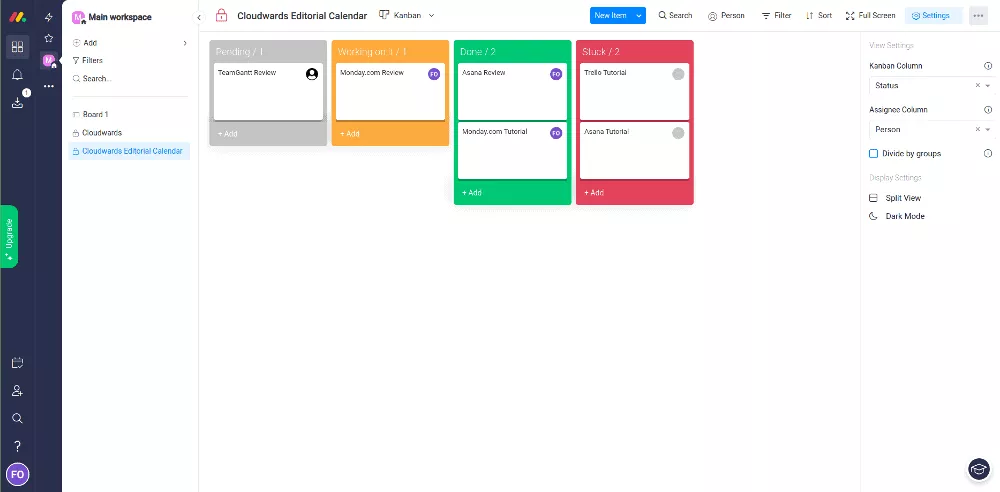 With Monday.com, you can rest assured that your next job will be completed on schedule and with no disruption. The major goal of the software is to provide a simple and effective means of collaboration for groups working on various projects and inside various organizations.
Notion is a wonderful open-source project tool that provides a simple interface that enables users to collaborate on projects and tasks.
It integrates configurable notes, documentation, project management, and wikis. Tens of thousands of teams and corporations worldwide use it to cooperate, stay informed, and get more done.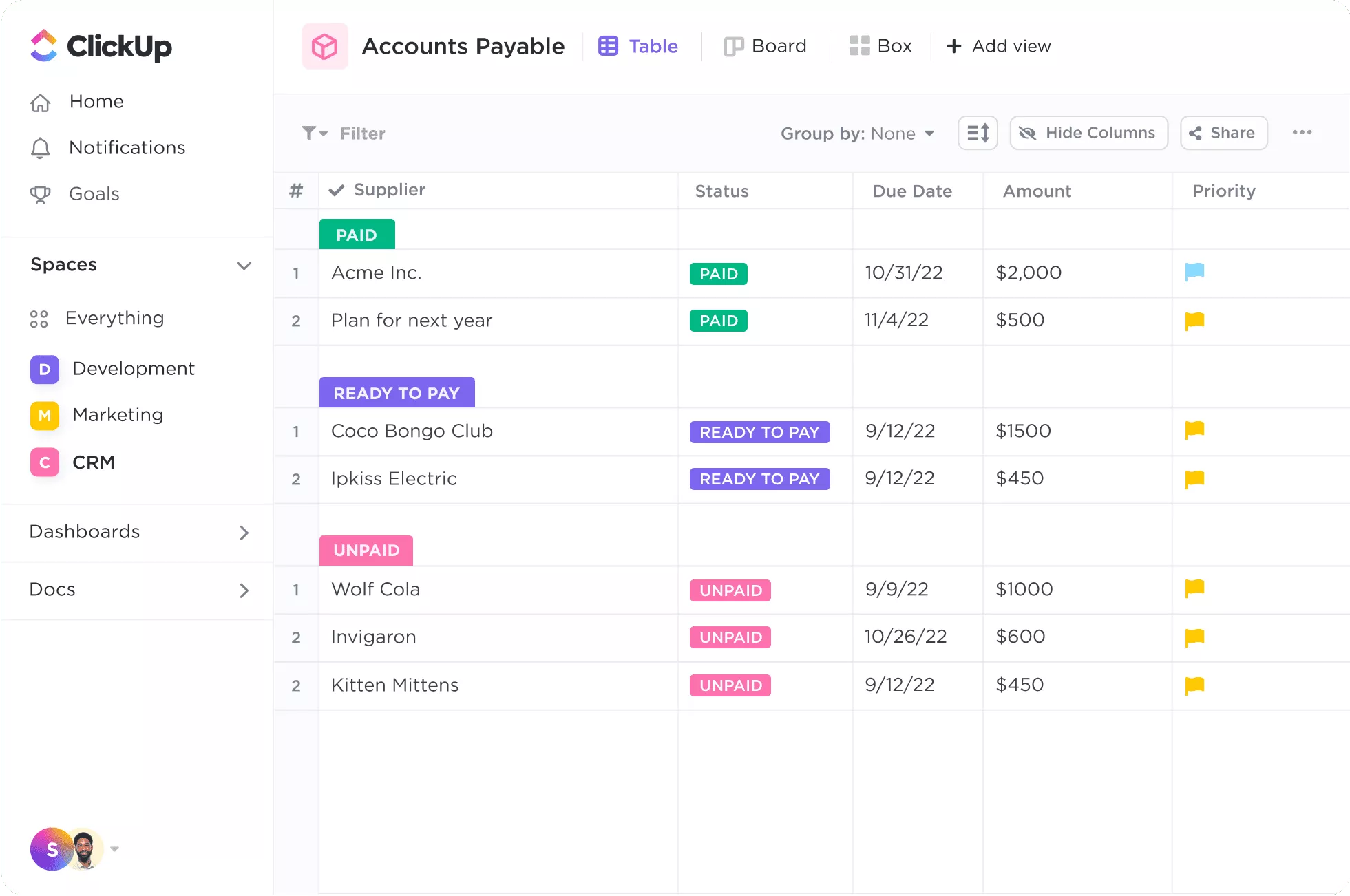 ClickUp's innovative interface makes it a pleasure to use for any kind of task, marketing tasks included. There are more than 15 different ways to see your work on this platform, and its hundreds of customisable features are essential for expanding enterprises.
Conclusion
Since most projects have a long lifecycle and need to be managed effectively and automatically, project management software is a crucial tool for every production firm.
In order to manage your project effectively without expending excessive work, the optimal project management software must include all the above
Check out more articles on getting started with Krock.io:
If you have any questions or need help, just let us know.