With the help of creative agency project management software, you can get better at reviewing your team's work. And here, we will cover what changes you can make in your management tactics to enact a better compliance review.
If you keep all the reviews offline, it is better to bring them online so everyone on your team has access to them. You can also generate audits of all of your marketing activities, omitting the manual work.
Let's see how you can make marketing compliance reviews simpler with the help of creative agency project management software.
Marketing Compliance Review. What It Is?
The marketing compliance review is created to evaluate the quality of the work of the department and the company as a whole, identify growth points, and, if necessary, adjust the amount of the budget for various areas. Therefore, it should include the main performance indicators of the company and the marketing department.
Usually, the report is submitted at the beginning of the year following the reporting one. In order for the presented data to be considered in dynamics, it is necessary to include figures from periodic reports compiled during the year. How often to make such reports depends on the specifics of the product or service.
The smaller the time step you take when compiling reports, the more complete the picture will be.
The final marketing report may include any specific data that you consider important but must contain sales and profit analysis, advertising cost analysis, analysis of work with clients, executive summary, marketing reports in SMM, etc.
Challenges
There are plenty of challenges you face when doing a marketing compliance review. When it comes to such an important activity, there can be too much pressure. Nice creative management software can help you go through the marketing compliance review faster, more productively, and get better results.
The main challenges that most specialists might face are:
Most methods of storing all data cannot be accurately traced. Many reviews are kept in GoogleDocs, Microsoft Word documents, printouts in folders, etc. And this makes it hard to track everything you have.
There are a lot of content and materials that have to be reviewed by hand, which can complicate the process.
The more people try to keep up with the materials, the harder it gets to keep track of the actual marketing review.
It's hard to keep up with all the small materials and details when you run marketing campaigns, work with influencers, track and plan content, etc.
There are just way too many tiny things when it comes to marketing, right? And many work planning software just doesn't fit those needs when you need to add things up fast and then track them.
Tips for Marketing Compliance Review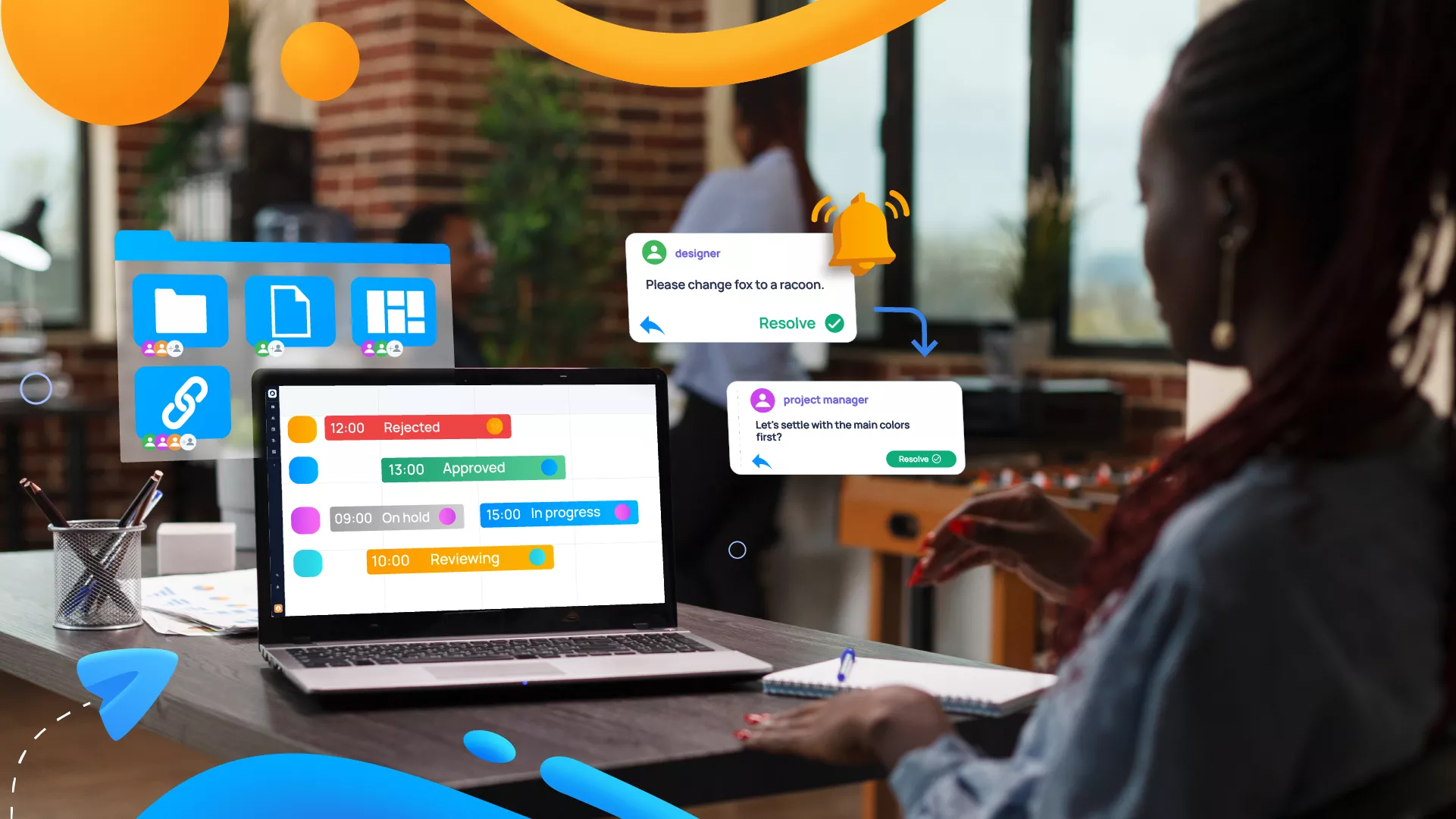 It might get hard and look like a bunch of work as you plan to run a marketing compliance review as a marketing team leader. When managing creative teams, you should take many aspects into consideration, including storing all the data regarding your team's work and running marketing compliance reviews.
1. Add Review Stages to the Workflow
Have workflow templates that would actually make your working routine easier and more productive. It will also be on hand when it comes to the compliance review process, so don't skip those.
You can add a marketing compliance review to your workflow template where you can state all the data regarding the process: roles, steps, and deadlines.
There is also an option to conduct a final check a bit earlier, so you don't have to go through all the stages if there is a possibility to finish the review.
Run multi-stage, singular, or parallel marketing compliance stages as they can be influenced by any of your marketing actions.
You can also track the status of the review in real-time, so basically, you can always keep abreast when it comes to the working processes.
Approve changes as soon as each review stage is done. It is easy to check the status of the review as you can clearly see it with the help of the creative management software.
2. Align Tools with Content Feedback
The problem is that marketing teams want to get rid of sending emails with reviews but face the issue that they don't have a reliable, accurate digital way to convert proof designs into physical prints.
For example, marketing teams working with physical products often need to review the color accuracy of different product labeling options and/or verify that barcode placement measurements are highly accurate.
Small image changes, color corrections, alignment, and size of design elements can have a significant impact on how your assets perform under different regulations in your industry.
When teams have measurement tools to check assets, measuring elements down to the millimeter or pixel, your marketing team and everyone involved in the process can begin to track the very small changes that are often missed or difficult to check with their own eyes.
It saves a lot of time for your design team. Your design or reviewer doesn't need to take the file out of review and into a production tool like Photoshop or Illustrator to apply gridlines and scale them to regulatory sizes or placement requirements.
3. Upgrade Security Using Workflow Templates
Another tip is to use certifications and standards to create guidance for others using your content marketing products.
Marketing compliance doesn't involve the work of your creative team and your legal team. It includes all the ways you deal with your external partners or other departments in your organization, which makes it important to have security policies, monitor workflow, and create a log of all changes.
If you have different teams that need different levels of access to your business information depending on the content, divide the content, so the necessary topics are available only to specific people.
Complex workflow systems allow you to use usage and security information for all your different products according to the type of project, the format, and the status it is connected to.
Conclusion
Compliance monitoring is a growing area for marketers. Sometimes, following these principles can feel overwhelming when you're marketing across channels and networks.
However, the game is worth all the candles. Compliance monitoring is an untapped area of ​​marketing. After your sales team has adopted the group review process and started implementing controls and standards, they will also conduct compliance reviews, but with less manual work and manual inspection of your sales team.
Using robust and automated workflows with common access, decision and approval processes, automated editing tools, and automated marketing review reports will help your marketing team empower startups to manage services and track sales results over time.
These strategies and tools allow you to create and strengthen a management structure for monitoring the management of all your production processes, with the materials created at all times, internally and externally, doing the job for you.
∗∗∗
Check out more articles on getting started with Krock.io:
If you have any questions or need help, just let us know.